Small Cottage Floor Plans...
Compact Designs for Modern Living!
The small cottage floor plans shown here, though traditional in design, include all the amenities necessary for contemporary lifestyles.  They feature everything from spacious family rooms with soaring cathedral ceilings, to upper level lofts and laundry rooms, to large wraparound porches with cozy stone fireplaces!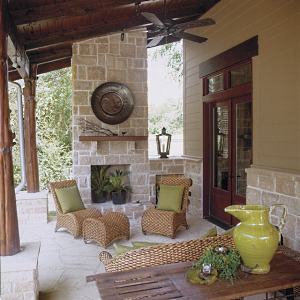 Pictured at top, as well as in the image below, is "Cedar Creek Guest House" from Southern Living House Plans.  It features a stone, wood and log exterior with a soaring outdoor fireplace that anchors a substantial wraparound porch.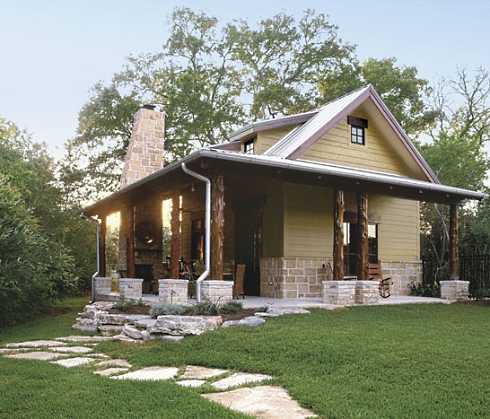 Though the compact interior floor plan encompasses only 437 square feet, it is very efficiently arranged and highly functional . . . . . particularly when opened to the sprawling covered porch.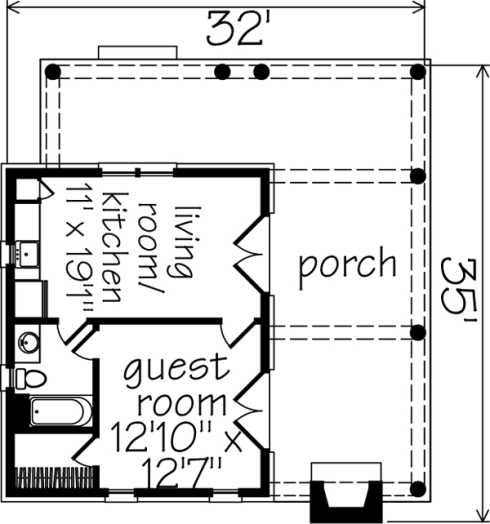 See More Covered Porch & Patio Designs with Outdoor Fireplaces
at our Sister Site, Standout-Fireplace-Designs.com
The lovely beach cottage that follows was designed by John Tee Architect.  A two story design, it features a large family room with a fireplace and a soaring cathedral ceiling.
Encompassing a total of 1,398 square feet, the floor plan includes two bedrooms and two full baths.  A large wraparound porch and rear deck area provide ample opportunities to soak in the stunning waterside views!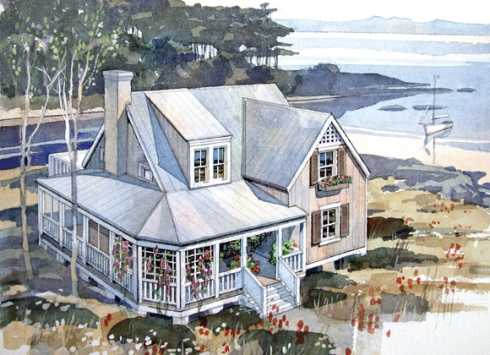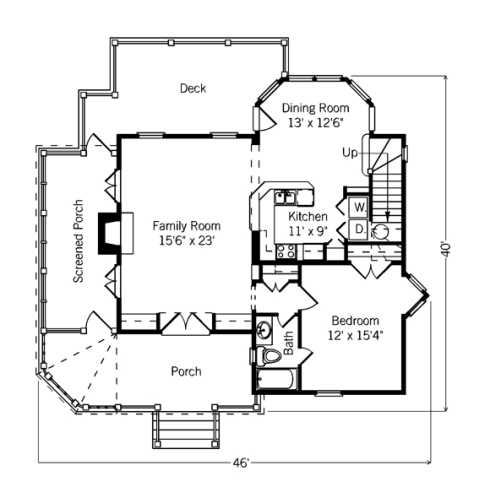 MAIN LEVEL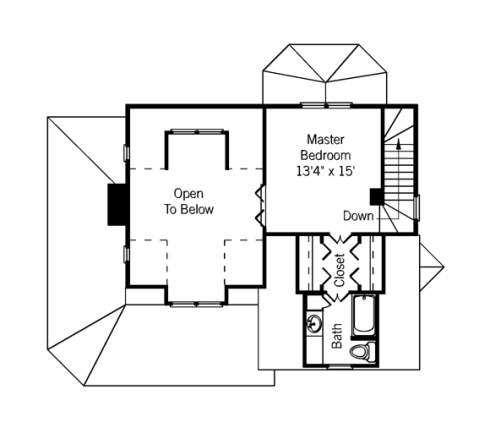 UPPER LEVEL

More Small Cottage Floor Plans
The cottage pictured below, called "Inlet Retreat," is an exclusive design for Coastal Living by Allison Ramsey Architects.   A charming one and a half story confection, it encompasses 2,188 square feet and includes three bedrooms and a loft, three full baths, and a den or study.  Once again, a large wraparound porch affords spectacular views of the surrounding land or waterscape!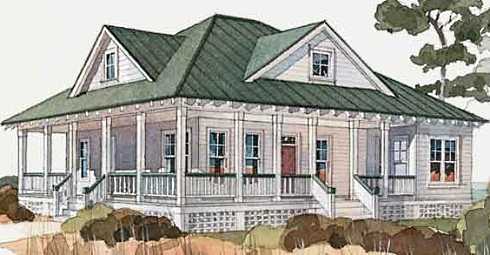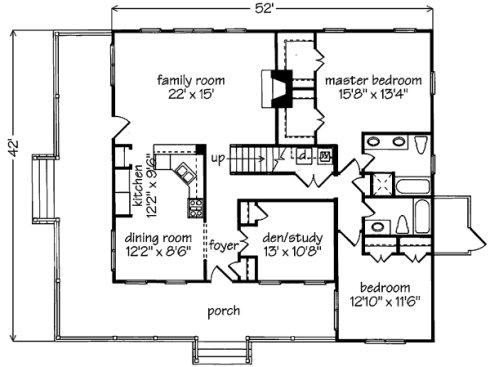 MAIN LEVEL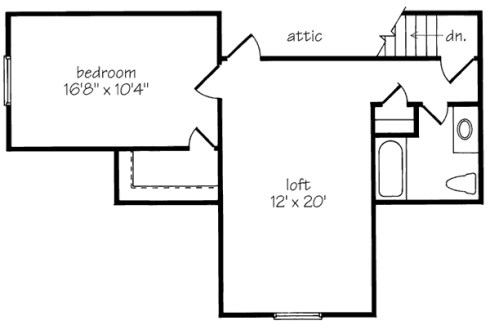 UPPER LEVEL

The cozy Arts & Crafts cottage that follows is from Architectural House Plans.  Designed by Christian Gladieux of Gladieux & Associates, it incorporates 2,333 square feet of living area on two levels. 

Included in the cottage floor plans are three bedrooms on the upper level -- one of which is a rather spacious master suite -- and two and a half baths.  An upper level laundry room just outside the bedroom doors lends a great deal of convenience.
On the main floor, the living room features a corner fireplace, while a study at the rear of the home offers plenty of privacy.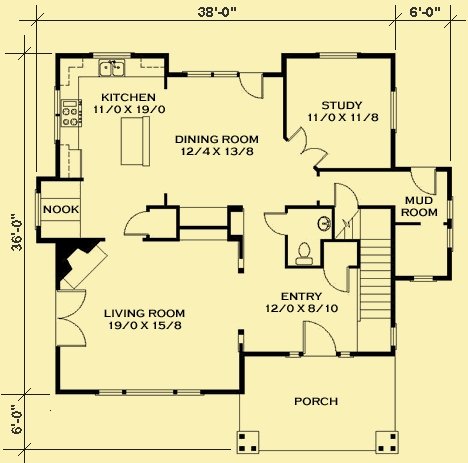 MAIN LEVEL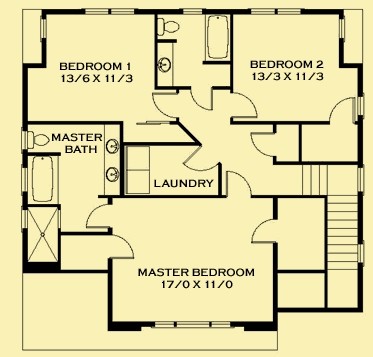 UPPER LEVEL
The remaining cottage floor plans featured here are designed, or have the potential to be used, as guest cottages.  Pictured directly below is another structure by architect John Tee -- a charming two car garage design with a 468 square foot upper level that readily lends itself to a nice guest house or mother-in-law apartment. 

The steeply pitched gable roof with shed dormers provides a wonderful, naturally lighted space with a high, open ceiling for drama and excitement!  Note the large stone chimney on the gable end in the photo, as well as the designated area for a fireplace on the upper level floor plan.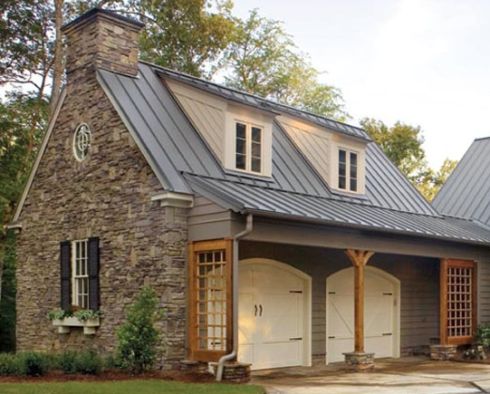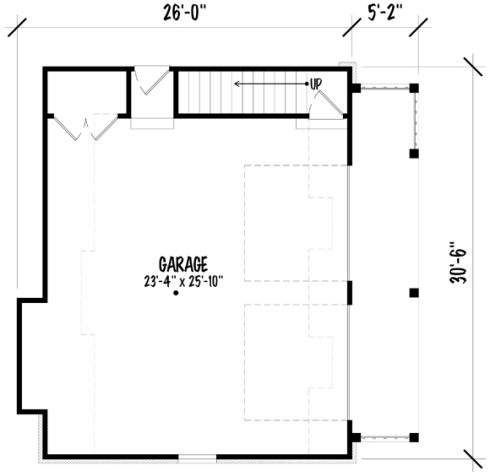 MAIN LEVEL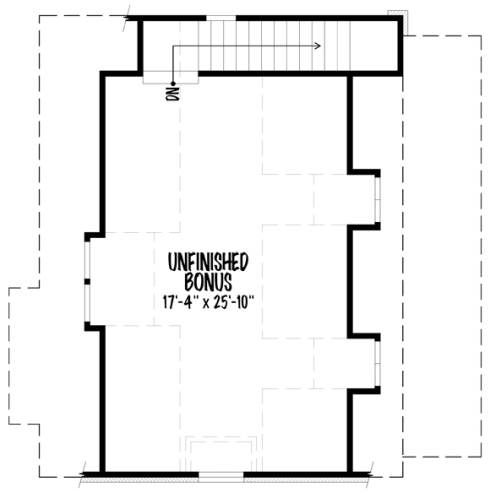 UPPER LEVEL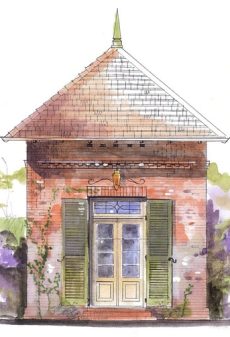 And finally, the exquisite little architectural jewel at right was also designed by architect, John Tee, as a guest cottage.  Accessed by an elegant pair of shuttered French doors, it features an open floor plan of only 220 square feet, pictured below.  Complete with a three quarter bath, the cottage is ideal as a stand-alone home office or studio, as well as an overnight guest house.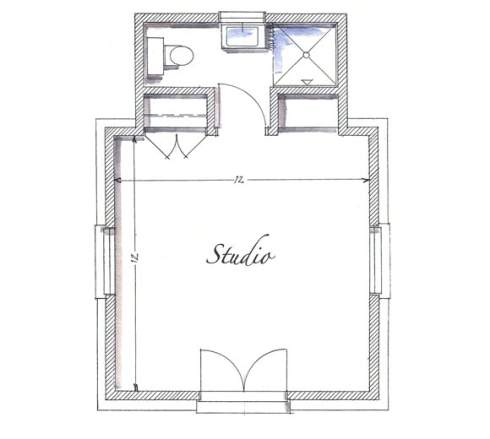 Please check back often or subscribe to our RSS feed, as we frequently add new cottage floor plans to our site.
YOU MAY ALSO LIKE:

Hobbit House Plans -
Storybook Sanctuaries!

More Small Cottage Floor Plans -
BIG ON CHARM!


Cottage Style House Plans -
Timeless Appeal!