Log Cabin Kit Homes...
Kozy Cabin Kits!
Log cabin kit homes have come a long way from their humble beginnings.  Decades of experience, combined with innovative technologies, have elevated industry standards -- AND the goodwill -- of today's leading log home producers.   If you haven't looked at this building option in awhile, you may be pleasantly surprised by what you see!
Honka is currently the world's largest log home manufacturer.  Appropriately based in Helsinki, Finland (click here for a brief history of log cabins), the company has produced more than 80,000 log structures since 1958.  Over a period of 54 years (and counting!) . . . . . countless individuals and families in 50 countries across the globe have lived in a dwelling crafted by Honka Log Homes.
Pictured below is Honka's charming "Elk Tine" model.  A warm and inviting front porch provides an ideal place to kick back and relax.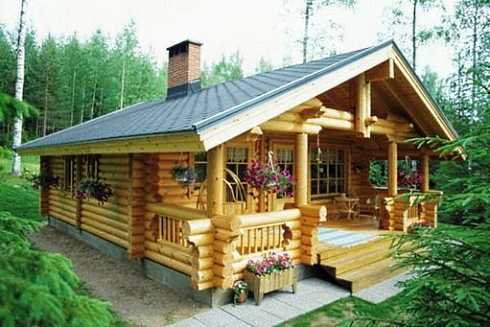 The "Elk Tine's" interior encompasses 853 square feet of living area on two levels.  Level I (below left) features an open floor plan with kitchen, dining, and living areas, as well as a bedroom, full bath, and mudroom.  An upper level loft (below right) comfortably sleeps 3.
                Main Level: 483 sq.ft                                                                                                      Upper Level: 370 sq. ft.
Log Cabin Kit Homes . . .
Made in Canada
The cozy log cabin kit that follows is from Big Foot Log & Timber Homes, based in British Columbia, Canada.   At one and a half stories in height, the "Butte" has a total of 1,055 square feet on two levels.
Level I, shown below, features an open floor plan that combines kitchen, dining, and living areas.  A full bath and laundry closet are built into a corner on the far end of the room.
Level II (below) features a large loft area that overlooks the living room below.  Containing a bedroom and office, the loft opens to a private outdoor balcony tucked in the upper gable.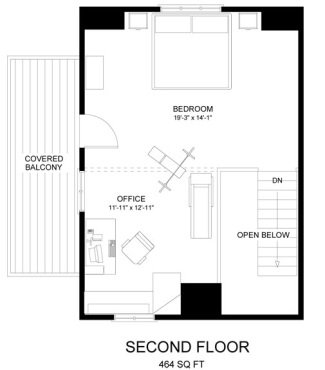 Pictured below is another lovely cabin design from Big Foot Log & Timber Homes.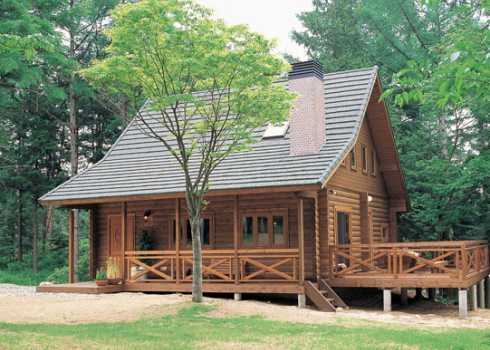 Made in America
The enchanting log cabin kit home that follows is from Daniel Boone Log Homes, based in Nashville, Tennessee.  A picturesque arrangement of stone, logs, metal, and board and batten siding gives "The Davidson" a storybook quality. 
Though only 1,568 square feet in area on two levels, it features a charming wraparound porch on three sides, making it appear larger.  Multi-pane windows with wooden shutters add to its charm and appeal.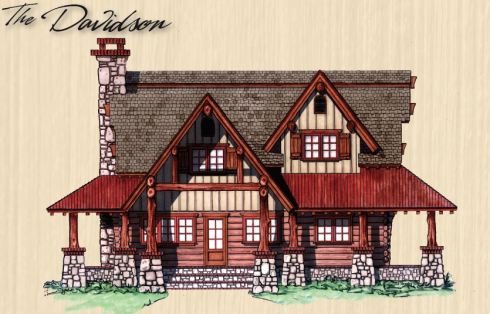 Inside, a soaring two story great room further enhances the spacious look and feel of this little gem.  The master bed and bath -- complete with dual sinks -- is also located on Level I (below).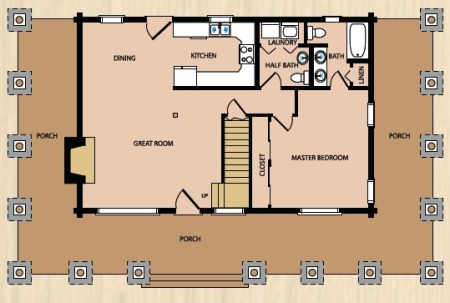 Main Level: 1,014 sq. ft.
The upper level has two additional bedrooms and a full bath.  An open loft area at the top of the stairs overlooks the great room and dining area below.
Upper Level: 554 sq. ft.
And if you need more space but do not want to give up the charm and ambiance of a small log cabin, the "Black Bear" from Town & Country Cedar Homes (Petoskey, Michigan) may fill the bill.  Despite its compact-looking exterior, it boasts 3,134 square feet of interior living area.
Pictured at left is a close-up of the front entry, while the rear facade is shown in the view below.  As with the other log cabin kit homes featured here, it can be customized to your specifications.  This particular example features flared log posts and twig accents.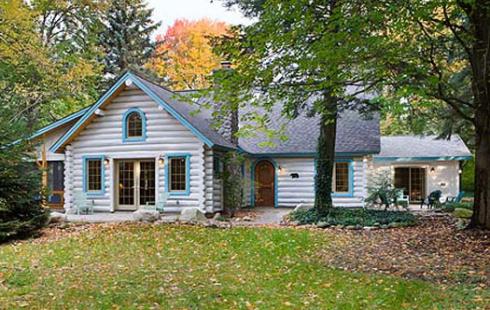 Please check back often or subscribe to our RSS feed, as we frequently add new log cabin kit homes to our site.
Didn't find what you were looking for?
Use this search feature to find it.