Bring Your Cabin Plan Ideas to Life!
Exciting cabin plan ideas from a host of designers, builders and manufacturers across the globe are bound to bring on a lasting bout of cabin fever.  Browse an extraordinary array of designs for virtually any taste and setting . . . . .

from lakeside cabins to coastal cottages . . . . .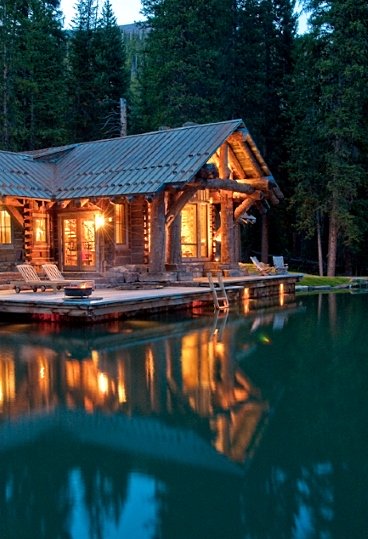 hillside hideaways to mountain lodges . . . . .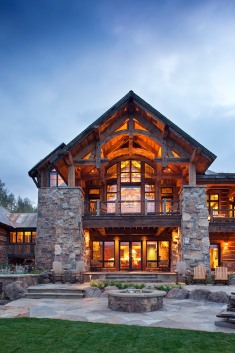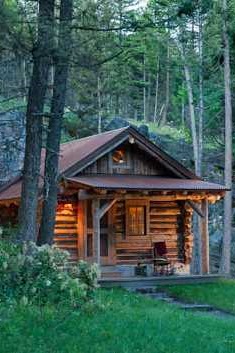 and hobbit houses to tree houses . . . . .

in traditional to contemporary styles.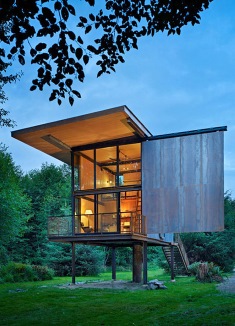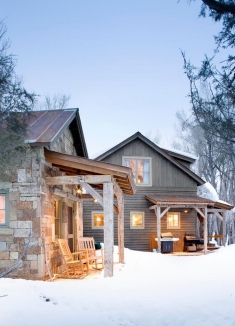 * See design sources at bottom of page
Standout-Cabin-Designs.com is an invaluable online resource for cabin owners -- current and future -- as well as building and design professionals.  With hundreds of inspiring cabin and cottage designs, it offers a comprehensive look at the nearly limitless range of options available today!
Contemporary design by Sweet Sparkman Architects, Sarasota, FL
What We Do
Founded by Dennis Brose in Minneapolis, Minnesota, Standout-Cabin-Designs.com is an online publisher of creative cabin and cottage design ideas, featuring an outstanding selection of works by designers and craftsmen around the world.  In our quest to bring you the best in cabin design, we showcase an ever-expanding spectrum of possibilities.

A Sourcing Guide to Help You Bring Your Cabin Plan Ideas to Life
An information-packed guide to designing, building or remodeling a weekend retreat or vacation getaway, Standout-Cabin-Designs.com is your "go to" online resource. Feast your eyes on a captivating range of design options.  Find a skilled designer, builder or craftsman to help you turn your cabin plan ideas into reality!
Contact Us
If, for any reason, you are unable to find the designer or builder of a cabin design pictured on our site, please let us know by completing the form below.  Be sure to provide the title of the web page on which the design you're interested in appears, as well as its location on the page, so we can direct you to the appropriate source.

Please check back often or subscribe to our RSS feed, as we frequently add new building design ideas and sources to our site to assist you with your cabin project.
* Design Sources for Images at Top of Page:
Top Row
Left: Lake cabin design by Dan Joseph Architects, Bozeman, MT
Right: Beach cottage by Peterson Design Group, Portland, ME
2nd Row (from top)
Left: Log cabin by Montana Creative architecture + design, Whitefish, MT
Right: Mine style mountain lodge by Copper Creek Homes, Crested Butte, CO
3rd Row (from top)
Left: Storybook hobbit house by Archer & Buchanan Architecture, West Chester, PA
Right: Rustic tree house by Rocky Mountain Log Homes, Hamilton, MT
4th Row (from top)
Left: Fishing retreat by Coburn Development, Boulder, CO
Right: Contemporary "Sol Duc Cabin" by Olson Kundig Architects, Seattle, WA