Standout Hunting Cabins...
Right On Target!
The cozy hunting cabins featured here are as architecturally appealing as they are practical. Though small in size, they are BIG on charm!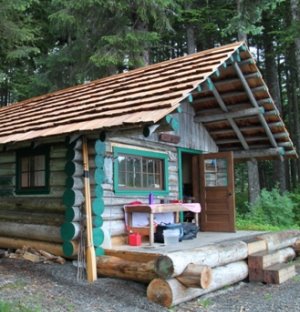 Big Shaheen Cabin in Alaska's           
Tongass National Forest
The little cottage style gem pictured at left was crafted by Montana Mobile Cabins.  With a footprint of 18 x 24 feet, including the full width front porch, this charming wilderness retreat boasts an open floor plan featuring a kitchen, living room and bath.  Tucked beneath the steeply pitched roof is a full loft area.
See More Log Designs from Montana Mobile Cabins

Moving eastward, the cozy log cabin that follows is part of the Bradford Camps in northern Maine -- a mecca for hunting and fishing in the Northeast.  One of eight waterfront guest cabin rentals with vintage log construction, it oozes nostalgic charm!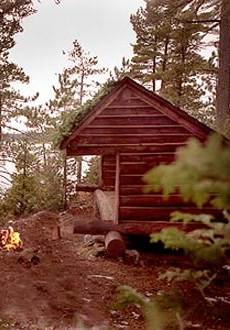 More Cozy Hunting Cabins
Heading south to the Adirondack Mountain region of Upstate New York is an Adirondack lean-to, originally developed by guides of the region as a convenient camp to house hunting and fishing parties (see photo below).  Though the earliest shelters were crudely built, they were eventually replaced by sturdy log structures.
Pictured at right is a typical lean-to at Dry Island, an Adirondack vacation rental with a Great Camp style lodge and cabin.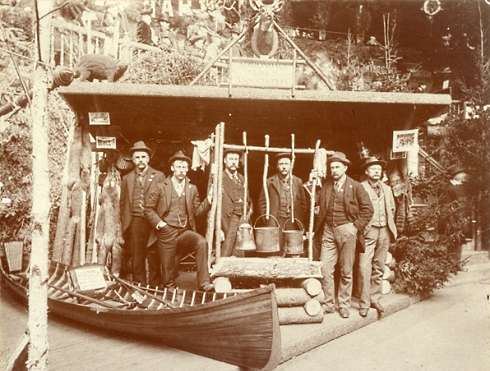 The lean-to that follows is rather unique in that the front is enclosed. Built by the Adirondack Lean-To Company,  this  little  cabin can be heated and used year-round.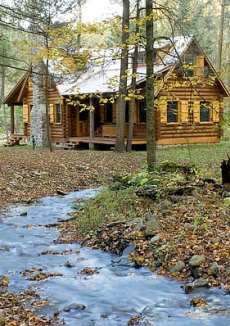 The rustic log cabin pictured at right, with a close-up image below, is located in Pennsylvania.
Used as a hunting and fishing retreat, this striking design was crafted by Estemerwalt Log Homes.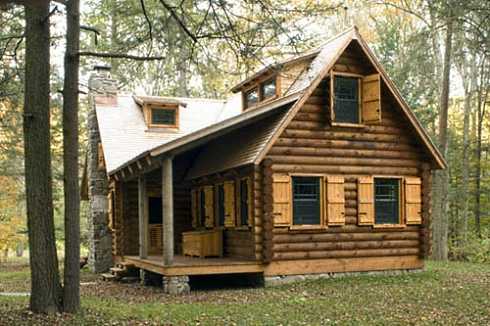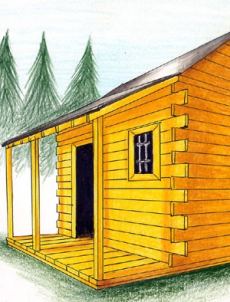 The  little cabin designs that follow were provided by Brock Ray's Huntin' Cabins, based in Alabama.
The  design  pictured  at right is 440 square square feet,  while  the cabin pictured below is 320 square feet.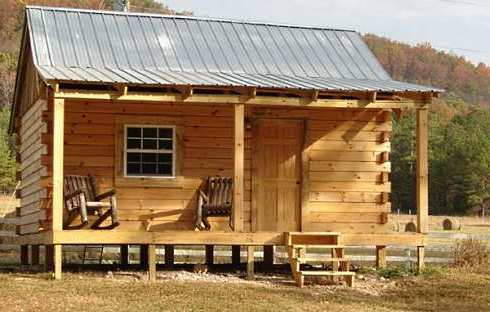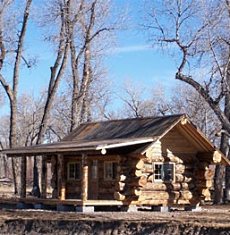 And finally, heading west to the Montana wilderness again, we find two more charming hunting cabins from Montana Mobile Cabins.  Each cabin is built on their site to the owner's specifications, after which time the completed cabin is transported to the owner's site. 
The cabins are constructed with hand peeled logs, full front porches, rustic wood ceilings and finished wood floors.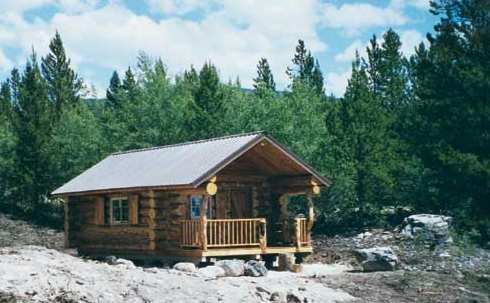 Please check back often or subscribe to our RSS feed, as we frequently add new images of rustic cabins to our site.
YOU MAY ALSO LIKE:

More Standout Hunting
Cabins...In Our Sights!

Log Cabin Mobile Homes -
Log Cabins to Go!

Log Cabin Home Plans -
A Hunter's Haven!

The Standout Fishing Cabin -
Netting Fish & Nostalgic Charm!

MORE Standout Fishing Cabins -
Rustic Elegance!
Didn't find what you were looking for?
Use this search feature to find it.