Log Cabin Home Plans...
A Hunter's Haven!
The log cabin home plans featured here showcase a spectacular hunting lodge in South Carolina.  Meticulously crafted by Hearthstone Homes and a group of local craftsmen, the detailing on this structure is extraordinary!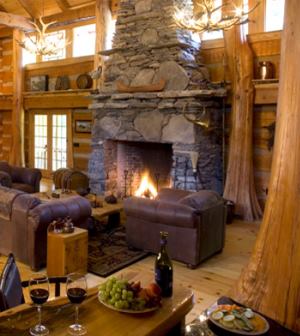 From the moment you approach the front entry, you realize this is no ordinary log home.  Massive cypress tree trunks flank the recessed entrance to support a large handcrafted lintel above.  The design of the front door, itself (as well as the surrounding trim), echos the profile of the cypress tree trunks and ties it all together beautifully!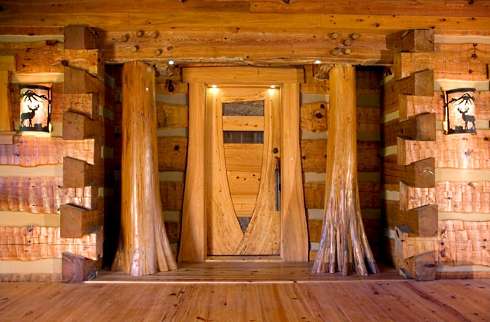 Massive cypress tree trunks also support the porch roofing on the structure, as shown in the image below.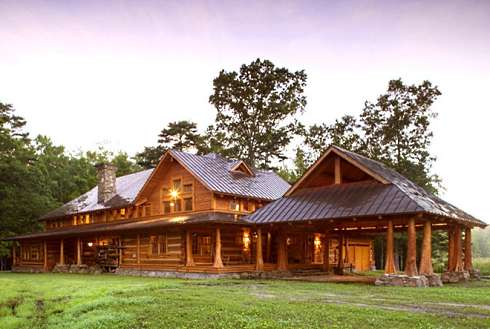 A monumental stone outdoor fireplace and chimney graces the back of this log home design.
Flanking the outdoor fireplace is wavy hand-hewn siding, as shown in the close-up below.   Note the detailing in the trim around the windows.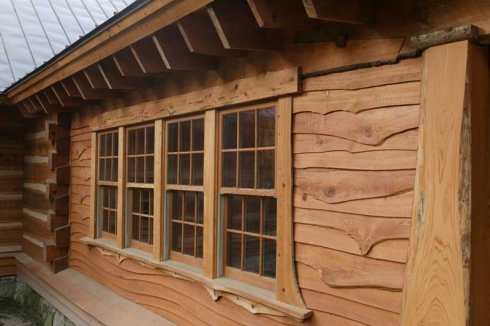 The close-up image of the porch that follows showcases the hand-hewn log ends at the corner, as well as one of the massive cypress tree trunks.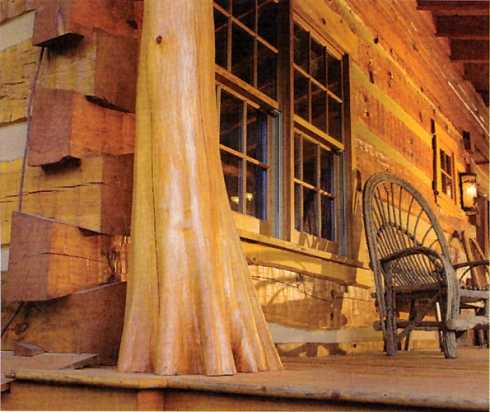 Log Cabin Home Plan Interior
The nearly 6,000 square foot interior is no less impressive, with cypress tree trunks supporting the structural beams throughout this log cabin home plan.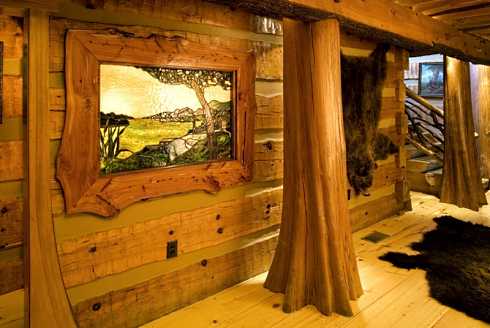 The magnificent Great Room boasts a two story ceiling and gives a sense of the sheer size and scale of this incredible structure.  Note the Adirondack Style balustrades on the upper level loft overlooking the Great Room.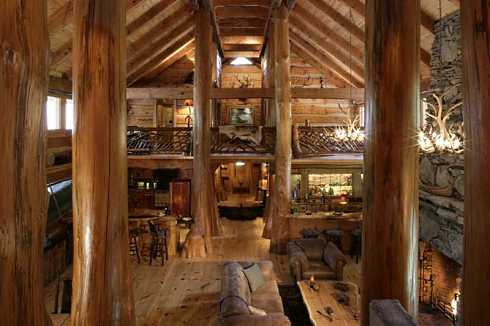 Another view of the Great Room shows the soaring stone fireplace, as well as historic tapestries and an antique canoe hanging over the dining room table.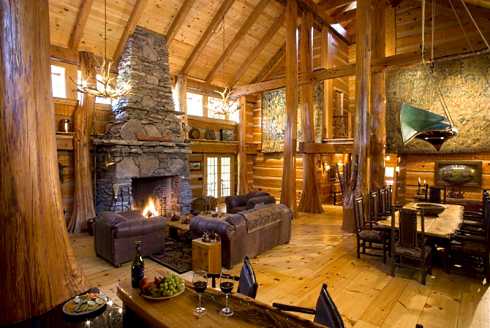 A close-up of the fireplace shows the beautiful stone work employed in its design.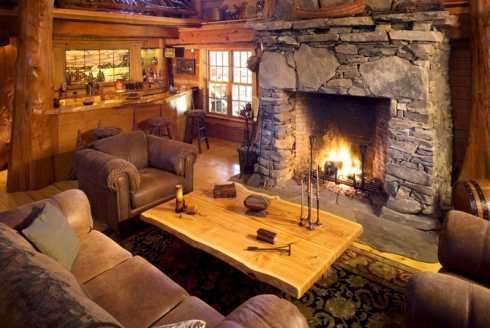 See an Incredible Collection of Rustic Stone Fireplaces
at our sister site, Standout-Fireplace-Designs.com!
The breakfast area features a wagon wheel light fixture above the round table.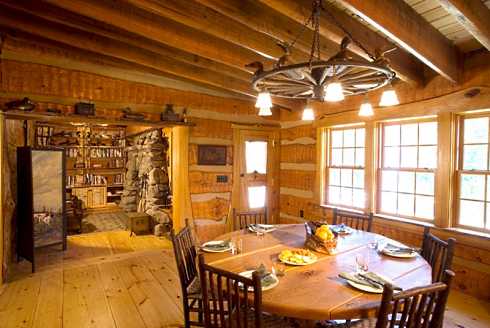 The study also boasts an abundance of handcrafted detailing in both its design and decor.  The custom made desk features dark bark and birch bark with deer antler drawer pulls.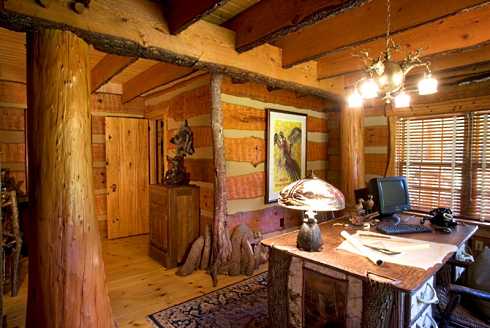 Similarly, the bedroom features handcrafted detailing in both its design and decor.  Note the bed with a headboard crafted from logs.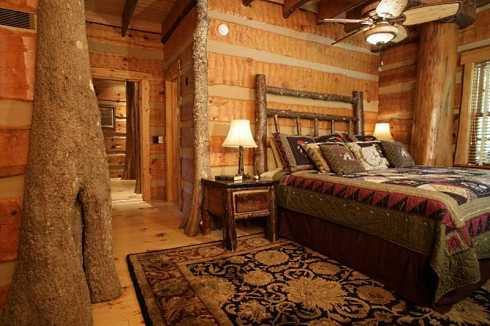 Not to be outdone, the bathroom boasts an incredible pedestal sink crafted entirely from a single piece of wood!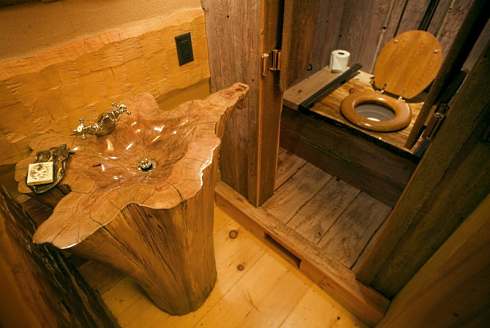 Click here to view floor plans
Please check back often or subscribe to our RSS feed, as we frequently add new log cabin plans to our site.
YOU MAY ALSO LIKE:

More Hunting Cabins -
Right On Target!

More Log Cabin Home Plans -
A Handcrafted Heirloom!

Log Home House Plans -
A Majestic Masterpiece!

Standout Log Homes Plans -
A Majestic Mountain Home!