Farm House Designs for Rural Retreats!
Farm house designs present another exciting option for weekend getaways.  Frequently adorned with sweeping front porches that wrap around the side, this iconic American building type continues to climb in popularity.  Both charming and functional, the farmhouses featured here provide a connection to the past while offering present-day comfort and convenience!
These inspiring designs reflect a cross section of regional variations in America . . . . . from a delightful New England saltbox in rural Connecticut to a romantic stone cottage in the fields of Pennsylvania . . . . . a cupola crowned creation in Minnesota's bluff country to a barn inspired beauty in the Piedmont region of South Carolina . . . . . a rustic ranch house in the mountains of Montana to a cozy vineyard haven in California's Napa Valley . . . . . and more.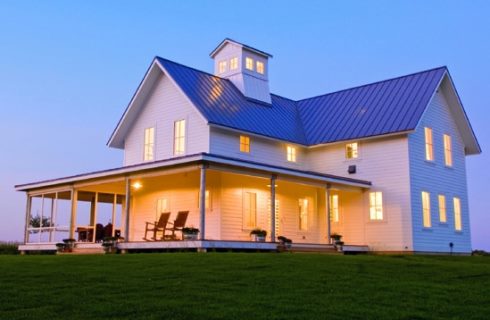 Above: Farmhouse Design by Rehkamp Larson Architects
In her book, The Farmhouse:  New Inspiration for the Classic American Home, architect Jean Rehkamp Larson eloquently states . . . "Farmhouses evoke nostalgic memories -- real or imagined -- of a simpler life and a deep, nourishing connection to the seasons and the land."  She goes on to say that "we all share a longing for the values that this classic American house form represents."

Her point is well taken as we seek refuge -- at least periodically -- from the hectic pace of everyday life in the 21st century.  Whether old or new, a farmhouse makes an ideal getaway retreat.

Enduring Appeal of Farm House Designs
The pastoral scene below lends credence to the enduring appeal of farm house designs . . . and rightly so.  Nestled in the Connecticut countryside, it portrays an idyllic farmhouse retreat. 

The picturesque cottage was designed by architect David Harlan and built on the foundation of a nondescript 1930s structure.     Clad with painted white shingles, this charming New England saltbox design features a wrap- around porch with classic Georgian detailing.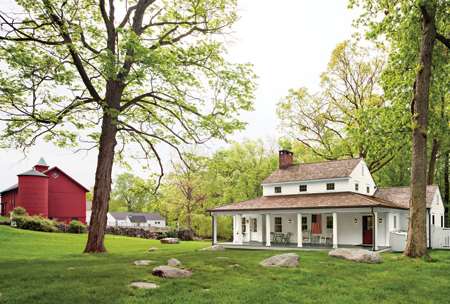 To expand its 1,250 square foot interior, Harlan enclosed the porch on one side.  Clerestory windows above the porch roof provide an additional source of natural light for its single level living space.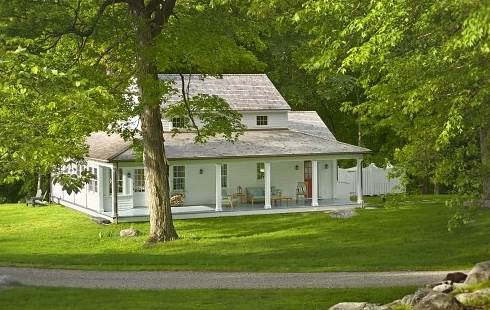 Nearly lost to the elements and the ravages of time, the stone farm cottage below was given new life by Peter Zimmerman Architects.  Tucked into a hillside in rural Pennsylvania, its fairy tale facade features multi-pane windows and a tiny gable roof over the entry.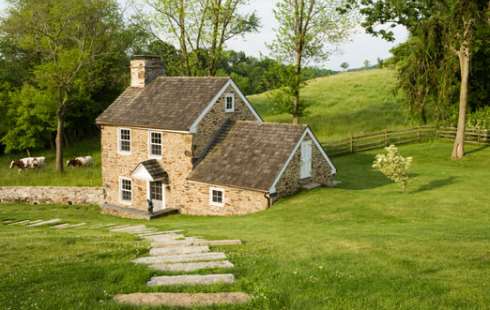 On the other side of the United States, an enchanting farm house design (below) by Backen, Gillam & Kroeger Architecture is created in California's wine country.  Located on the outer edge of St. Helena, it features a sprawling front porch.  A charming cupola tops its low-slung roof.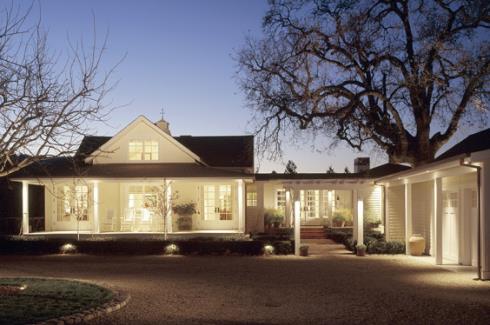 Crisscrossing the U.S. in a southeasterly direction brings us to the red clapboard farm house design pictured below.  Built by Bret Franks Construction in central Arkansas, it features a cross gable roof and wraparound front porch.  Large double-hung sash windows flood the interior with natural light.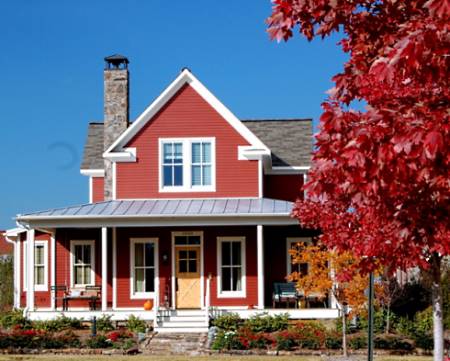 Midwestern Values
The striking farmhouse below serves as a weekend getaway for urban dwellers.  Designed by Rehkamp Larson Architects, it stands on open prairie land near the Mississippi River Valley in southeastern Minnesota. 

The two story design blends 19th century vernacular forms with 21st century technology.  Resting on a thermal mass foundation of foam and concrete, the walls and roof feature structural insulated panels (SIPS) for maximum energy efficiency.  A large, albeit charming cupola with multi- pane windows -- inspired by outbuilding designs of yesteryear -- helps to illuminate the upper level with natural light.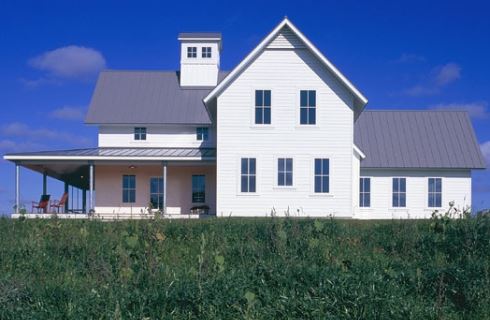 An outstanding example of present-day farm house design, it boasts a large wraparound porch -- part of which is screened for "mosquito free" evenings outdoors.  Metal posts lend contemporary flair while supporting the overhang above.  Polished wood flooring provides contrast and warmth.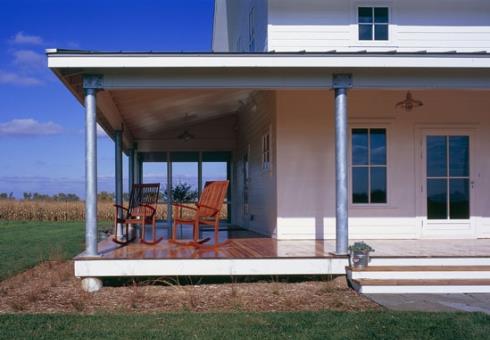 Across the Mississippi River and about 30 miles to the northwest stands another modern-day farmhouse.  Built as a weekend retreat for a busy urban couple, it offers spectacular views from its perch on a ridge in Ellsworth, Wisconsin. 

"Holly Ridge Farmhouse" is the centerpiece of a 40 acre hobby farm that includes a barn,  chicken coop,  apple orchard and vegetable garden.  Designed by Marc Sloot of SALA Architects, it is both picturesque and practical.  An open floor plan of just under 2,000 finished square feet features a large "working farm" kitchen.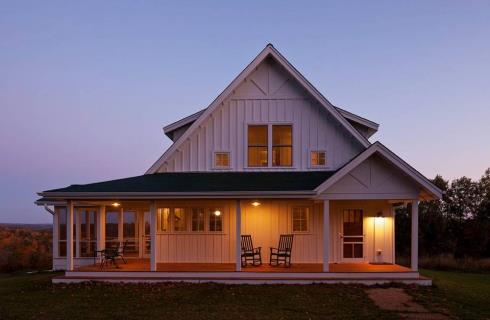 See Floor Plans & More Photos of Holly Ridge Farmhouse
Barn-Inspired Beauties
Farm house designs inspired by barns, stables, carriage houses and other utilitarian structures from the 18th and 19th centuries enjoy increasing popularity as rural retreats.  Multi-pane windows punctuate tall rectangular volumes clad with board and batten siding.  Cupolas rise from roof peaks to form a playful silhouette against the open sky. 

The "Bennington" (below) from Yankee Barn Homes embodies the simple but romantic ideal we often associate with these structures.  Loaded with charm, it features an open floor plan on Level 2 -- the primary living area.  A two car garage, 3/4 bath, laundry and storage areas occupy the main level.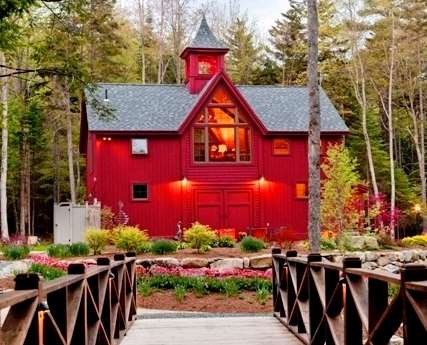 See Floor Plans & More Photos of the Bennington
A contemporary twist on a traditional theme, the striking farmhouse below serves as a weekend getaway for a family of seven.  Pursley Dixon Architecture designed the three story dwelling for a site near Chester, South Carolina.  Replacing an existing red brick ranch house, the new design complements the vintage farm buildings surrounding it.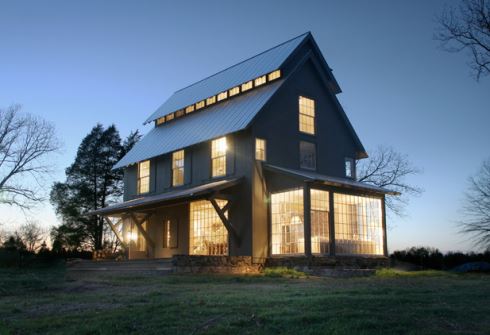 Pictured below are two structures at "Flat Run Farm" -- a weekend retreat in Fairfield, Pennsylvania.  Inspired by the area's rural vernacular architecture, these picturesque compositions by Rill Architects are crafted from a variety of materials including fieldstone, hand-hewn logs, board and batten siding, cedar shingles and copper roofing.  The stone "grain silo" houses an elevator.

Nestled in the Pioneer Mountains of southwestern Montana, near the town of Melrose, "Cherry Creek Ranch" epitomizes the ideal of rustic simplicity and charm.  Reclaimed timber was used to build the main house (shown below), as well as a guest cabin, caretaker's cabin and sauna on the property.  Though compact in size, it boasts a large wraparound porch to expand the interior living area.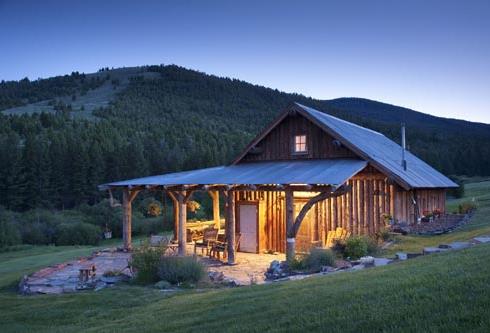 Farmhouse Floor Plans
See more farm-style getaways, including floor plans designed for today's lifestyles, by clicking the link that follows.  Among the featured designs is "Claymore" (below), a picturesque country retreat in Virginia's Piedmont region.

Farm House Plans...Pastoral Perspectives!


See more farm house designs at our sister site,
Standout-Farmhouse-Designs.com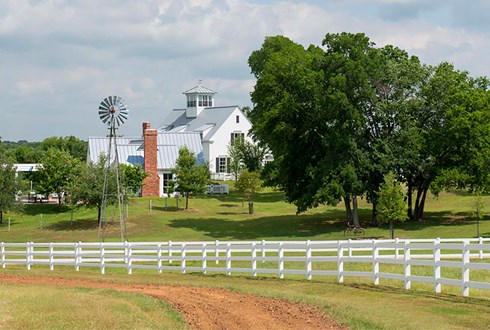 Please check back often or subscribe to our RSS feed, as we frequently add new farm house designs for weekend getaways and rural retreats to our site.

Didn't find what you were looking for?
Use this search feature to find it.