Standout Barn Homes...
Renewed Resources!
The barn homes featured here were transformed from decaying farm structures to dramatic guest houses, weekend retreats and primary residences.  An iconic building type dotting the rural landscape, barns provide a historic link to the past . . . . . and a renewable resource for the present!

Their sturdy timber frames have stood the test of time.  Built solely for utilitarian purposes, no effort was made to hide the structural framework.  Ironically, that exposed framework now accounts for much of their appeal as a housing or retreat alternative.

Barn homes unite old world materials and craftsmanship with present-day functionality.  The renovation and adaptive reuse of 19th century barns as 21st century dwellings is not only environmentally sound, but vital to preserving an important part of our heritage. 

Among the more common barn designs in North America is the bank barn.  Built into the side of sloping terrain, both the upper and lower floors can be entered at grade level.  In general, the upper floor is accessed from the building front and the lower floor from the rear. 

The rustic red barn pictured below rests on the banks of the Potomac River in Leesburg, Virginia.  Spared from demolition, it was transformed into a guest house and family gathering place by Blackburn Architects.
Board and batten clads the exterior walls.  Concealed beneath the siding, structural insulated panels, or SIPs, prevent drafts and reduce energy consumption.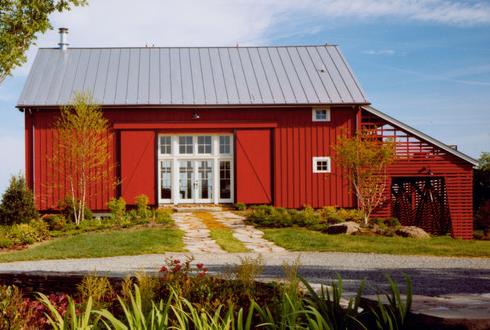 A soaring wall of glass offers panoramic views of the Potomac while illuminating the interior with natural light during daytime hours.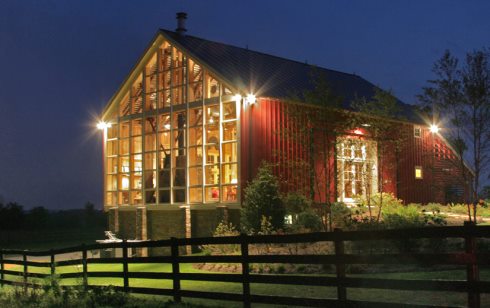 Inside the lofty family barn, exposed posts and beams form a silhouette against the evening sky.  A flickering stone hearth casts a warm glow.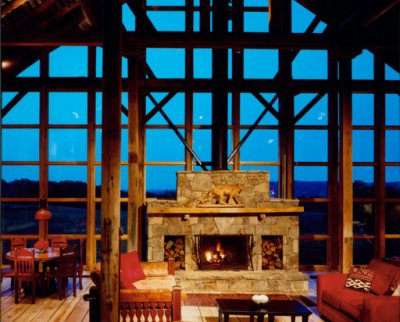 Photos above via Blackburn Architects

More Born Again Bank Barn Homes . . .
Metamorphosis in Michigan
Weathered by the ravages of time, a 19th century barn in Niles, Michigan gets a much needed makeover . . . . .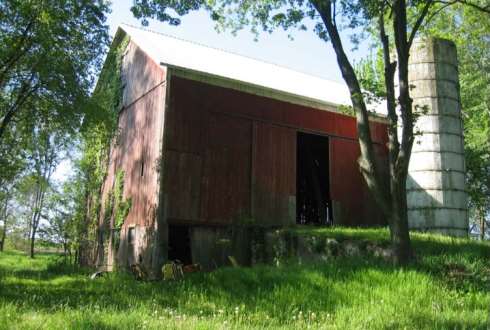 . . . with stunning results!  Aided by Austin DePree of Northworks Architects and Planners, the dedicated owners lovingly restored and converted it to a beautiful barn home. 

Clad with interlocking aluminum panels, its crisp white exterior is pierced by large expanses of steel-framed glass -- flanked by sliding barn doors -- on both the front and rear facades.  A raised seam zinc roof protects it from the elements. 

Photo Credit: James Yochum
Reclaimed barn wood lines the interior walls, which serve as a backdrop for the open timberwork supporting the structure.   A large stone fireplace on one end (below left) provides a comfortable gathering spot.  The light-filled central bay (below right) offers a commodious space for dining and entertaining.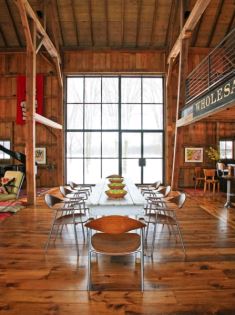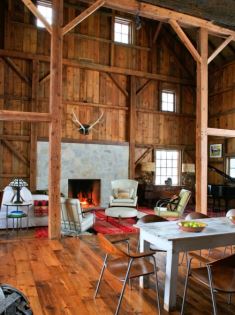 Photo Credits (above): James Yochum
The soaring glazed area at the rear incorporates a pair of doors which open onto a poured concrete terrace.  Resting on a raised stone foundation, the terrace perimeter features a steel balustrade inspired by livestock fencing.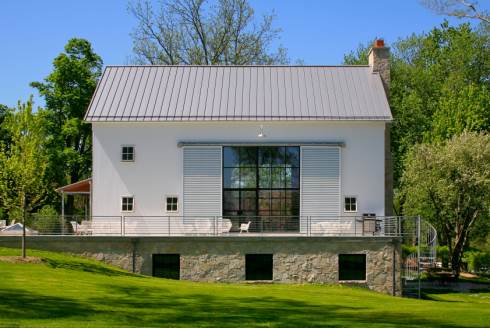 Photo Credit: James Yochum
Barn House Bliss in Bucks County
In Pennsylvania's historic Bucks County, designers Penny Drue Baird and Irwin Weiner transformed a derelict barn into a welcoming guest house and entertainment center for friends and family of the owners.  Its wood barn siding, salvaged from the interior, is finished with traditional milk paint. 

Massive French doors with transoms pierce the central bay on both the front and rear facades.  Sliding barn doors flank the entry and may be closed for privacy.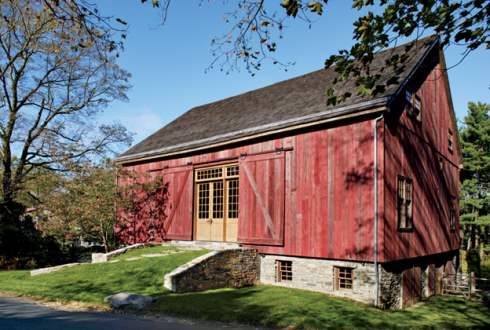 Photo Credit: Matt Wargo
Rows of multi-pane windows pierce the rear facade to maximize views of a small lake behind the barn home.  French doors open onto a full length deck that projects over the foundation wall.

Photo via Irwin Weiner Interiors
Reclaimed wood -- as well as new wood finished to look old -- lines the interior walls and cabinet fronts (below right).  Antique farm tools and implements are arranged to form a delightfully unique stairway balustrade (below left)!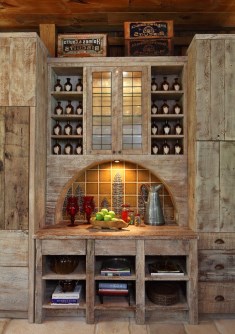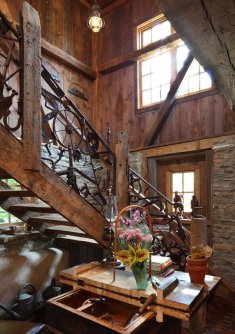 Photos above via Irwin Weiner Interiors
Parting Shot at Dusk (Photo by Matt Wargo)
Please check back often or subscribe to our RSS feed, as we frequently add barn homes to our site.
Didn't find what you were looking for?
Use this search feature to find it.