Pole Barn House Plans...
Post-Frame Flexibility!
Pole barn house plans offer tremendous flexibility in spatial arrangement.  With post-frame construction, there are no interior support or load-bearing walls.  Consequently, its open floor plan can be readily adapted to the specific requirements of the homeowner!

The barn home pictured below is from Illinois-based Morton Buildings.  A metal-clad gable roof, punctuated by dormers, extends over an upper level screen porch.  Clad with steel siding, the structure features large windows with divided light grilles on its lower level, which functions as a stable and carriage barn.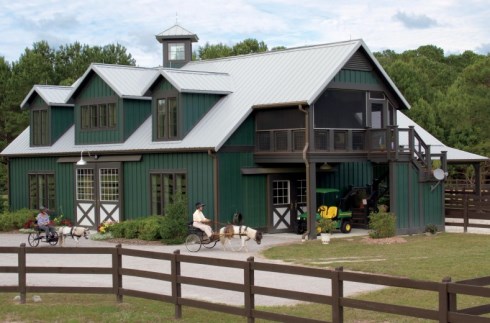 Sliding barn doors provide access and egress for its resident ponies.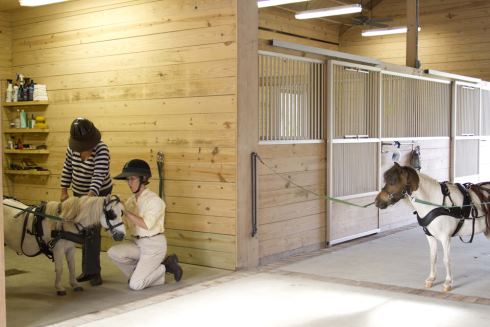 A close-up depicts the stairway leading to the upper level living quarters.

Level 2 features an open floor plan with living room, kitchen and study.  A bedroom and full bath complete this level.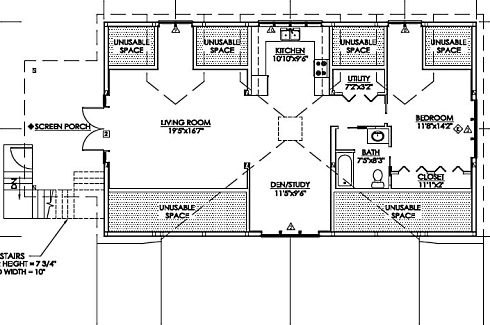 Additional Photos & Enlarged Floor Plan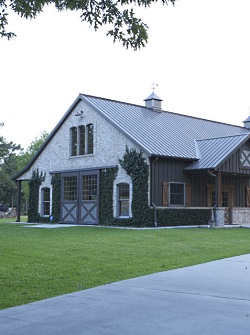 More Pole Barn House Plans
Bricks & Barn Doors
This charming pole barn home from Morton, also featured here, is clad with brick on both gable ends.  Steel siding with brick wainscot lines the front and rear facades.  A metal roof protects it from the elements. 

A covered porch with shed roof runs the entire length of one side.  Dormers punctuate the roof line above, capped by twin cupolas.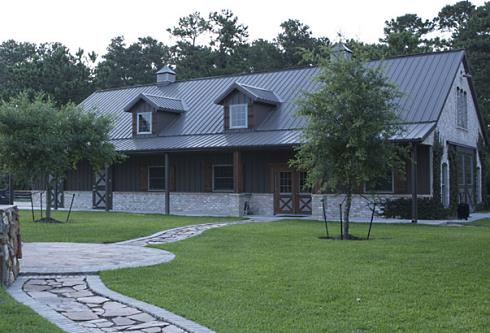 The pole barn house plans for this 36 ft. wide by 72 ft. long design feature two levels of living area.  Level 1 combines housing for both humans and horses.  The "people-purpose" portion includes a kitchen, bathroom, and enormous living room with soaring cathedral ceiling.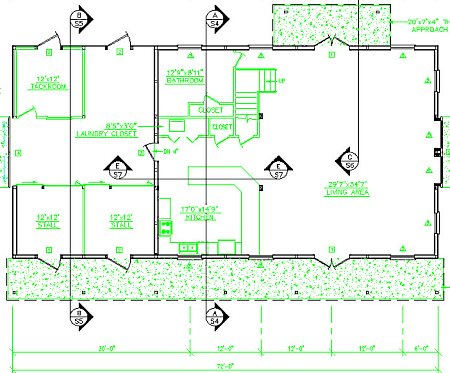 Contemporary Corner Windows
The following example of pole barn houses from Morton Buildings is 24 feet wide by 60 feet long.  Clad with brick and wood siding, it features large contemporary style windows on the front and side elevations.  A covered porch shelters the entry.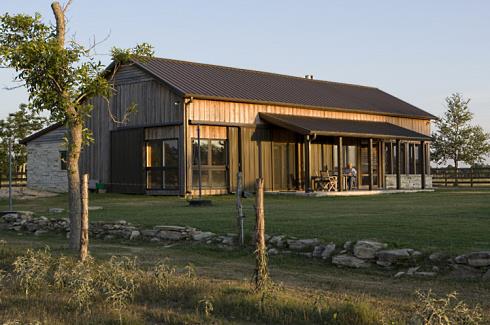 This pole barn home features an open floor plan with kitchen and living room.  A screen porch and half bath occupy one end.  At the rear, a utility room and bedroom/study with bath adjoin a convenient carport.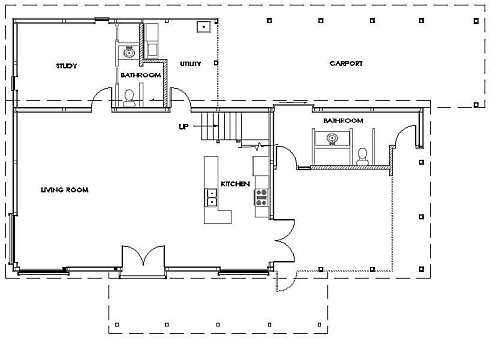 Additional Photos & Enlarged Floor Plan

Please check back often or subscribe to our RSS feed, as we frequently add barn house plans to our site.
YOU MAY ALSO LIKE:
MORE Pole Barn Homes -
Beyond Exercises in Utility!

Barn Style House Plans -
In Harmony with Our Heritage!


Standout Barn Homes -
Renewed Resources!

Barn Home Designs -
Endearing and Enduring!


Hobby Farm Homes for Humans...
AND our Furry/Feathered Friends!

Didn't find what you were looking for?
Use this search feature to find it.