Log Cabin Designs...
Ambiance & Period Charm!
Welcome to log cabin designs . . . an exciting collection of some of the warmest and most inviting dwellings ever to grace the landscape.  With a rich historical legacy, their ambiance and period charm continue to captivate us!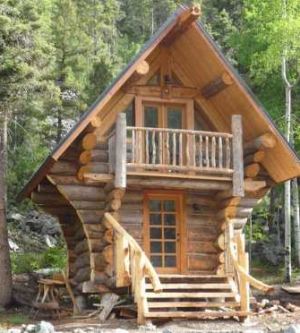 Chalet Style Cabin in Taos, New Mexico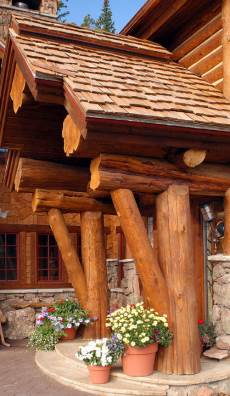 Though log cabins have been in existence for centuries, tracing their roots to Scandinavia and Eastern Europe, the design and construction of them has never fallen out of favor.  Frequently associated with rustic and rural North America, they reached their peak of complexity and elaboration with the Adirondack Great Camps in the Adirondack Mountain region of Upstate New York in the late 19th and early 20th centuries. 
Extremely popular, the Adirondack Style -- and variations of it -- quickly spread westward and can be seen in many of the lodges and resorts built at that time.  Today, in the resort communities and mountainous areas of the Western United States, regional variations of the style continue to be popular . . . from tiny cabins to large, rambling log homes.
(Design at right by Sitka Log Homes )
And little wonder . . . . . . .
From the moment you approach the front entry, the rich aroma and warm embrace of cedar logs draws you in like a magnet.  Once inside, lured by the distinctive scent of burning wood and sounds of crackling embers, you gravitate to the warmth and comfort of a great stone hearth with a blazing fire.  It just doesn't get any better than this!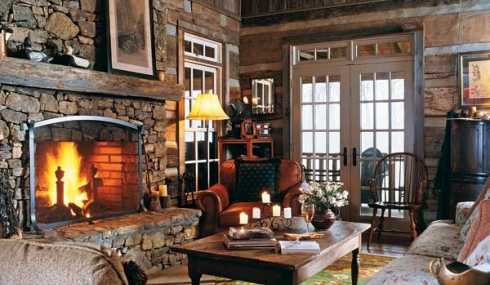 Finely Crafted Log Cabin Designs
The following log cabin designs reflect a variety of sizes and looks . . . . . from cute and cozy to rambling and roomy.  A great stone hearth such as that pictured above is typically vented through a massive stone chimney like the one shown in the photo below left.  Just as the hearth is often the "heart" of the cabin, the chimney is the "anchor" that ties it all together and anchors it to its site.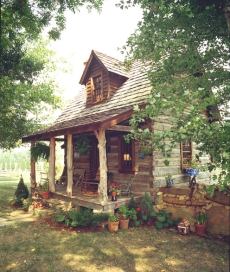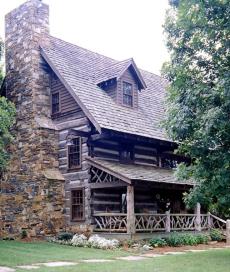 The images below reflect the outstanding craftsmanship employed in these designs and provide a sampling of different log and corner styles.  Below left, the hand-hewn logs come together in a dovetail corner. 
Below right, the round logs with the beautiful flared ends are full-scribe, or individually scribed and custom fitted to one another at the corner.  The large round logs in the bottom image have a saddle notch corner design.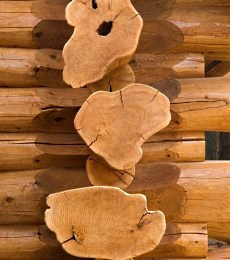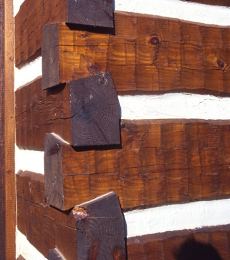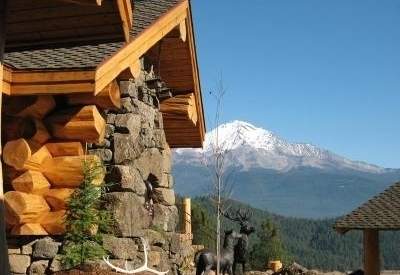 The unique cabin design pictured below, left, is clad with wood shingles between the log framing members.  Below right is another unique design, albeit with a more traditional hand-hewn log look.  The mountain retreat pictured at bottom is crafted from round logs.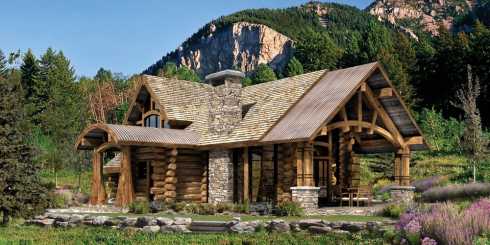 Log cabin designs are easily adaptable to meet the size and lifestyle needs of virtually everyone.  For instance, the two designs shown here provide a good example of this.  Though they differ dramatically in size and scale, each maintains its architectural integrity. 
The small log cabin at right is loaded with charm and looks like something out of a storybook.  Ideal for a couple or a small family, the efficient arrangement of interior space . . . . .

. . . . . as reflected in the Level 1 floor plan (right) makes it seem larger than it actually is.
(Log Cabin Design at right from Hearthstone Log Homes)
The attractive design pictured below is perfectly suited for a large family and/or large scale entertaining -- both indoors and out.  A spacious interior opens onto an outdoor balcony that spans the entire width of the home.  Directly below, double glass doors open onto a large flagstone terrace with a built-in fire pit.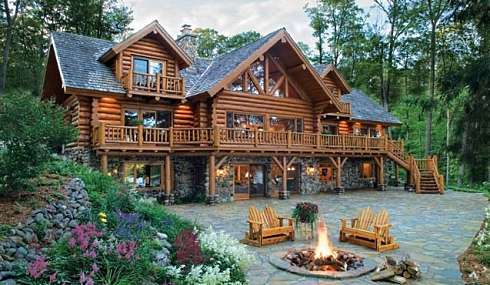 Please check back often or subscribe to our RSS feed, as we frequently add new images of log cabins to our site.
YOU MAY ALSO LIKE:


Tiny House Designs -
A Fairy Tale Log Cabin!

Log Cabin Furnishings -
Find the Look You Want Here!

The Small Log Cabin -
Simply Serene!

MORE Small Cabins -
Little Spaces, Perfect Places!


Log Cabin Kit Homes -
Kozy Cabin Kits!


Designs For Building A Log Cabin -
Energy Wise & Loaded with Charm!


The Log Cabin Fireplace -
Warming Hearts to this Day!


Small Log Cabin Plans -
BIG THINGS in small packages!

Standout Prefab Cabins -
Preferred by Many!


Modular Log Cabins...The Most
Complete of all Prefabs!


Log Cabin Mobile Homes -
Log Cabins to Go!


Small Log Cabin Floor Plans -
Tiny Time Capsules!


Small Log Cabins -
Refreshing Rustic Retreats!


Log Cabin Pictures -
Favorite Small Log Cabins!

Small Log Cabin Designs
with BIG STONE HEARTHS!


Log Cabin Floor Plan Designs -
Little Architectural Jewels!

Standout Hunting Cabins -
Right on Target!

Small Log Cabin Designs -
Designed for Fun

Standout Log Cabin Homes -
Carefully Crafted!


Cabin Design Ideas & Plans -
Distinctive Log Cabins!


Extraordinary Log Cabin Houses -
BIG, BOLD & BEAUTIFUL!


Log Home Fireplaces -
Bold & Breathtaking!

Log Cabin House Plans -
A Handcrafted Heirloom!


Log Cabin Home Plans -
A Hunter's Haven!


Log Home House Plans -
A Majestic Masterpiece!

Log Cabin Interior Design -
An Extraordinary Rustic Retreat!

Log Cabin Home Designs -
Monumental Magnificence!

Standout Log Homes Plans -
A Majestic Mountain Home!


Log Home Decorating
on a GRAND SCALE!

Log Cabin Home Decor -
Bedrooms, Bathrooms...& Beyond!

Back to Standout Cabin Designs Home Page


Didn't find what you were looking for?
Use this search feature to find it.
LIKE THIS PAGE?