The Log Cabin Fireplace...
Warming Hearts To This Day!
A log cabin fireplace was the heart -- and hearth -- of a log dwelling . . . the center around which virtually everything revolved.  A primary source of heating and cooking for centuries.  Though no longer employed in that capacity, it continues to warm our hearts to this very day!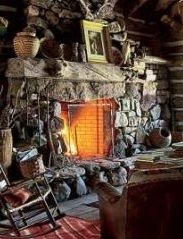 Stone Hearth at Ralph
Lauren's Colorado Ranch
One need only look at the exterior to see how some log cabins are anchored by massive stone chimneys. Whether gathering with friends around an outdoor fire when the weather is mild . . . . . . . or huddling with loved ones in front of a crackling fire during a winter snowfall . . . . . a warm and toasty hearth is as comforting today as it was centuries ago.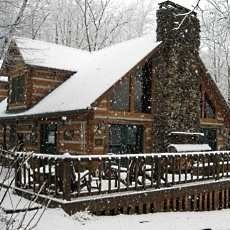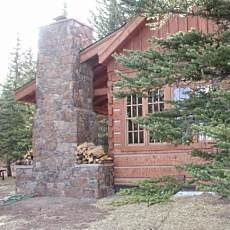 Log cabin designs pictured above and 
at right from Appalachian Log Homes

Images of another time, long ago, when life seemed so much simpler . . . . . dance in our minds.  The aroma of a real wood fire permeates the air.   Flickering flames and crackling embers beckon us to gather round and settle in for an evening of storytelling and merriment . . . . . . . or just relaxation and quiet enjoyment. 
Few things are as warm and inviting as a cozy stone hearth in a log home or cabin.  Whether a soaring two story design, such as the striking split face granite fireplace pictured at right from Wisconsin Log Homes . . . . . or something a bit less imposing, such as the following 2 stone hearth designs, the warmth of the wood and the rugged natural beauty of the stone create an intimacy that belies the overall size and massing of the design.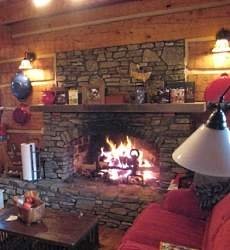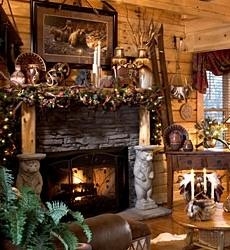 Log cabin fireplaces pictured above are from Jim Barna Log & Timber Homes (left) and Appalachian Log Homes (right).
More Log Cabin Fireplace Designs
The following three stone hearth designs are from Golden Eagle Log Homes.  Crafted from smooth, round river rock, or river stone, they come in an amazing range of colors and hues.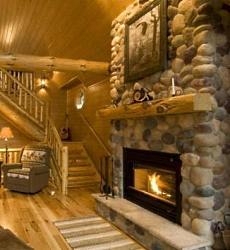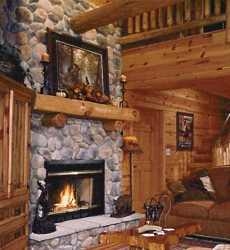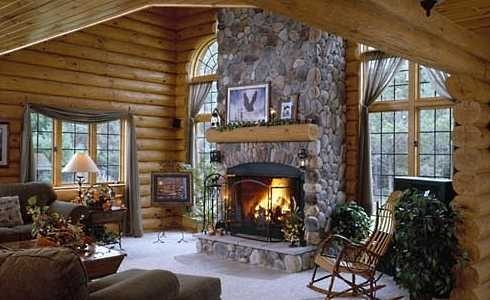 See More Riverstone Fireplaces at our
Sister Site, Standout-Fireplace-Designs.com
The three stone hearths pictured below are crafted from fieldstone, a stone commonly used in fireplace surrounds.  Beautiful, strong and durable -- with complex and contrasting patterns, colors and textures -- a fieldstone fireplace can be a veritable work of art!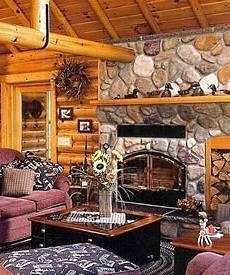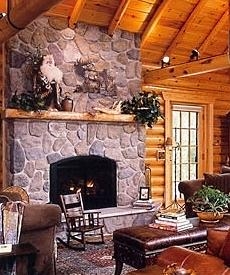 Log cabin fireplaces pictured above and
at right from Northwoods Log Homes
The fieldstone fireplace pictured below is from Appalachian Log Homes.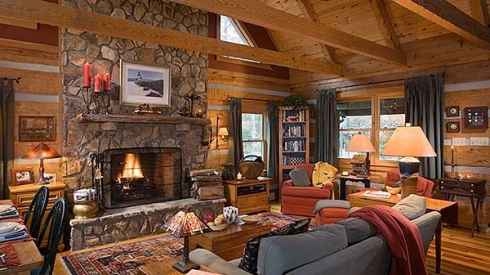 See More Fieldstone Fireplaces at our
Sister Site, Standout-Fireplace-Designs.com
And finally, the soaring fireplace designs that follow combine both river rock and fieldstone for added architectural interest.  Beautiful stones with warm muted colors are used in the design below, left, from Log Cabin Homes.  The impressive design on the right is from Lincoln Logs.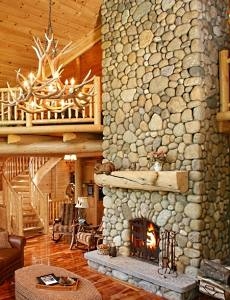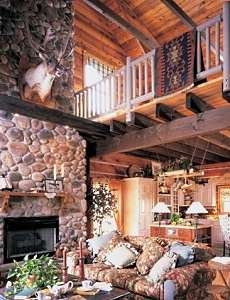 Please check back often or subscribe to our RSS feed, as we frequently add log cabin fireplace designs to our site.

YOU MAY ALSO LIKE:


Small Log Cabins...
BIG STONE HEARTHS!
Didn't find what you were looking for?
Use this search feature to find it.