Log Cabin Furnishings...
Find the Look You Want Here!
Log cabin furnishings . . . hmmmmm . . . . . IMAGINE you're on the home stretch of building or remodeling your dream log cabin.  All the planning and hard work is coming to a head.  Though it's been a long and dusty road, mounds of construction debris are a thing of the past.
Excitement is in the air.  A huge fire blazes in the hearth.  Amidst the din of crackling logs, champagne glasses clink as toasts are made to celebrate this important milestone.  What to do next?
Furnishing your log cabin may be the most enjoyable part of the entire process, affording an opportunity to complement its style and infuse it with your own unique and distinctive personality.  Whether looking for a dining table or sofa, a bathroom vanity or a bedroom set, you're likely to find it here. 
Discover an exciting range of log cabin furnishings from a select group of sources.  With quality craftsmanship and detailing, they are destined to become the heirlooms of tomorrow!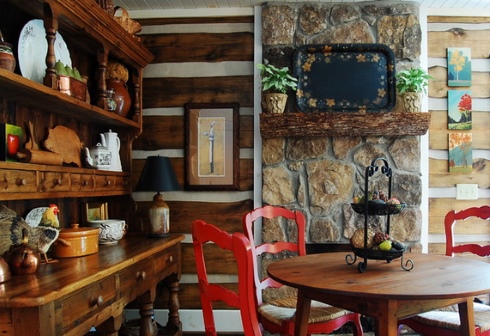 Rustic mountain home kitchen in Mentone, Alabama
Photo Credit: Corynne Pless
Log Cabin Furnishings
Kitchen
A cozy log cabin kitchen by Bartel Kitchen and Bath in Wichita, Kansas features a vintage stove and rustic cabinetry.  Note the bark accents on the center island.  Base cabinet lighting casts a warm glow on the wood floor.

Log interior design home design ideas
Image via Bartel Kitchen and Bath

Crafted by Land's End Development, a cabin on Lower Whitefish Lake in northern Minnesota employs the lavish use of stone in its kitchen design.  Stone countertops and backsplashes contrast beautifully with dark wood cabinetry.  A patterned floor features a series of stone tiles set in squares framed by hickory borders.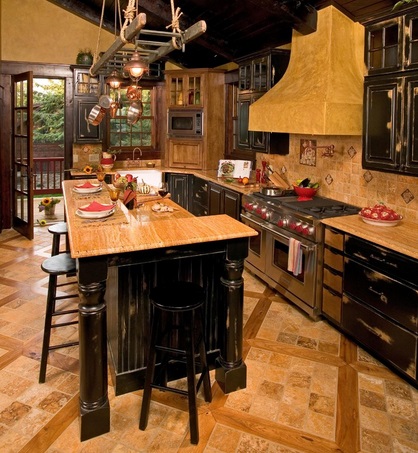 Similar to that pictured above, the following kitchen island design from Monarch Furniture features raised panel doors and turned slide out legs to expand the worktop area.  The worktop, itself, consists of a black granite insert with an oak surround.  More about this kitchen island...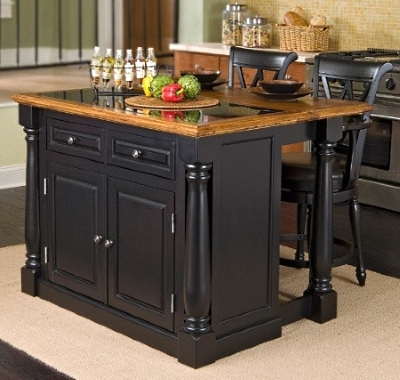 Dining Room
A Hickory Style dining set from Fireside Lodge Furniture brings the forest indoors.  Table legs, chair backs and chair legs are crafted from kiln dried bark on hickory logs.  A clear-coat lacquer finish is applied for extra durability.  More about this dining set...Table, Arm Chair, Side Chair, Bench, Buffet and Hutch

Oozing handcrafted beauty and warmth, a Barnwood Style dining set from Fireside Lodge Furniture is made of oak planks salvaged from 19th century tobacco barns.  Pictured in the foreground, below, an Artisan upholstered side chair and armchair take their rightful place next to a barnwood timbers dining table (Upholstered chairs shown in "Gallop" fabric).  More about these dining chairs...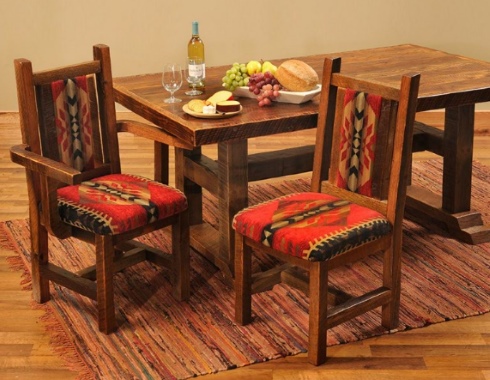 Available in 3 distinctive finishes, the barnwood timbers dining table is shown here with the "Artisan" top.  More about this dining table...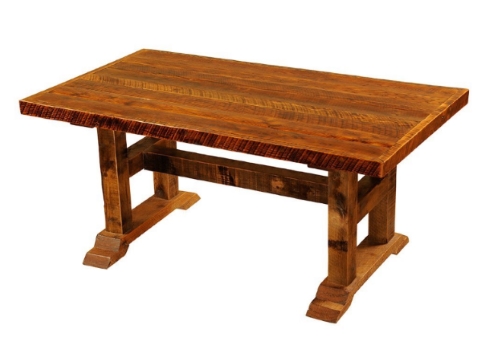 Living Room
Log cabin interior decorating and design encompasses a variety of furnishings for the living/gathering/great room, including sofas and chairs, coffee and end tables, TV stands and media cabinets, lamps and lighting fixtures, fireplace accessories and area rugs . . . to name but a few. 

The rustic log cabin pictured below is from Teton Heritage Builders in Jackson, Wyoming.  Anchored by a moss rock fireplace, the living room features wood and red leather chairs by renowned Western style furniture designer Thomas C. Molesworth (1890-1977).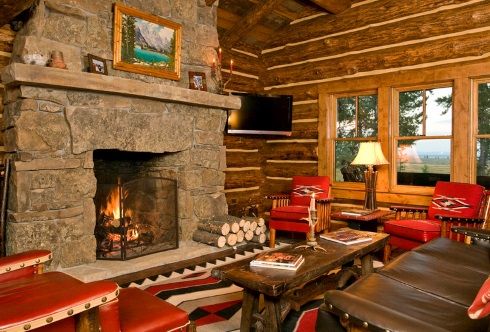 Characterized by colorful cushions and dark faux leather with brass nail- head trim, the Bear Creek Sofa (below) is a perfect complement to any rustic setting.  More about this sofa coming soon!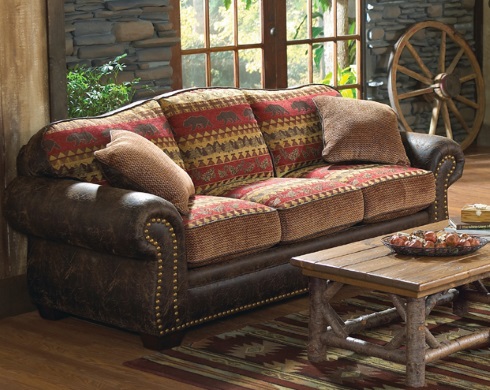 Bedroom
Log cabin furnishings for the bedroom come in an exciting array of looks.  A cedar twig platform bed from Fireside Lodge takes center stage in the room below.  More about this bed...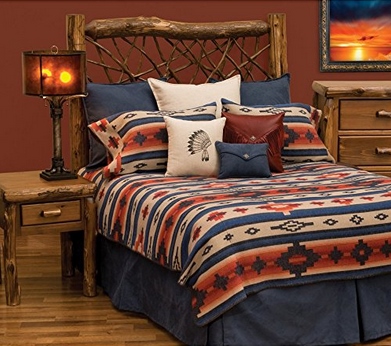 "Redrock Canyon" bedding, shown above, sold separately by Wooded River, Inc.

Please check back often or subscribe to our RSS feed, as we frequently add new log cabin furnishings to our site.

YOU MAY ALSO LIKE:


Log Cabin Hygge Decor... A Cozy Home!


Log Home Decorating
On A GRAND SCALE!

Log Cabin Home Decor -
Bedrooms, Bathrooms...& Beyond!

Log Cabin Interior Design -
An Extraordinary Rustic Retreat!

Log Cabin Home Plans -
A Hunter's Haven!
Didn't find what you were looking for?
Use this search feature to find it.