Log Home Decorating
On A GRAND SCALE!
Log home decorating on a truly grand scale may be out of reach for most of us . . . . . but the extraordinary rooms pictured here are sure to inspire and provide a host of decorating ideas you can use to enhance your own log home!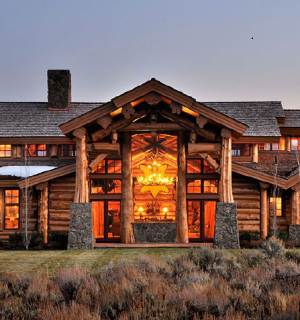 A majestic stone fireplace is a "necessity" in any log dwelling . . . and this Summit Handcrafted Log Home does not disappoint.  Soaring to more than two stories in height, the monumental stone hearth pictured below is one of several in the residence! 

A massive chandelier crafted from metal and alabaster hangs from the ceiling.  Matching wall sconces flank the mounted buffalo head above the arched firebox opening. 

Flanking the fireplace, itself, are two chairs crafted from antlers and animal hides. An oriental rug softens the wide expanse of flagstone flooring. 

See More Monumental Stone Fireplace Designs at
our Sister Site, Standout-Fireplace-Designs.com
Another soaring stone fireplace in the home is illuminated by a magnificent three-tier chandelier crafted from elk antlers (right).  A plasma TV mounted above the arched firebox opening is flanked by wall sconces.  Over-stuffed sofas and chairs -- along with a large ottoman -- ensure comfort for family and friends. 

Below, another stone fireplace provides a focal point for this intimate sitting room, furnished with casual side chairs, a leather sofa, and a metal and glass cocktail table.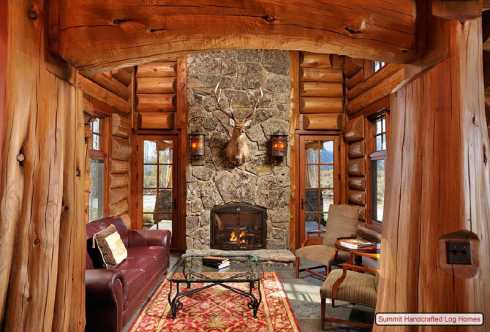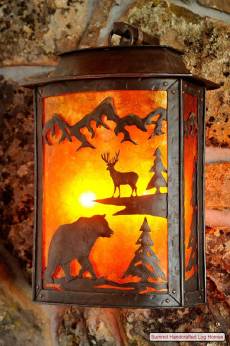 Log Home Decorating Details
A wildlife scene crafted from metal is illuminated from behind in the handcrafted wall sconce pictured at right.
The fireplace screen  pictured  below echos the detailing in the wall sconce.
Even corridors and hallways in the home are architectural works of art. The soaring multi-story space at right is punctuated by upper level windows and interrupted by pairs of posts or columns with flared root bases that appear to grow from the floor!   An oriental runner stretches the length of the corridor to soften the slate stone flooring. 
The  hallway pictured below features finely handcrafted double doors with multiple panes of wavy glass.  Stone flooring contrasts beautifully with the wooden doors and surrounding trim.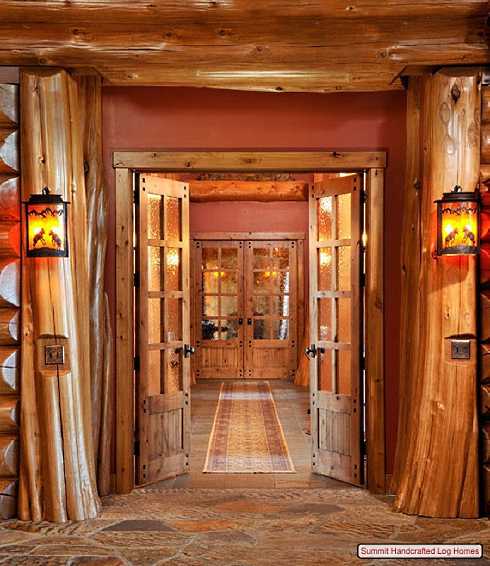 Stepping back from the hallway pictured above is the heart and soul of this majestic log home . . . . . a Great Room with incredible handcrafted detailing.  A vast collection of wild animal mounts is the focus of the log home decorating in this room.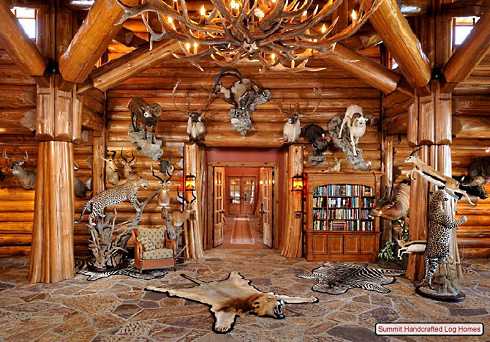 An image of the "office" at one end of the Great Room reveals more big game trophies collected from around the world.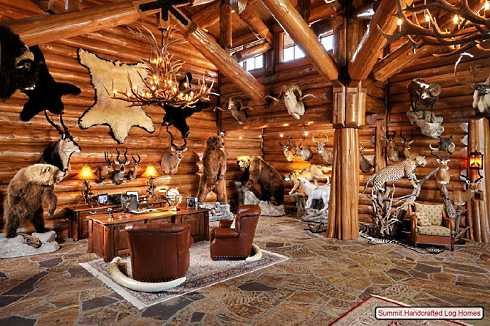 A close-up image of the beautifully handcrafted office desk highlights drawer pulls made from antlers.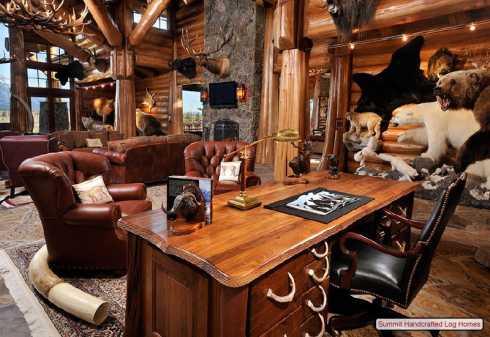 Another part of the Great Room features a billiard area, complete with a magnificent mountain view!  Suspended from the ceiling are massive chandeliers crafted from antlers.  On the floor, an Arts and Crafts Style billiard table rests on an oriental rug placed atop an expansive flagstone floor.
Another view of the billiard area displays a collection of big game trophies from the African Continent.  Flanking the large window is a pair of ivory tusks.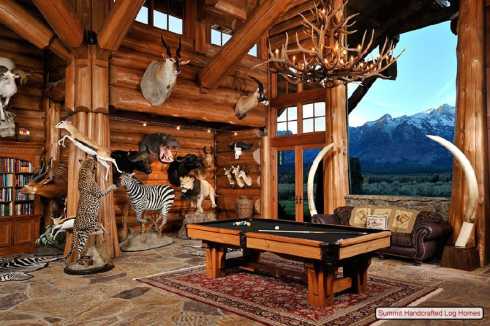 And finally, the close-up image that follows showcases the handcrafted detailing of the Great Room's soaring vaulted ceiling.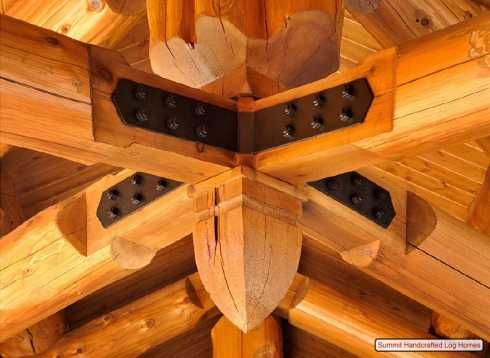 More Log Home Decorating Photos of this Mountain Retreat!

For Exterior Photos of this Home, Please Click Here!
Please check back often or subscribe to our RSS feed, as we frequently add new log home decorating photos and ideas to our site.

YOU MAY ALSO LIKE:

MORE Log Cabin Home Decor -
Bedrooms, Bathrooms...& Beyond!

Exterior Photos & Log Homes Plans
for this Majestic Mountain Home!
Log Cabin Interior Design -
An Extraordinary Rustic Retreat!
Didn't find what you were looking for?
Use this search feature to find it.