Log Cabin Interior Design...
An Extraordinary Rustic Retreat!
The log cabin interior design photos featured here showcase a monumental retreat in the Catskill Mountains of Upstate New York.  Inspired by Adirondack Great Camp designs of the late 19th and early 20th centuries, as well as western mountain architecture, this stunning retreat is loaded with ambiance and nostalgic charm!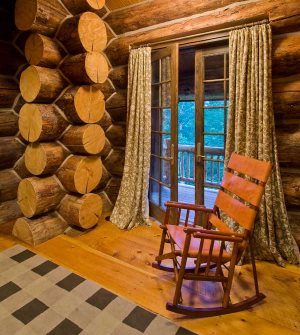 Designed by the architectural firm of Holmes, King, Kallquist & Associates, the structure utilizes enormous logs averaging 18 inches in diameter, with butts as thick as 42 inches.  In addition, an abundance of stone is used on both the exterior and interior of the home.   Pictured below is the spacious area just inside the front entry.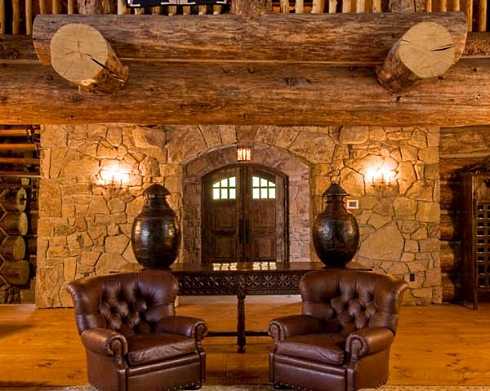 The log cabin interior design of the soaring Great Room is absolutely incredible!  Anchored by a monumental "walk-in" fireplace crafted from massive stone slabs, this stunning space is a testament to the extraordinary creativity and skill of the architects, designers, craftsmen and artisans that created it!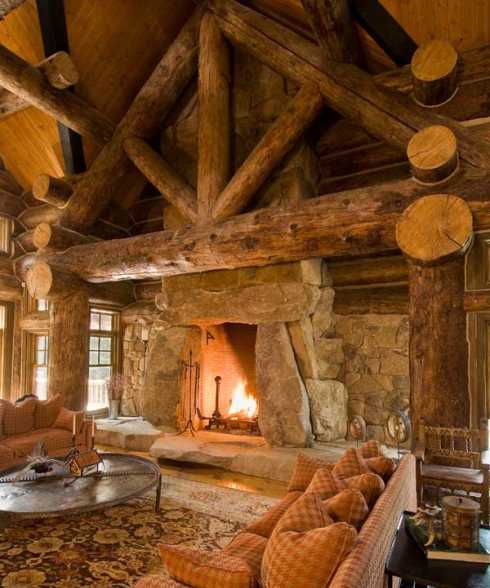 Overlooking the Great Room from an upper level balcony, the furnishings are dwarfed by the sheer size and scale of the giant logs and stone slabs around the firebox opening.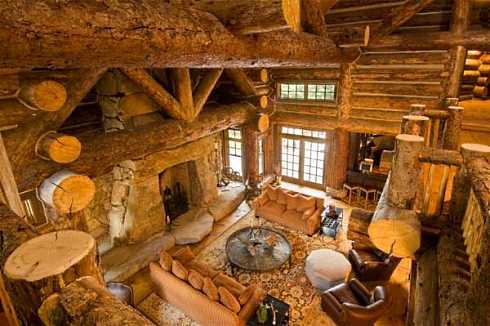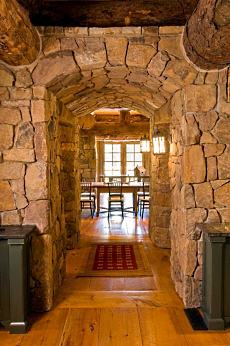 The generous use of stone in the log cabin interior design is clearly evident in the approach to the dining room . . . . .
. . . . . . . as well as in the dining room, itself, pictured below.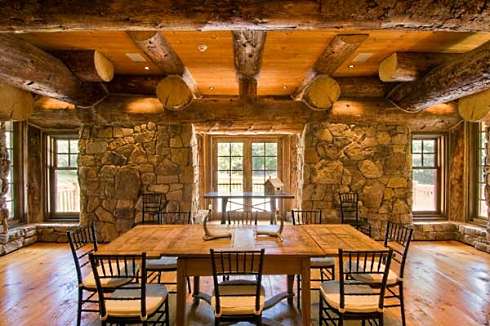 Stone is also used in the sitting area pictured below, left, as well as in the kitchen below, right.  Porcelain tile resembling copper and steel forms the backsplash on the wall above the stove.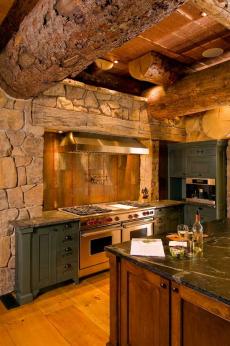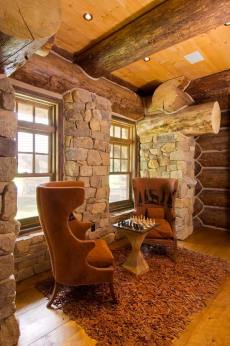 Log Cabin Interior Design -- Upper Level
In addition to stone and wood used in the stair design leading to the upper level, heated and twisted iron brackets support the stair treads, as shown in the image below, right.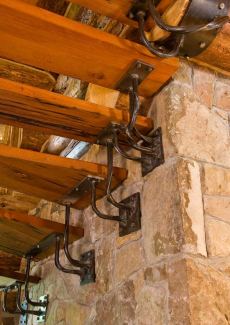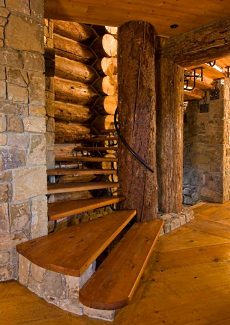 Upstairs, the shower in the master bathroom (below  left) uses the same metallic-looking porcelain tile as that used in the kitchen backsplash.  Pictured below, right, is a bridge or corridor that connects the upper level guest rooms.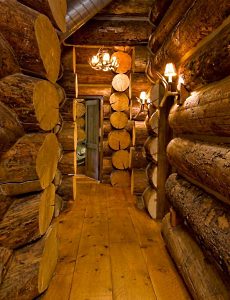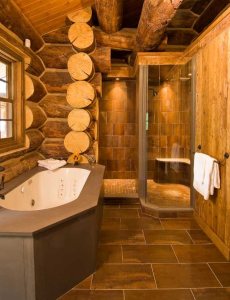 And finally, the master bedroom features a finely crafted corner stone fireplace.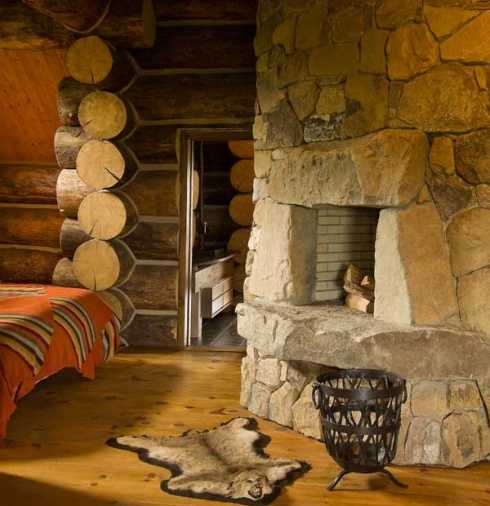 See More Corner Stone Fireplace Designs at our
Sister Site, Standout-Fireplace-Designs.com

For Exterior Photos of this Monumental Retreat, Please Click Here.
Please check back often or subscribe to our RSS feed, as we frequently add new log cabin interior images to our site.

YOU MAY ALSO LIKE:


Log Home Decorating
On A GRAND SCALE!