Cabin Fever . . .
Hot Fireplace Designs!
Fireplace designs for cabins and cottages are what dreams are made of.  Few things are as magical and comforting as relaxing beside a crackling fire in a cozy cabin hearth!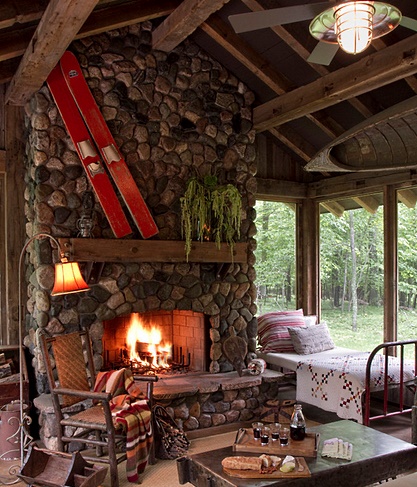 Rustic Stone Hearth (above)
by Land's End Development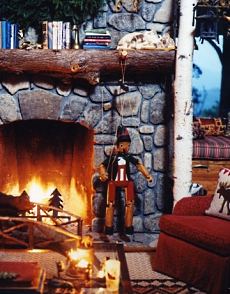 The inherent romance and charm is irresistible . . . . .
Evoking memories of an earlier, simpler time, the images at right and below reflect what many of us envision when thinking of the ideal hearth for a getaway retreat!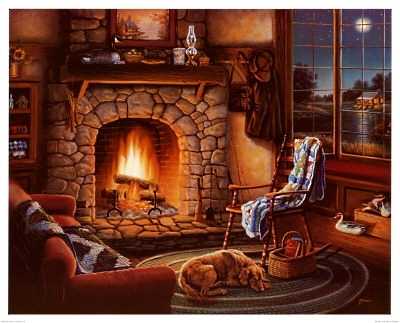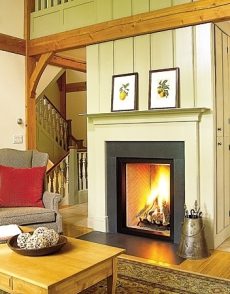 Cabin Fireplace Designs . . .
Infinite Options
Hearth designs for cabins and cottages vary greatly in size, style and material type.  
A simple painted wood mantel -- such as that pictured at right and below -- is the least costly, yet perfectly ideal for a wide range of applications.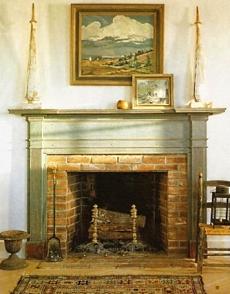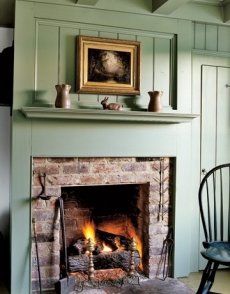 For a more rustic look with wood, the log mantel below, left, or the timber style mantel to its right, may be a better choice for your cabin style.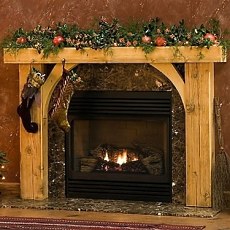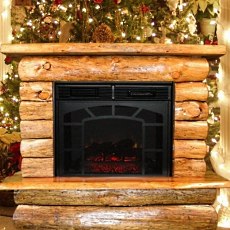 Another option is to combine wood with stone in your hearth design.  The examples pictured below are truly unique and extremely creative -- a  rock solid testament to the vision and talent of their creators!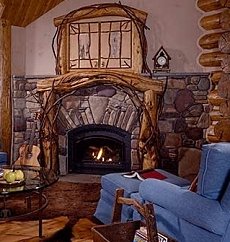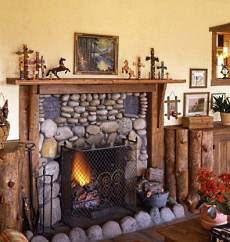 An all stone fireplace hearth -- albeit the most costly -- is also the most popular for cabins and cottages.  And little wonder!  The nostalgic charm and ambiance of the stone fireplace designs that follow is hard to beat!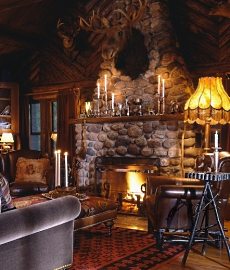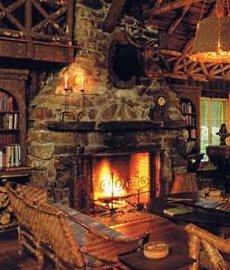 The warm and inviting Adirondack Style design pictured below takes its cue from the picturesque and romantic architectural style of the Adirondack Mountain region in upstate New York between 1870-1930.  The cozy stone hearth pictured above, left, is a striking example of Adirondack Great Camp architecture from that period.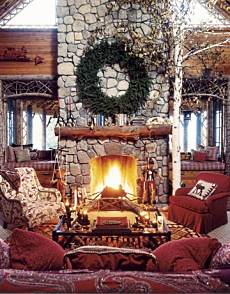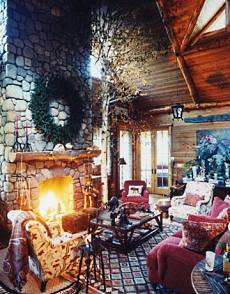 More Adirondack Style Stone Hearths

Moving westward, the stunning image that follows is an outstanding example of western mountain architecture!  Designed by Ewing Architects, this is one of several stone hearth designs created for fashion icon, Ralph Lauren, at his Colorado ranch.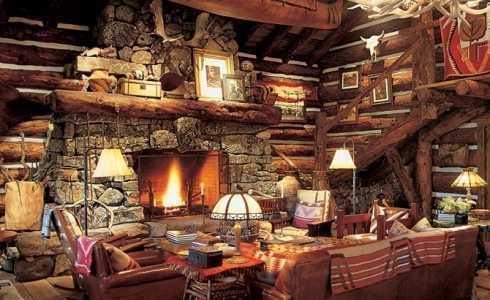 Shifting gears, the quaint painted brick hearth at right is nearly "picture perfect" for a cozy little cottage! 
And finally, if your taste is contemporary in style, the following designs may be more to your liking.  Photographed by the talented folks at Roger Wade Studio, they present a very unique and innovative alternative to the traditional designs above!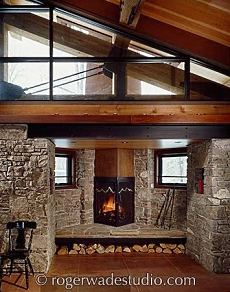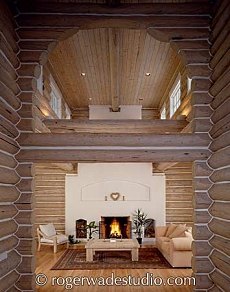 Please check back often or subscribe to our RSS feed, as we frequently add new images of fireplace hearths to our site.