The Rustic Stone Fireplace...
Amazing Adirondack Designs!
The rustic stone fireplace designs featured here are the focal points of a treasure-trove of Adirondack retreats.   Located in the beautiful Adirondack Mountain region of Upstate New York, these extraordinary examples span a period of more than a century. 

Though monumental in scale, their rugged surrounds and crackling fires epitomize the "cozy and comfortable" stone hearth.  Oozing with welcoming warmth, they provide a perfect spot for family and friends to gather around! 

Adirondack-Inspired Stone Hearth
The late 1860s ushered in the era of what has come to be known as Adirondack Great Camp architecture.  Sprawling wilderness compounds consisting of numerous rustic buildings were built for wealthy American capitalists -- a practice that would continue, uninterrupted, for more than 60 years.
Dotting the Adirondack Mountain region's lush green forests and shorelines along its pristine lakes, streams and rivers, the Great Camps featured picturesque buildings crafted from a variety of natural materials such as native stone.  In addition to hand-hewn logs -- both peeled and unpeeled (with bark left on) -- Adirondack siding options included wooden shingles, tree bark, wavy wood, and board and batten . . . to provide contrast and texture.  Tree branches and twigs were frequently used on porches and gables to further enhance the rustic look and feel.
"Zigfield Lodge," pictured above, was built for investment
banker and philanthropist Jules Bache (1861-1944)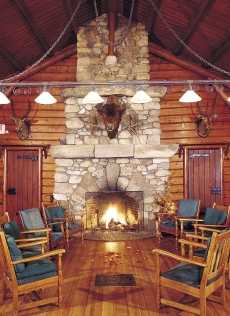 The two rustic stone fireplaces that follow are at Great Camp Sagamore Lodge . . . a rustic retreat built in 1895-1897 by camp designer and developer William West Durant.  Purchased by Alfred Gwynne Vanderbilt in 1900, Sagamore Camp was subsequently expanded and enhanced.  Designated a National Historic Landmark in May, 2000, it is currently open to the public.
The majestic stone fireplace pictured at right is located in the compound's "Playhouse."   Pictured below is one of the historic main lodge's stone surrounds.

The quaint and cozy room that follows is part of "Camp Moss Rock," designed in the 1930s by architect William Distin.  Anchoring the room is a large rustic stone fireplace surround with a timber mantel shelf supported by wooden corbels.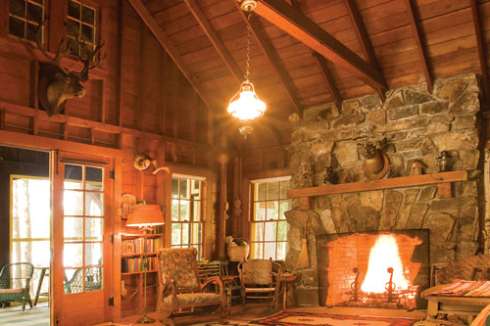 The monumental "walk-in" fireplace pictured below is one of two massive stone hearths at opposite ends of an equally monumental living room in the main lodge at "Camp Topridge."  Constructed in the 1920s for cereal heiress Marjorie Merriweather Post, this 68 building complex is the grande dame of Adirondack Great Camps.  It was designed by architect Theodore Blake, along with master builder Benjamin Muncil.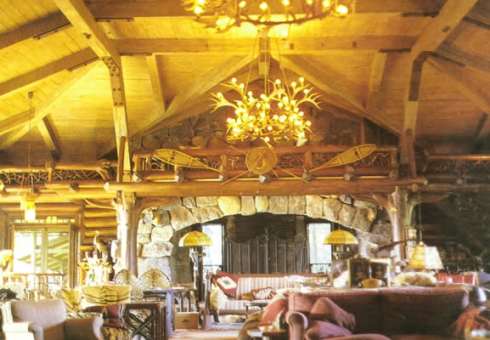 More about the Adirondack Style
Following are 2 rustic rock fireplaces at the Lake Placid Lodge, a luxury Adirondack hotel and resort.  Built in 1882 as a private retreat made of stone and shingles with twig-framed porches, it was converted to a hotel in 1946.
However, a disastrous fire in 2005 destroyed the camp.  Rising like a phoenix from the ashes, a stunning new Main Lodge was subsequently built that includes 50 handcrafted fireplace surrounds.
Pictured above, right, is a beautiful rustic stone hearth that extends from floor to ceiling and features meticulous detailing.  The striking room pictured below includes a cozy corner fireplace and an Adirondack Style bed created by local artisans.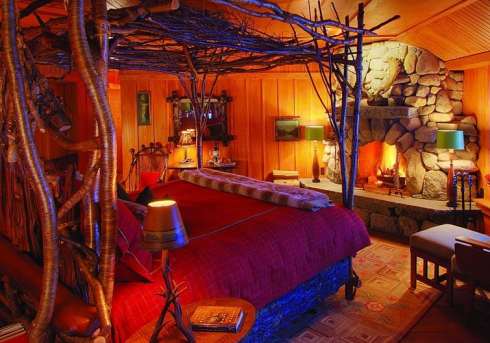 More Rustic Stone Fireplaces
Since the 1990s, Adirondack architecture has enjoyed a booming resurgence of interest.  Original Great Camp buildings are being restored and new structures are frequently springing up. 

A soaring rustic stone fireplace anchors the great room of a rambling guest cabin at "Camp John Brown."  The cabin, itself, as well as a variety of additional picturesque structures in the compound, were designed by Michael Bird of Adirondack Design. 

Striking vertical logs line the interior walls . . . capped with a band of horizontally stacked logs.  Piercing this band are several diamond shaped windows -- a trademark of Michael's designs.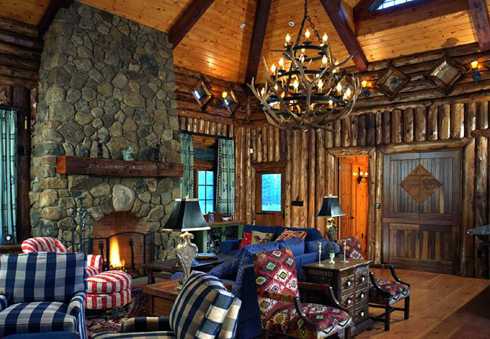 The stunning fireplace surround pictured at right almost screams "Adirondack Style!"  Beautifully designed and built using multi-colored granite stones around an arched firebox opening, it features a rustic birch log mantel shelf.  Rising from mantel shelf to ceiling is a finely crafted overmantel made of white birch logs and bark.

Photo Credit (right): Roger Wade Studio

The Adirondack retreat pictured below features a striking wraparound porch with a rustic stone fireplace.  Mimi McMakin of Kemble Interiors, along with her husband, Leigh, designed it as a getaway for their own personal use.  Adding contrast and a splash of color to the stone hearth are comfy overstuffed chairs with scarlet red upholstery.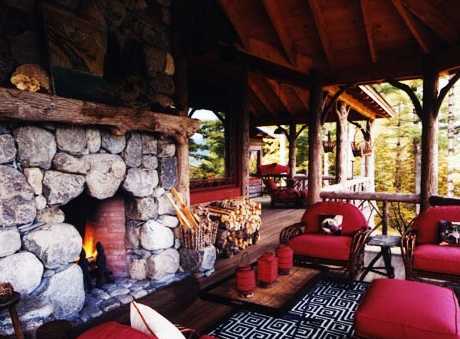 Please check back often or subscribe to our RSS feed, as we frequently add new images of rustic stone fireplaces to our site.
YOU MAY ALSO LIKE:

MORE Rustic Stone Fireplace Designs -
Warming Hearts To This Day!

Log Home Fireplaces -
Bold & Breathtaking!