Standout Tree House Designs...
Not Just for Kids Anymore!
Today's tree house designs have risen to new heights!  Regardless of one's age, there's something about a dwelling high up in the trees that excites and transfixes us with childlike allure.  "Dangling 60 feet in the air, people instantly revert to being excited 2-year-olds," says designer Todd Oldham, who built a two-story treehouse at his weekend home in eastern Pennsylvania.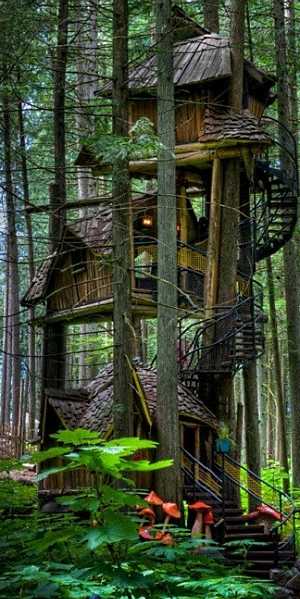 "The Enchanted Forest," British Columbia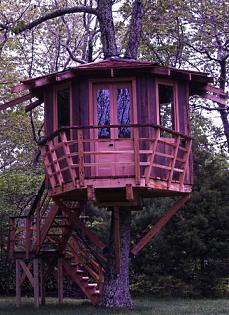 A world wide phenomenon, the new generation of tree houses is elevating the dream.  "People think 'treehouse' and imagine creaky plywood forts where kids sneak away to have their first kiss," says Roderick Romero, a Manhattan designer.  "But it's moved so far beyond that."
And he would know.  One of today's leading tree house designers, he has crafted some very innovative above-ground structures for clients around the world.   Pictured at right and directly below are 2 of his creations.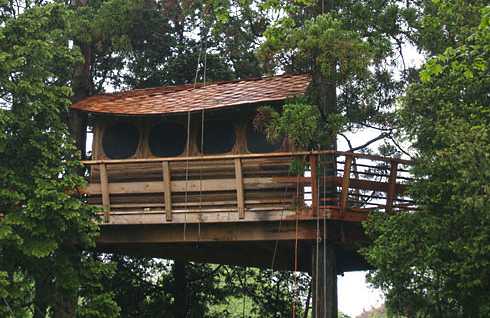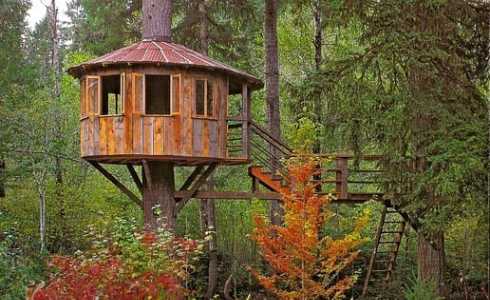 Pictured above, as well as at right and below, left, are tree house designs crafted by Seattle-based TreeHouse Workshop.   One of the premier tree house designers and builders in America, the firm has built some of the world's most inspiring tree houses.
See More Tree Houses by TreeHouse Workshop!
Pictured below, right, is a tree house by Marc Homs (treehouses.nl) of The Netherlands.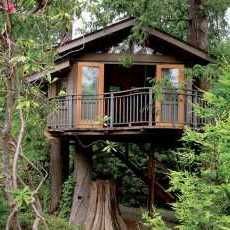 More Tree House Designs



The elaborate design at right and below features diamond-paned and Gothic arched windows, along with a thatched roof.  Created by the British firm of Blue Forest, it was erected on the grounds of Amberley Castle, currently welcoming guests as a castle hotel.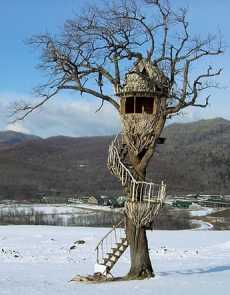 The tiny treehouse with a spiral stairway pictured at right was created by Japanese designer, Takashi Kobayashi of Tree House People. 
The beautifully integrated design pictured below is, once again, by British firm, Blue Forest.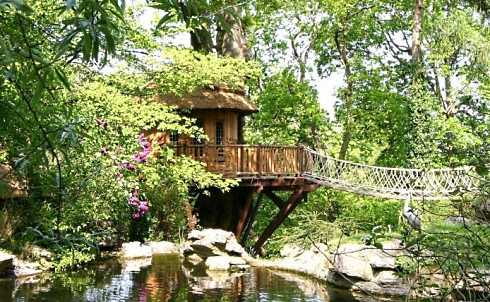 The gazebo like structure pictured below, left, sports a spacious deck around its perimeter.  Below, right, is a contemporary treehouse design by Baumraum, a German manufacturer.  Using a technique called "arboriculture," the company aims to integrate each design into its surroundings. 

"With the modern tree dwellings we're building, it's architecture meets high adventure," says Andreas Wenning, of Baumraum.  He goes on to state that "These are fantasy cocoons, limited only by a client's imagination and budget."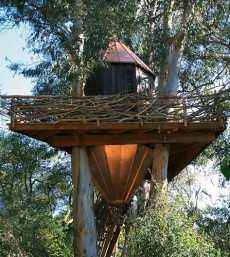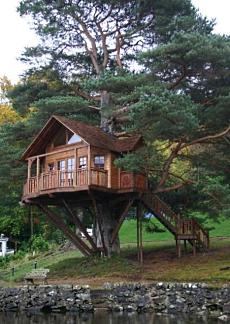 From traditional (right) . . . . . . . . .

to cubist contemporary (below) . . .

. . . fairytale tower (below left) . . . . . to futuristic fantasy (below right), you are bound to find a tree house design that is just right for you.  Once again, to quote Andrea Wenning of Germany's Baumraum, "In a treehouse, you're not on the ground and you're not flying.  It's somewhere in the middle -- like floating between earth and heaven."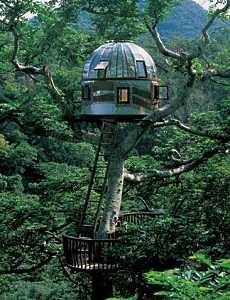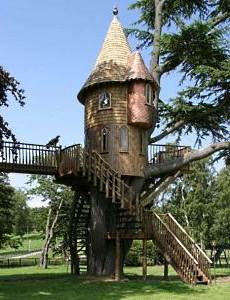 Please check back often or subscribe to our RSS feed, as we frequently add new images of tree houses to our site.
YOU MAY ALSO LIKE:


More Standout Tree House Designs -
Out On A Limb!