Floating Houses & Cabins...
Huck Finn never had it THIS Good!
Floating houses and cabins provide a unique and adventurous way to escape the hustle and bustle of everyday life.  Just as Mark Twain's fictional character, Huckleberry Finn, did more than a century ago with his river raft . . . you, too, can get away from it all.  However, unlike Huck Finn, you can do so in far greater comfort and style!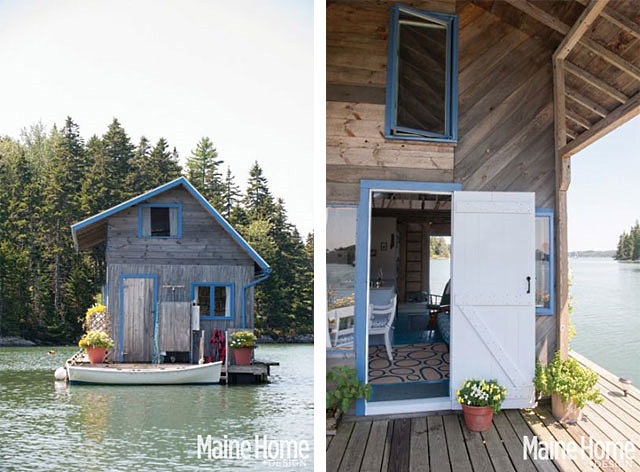 Images above via Maine Home + Design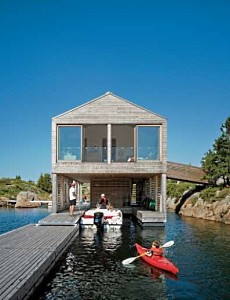 Today's floating cabins come in a wide range of styles with a host of amenities for convenience and comfort.  Many are equipped like a standard cabin or weekend retreat.
The modern design pictured at right and below was created by MOS Architects.  Floating serenely on Lake Huron, the house or cabin is a summer vacation getaway for the owner and his family.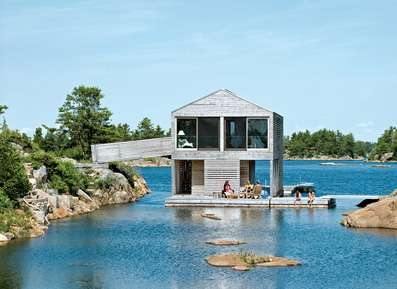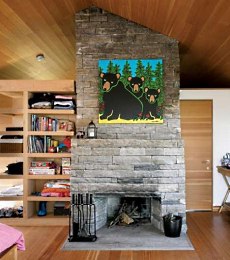 Inside, the space is anchored by a large stone hearth, pictured at right. 
It also features a simple, albeit beautifully crafted interior with lots of natural wood surfaces (shown at right and below).
More Floating Houses & Cabins
The images that follow reflect a sampling of styles available in floating houses and cabins.  Pictured in the second row below, right, is one of several designs from P. Talley Floating Creations in Alabama.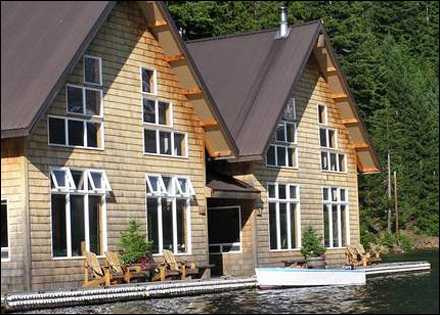 The floating cabin below provides an ideal vantage point from which to view the magnificent scenery of British Columbia that surrounds it!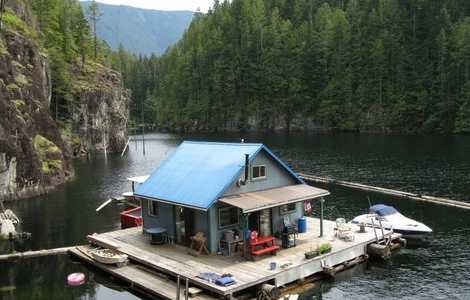 The floating designs pictured at right and below -- both with gambrel roofs -- are two more examples that reflect the architectural diversity of this unique cabin type.
Note the upper level balcony in the design at right.
The striking floating cabin shown below is from GreenPod Development in Washington State.  Beautifully crafted and eco friendly, it is a modular or prefab design.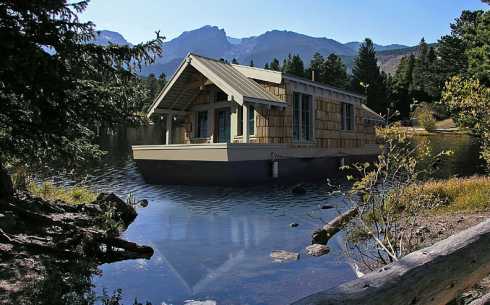 More Modular/Prefab Cabin Designs
And finally, the two examples that follow are called camping rafts.  The A-Frame style cabins are built on log rafts made of tree trunks and supported by barrels.  These particular camping rafts sit directly on the edge of the Steenberg's Vliet river in Holland and can only be accessed by canoe.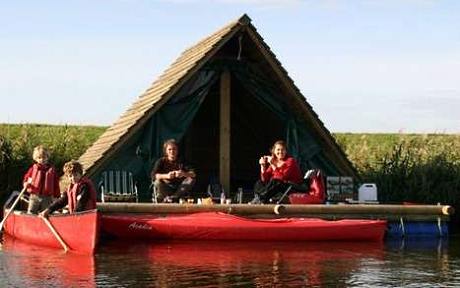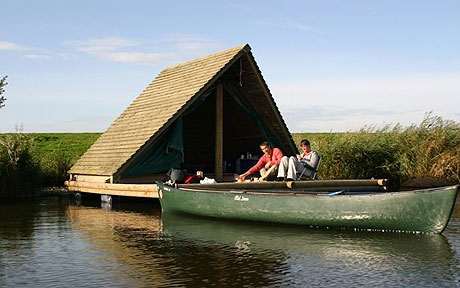 More Floating Houses & Cabins Coming Soon!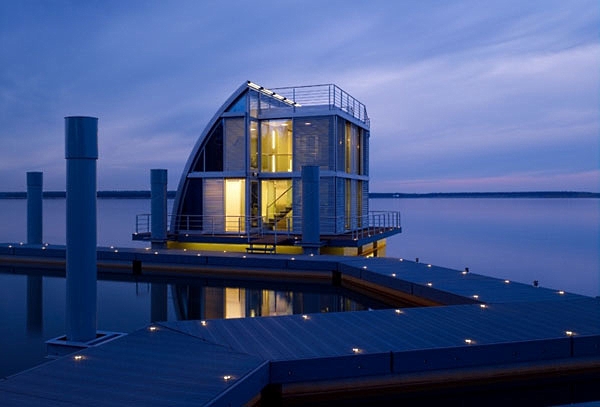 "Aqua Floathome," pictured above, by German architects Steeltec37
Please check back often or subscribe to our RSS feed, as we frequently add new images of floating cabins to our site.

YOU MAY ALSO LIKE:

Fishing Cabin Floor Plans -
Powerful Visual Appeal!

Fishing Cabin Plans -
Sliding Walls & Soaring Ceilings!

Floating Houses that "float" ABOVE Ground -
Standout Tree House Designs!
Didn't find what you were looking for?
Use this search feature to find it.