Fishing Cabin Plans...
Sliding Walls & Soaring Ceilings!
These modest size fishing cabin plans are perfect for any lakeside -- or, in one case, "in-lake" -- setting.  Ranging from just over 1,000 to 1,200 square feet, their open floor plans, sliding partition walls, and soaring ceilings make them feel much larger.  A profusion of porches and decks seamlessly merges indoor and outdoor living areas to further enhance the feeling of spaciousness!

Loaded with charm, the "Fish Camp Cabin" from Max House Plans comes in at 1,024 square feet of interior living space.  A front facing gable and full width shed roof porch provide a welcoming entry.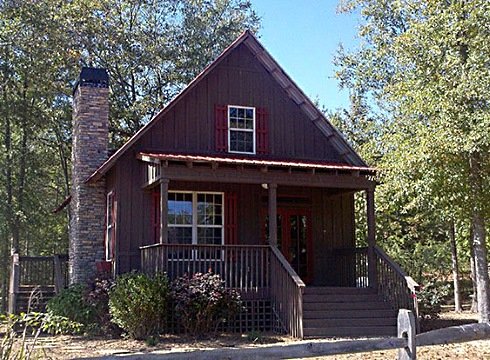 Anchored by a large stone chimney, the cozy cabin is clad with board and batten siding.  Double hung windows trimmed in white are flanked by decorative red shutters with matching window boxes below.  Tying it all together is a red metal roof.

The main level encompasses an open floor plan of 694 square feet with the kitchen and great room flowing together.  The master bedroom is located in back and features a full bath and a pair of French doors leading to an open deck.  An adjacent 3/4 bath and laundry closet complete Level 1.

High vaulted ceilings lend a spectacularly spacious feel to the primary living area, as captured in this perspective view across the great room and kitchen toward the front door.

A view of the wall opposite the kitchen shows the great stone fireplace surround with raised hearth.  Note the heavy timber mantel shelf resting on wood brackets.

Bold accent pillows and patterned draperies provide a splash of color in the master bedroom.

Accessed by a ladder, the loft area contains an additional 330 square feet that can accommodate up to 6 bunks . . . and several overnight guests.  A centered opening at one end overlooks the great room and kitchen below, while simultaneously bringing in natural light.

As with the primary living area, the loft also sports a vaulted ceiling, shown here in this view toward the centered "overlook."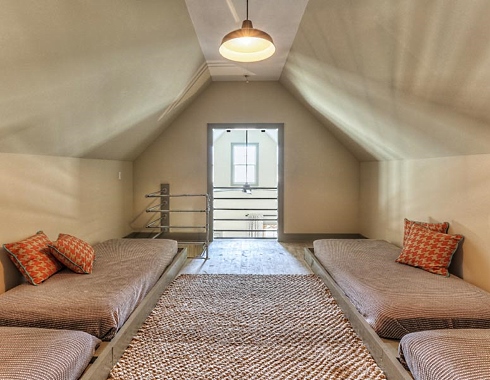 "Angler's Landing" Fishing Cabin Plans
A unique design from Riverbend Timber Framing, "Angler's Landing" features a 2 building "dog trot" configuration which separates the sleeping quarters from the primary or public living areas.  A profusion of interconnected decking both ties it all together and expands the interior living areas to the out of doors.  Though pictured here supported by pilings above the water, the design can also be built lakeside (i.e., on dry land).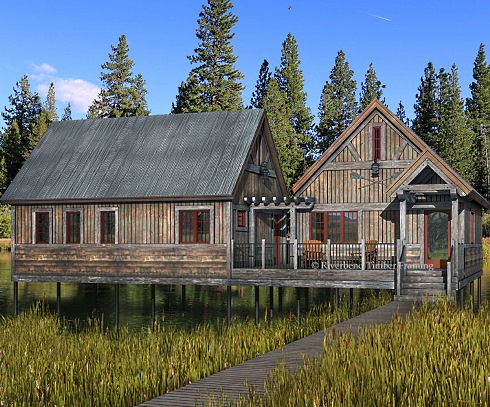 A straight on view, or elevation, of each of the 4 sides.  Note the abundance of open decking designed into the plan.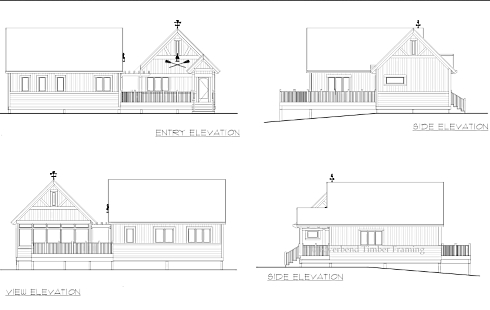 The floor plan itself encompasses 1,200 square feet of living space under roof or, in this case, under 2 roofs . . . plus 550 square feet of outdoor decking.  A covered entry leads to the structure housing the public living areas. 

It features an open floor plan with kitchen, dining and great room.  A small closet, pantry and powder room complete the space. 

Tucked beneath a pergola a few feet away is the entrance to the sleeping quarters, which feature a semi-flexible floor plan.  As shown here, 2 bunk rooms boast built-in desks and cabinetry, as well as sliding partition walls for privacy. 

The master bedroom is located at the far end.  A laundry area is nestled between the full bath and Bunk Room #2.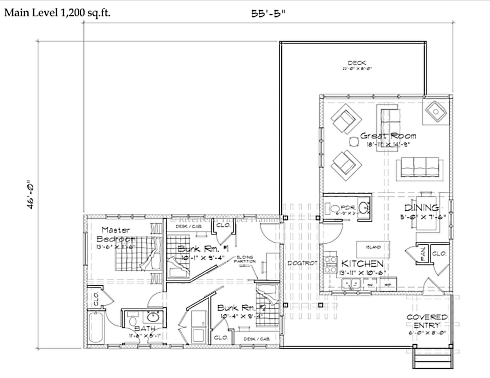 Please check back often or subscribe to our RSS feed, as we frequently add new fishing cabin plans to our site.