Tiny Fishing Cabin Plans
for Those on the Go!
Though small in stature, the tiny fishing cabin plans featured here are made for BIG escapes . . . lakeside to mountainside.  Indeed, their flexibility and mobility offer a perfect antidote to those who suffer from fishing wanderlust!

The Gifford (below) from Four Lights Tiny House Company is ideal for this purpose.  Founder Jay Shafer, a leader in the tiny house movement for more than two decades, previously founded the Tumbleweed Tiny House Company.

The Gifford measures 7 feet wide by 16 feet deep and can be transported on a standard car hauler trailer for easy mobility.  Inspired in part by American Craftsman architecture, it features exposed rafter tails, decorative gable end braces, and a bracketed front porch overhang.

Cedar board and batten siding adds a rustic touch, while a standing seam metal roof protects it from the elements.

The back of the Gifford is pictured in a dramatic mountain top setting above the clouds.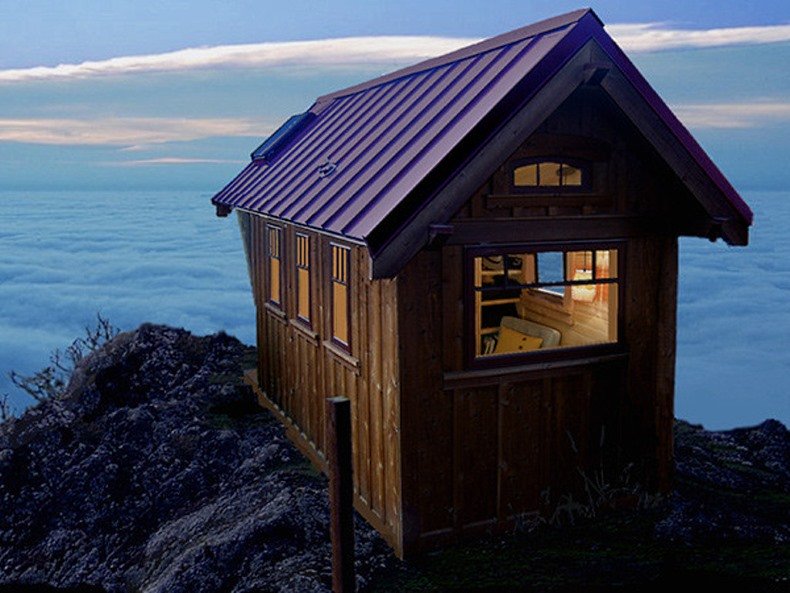 The tiny fishing cabin plan is efficiently arranged to utilize virtually every inch of its 112 square foot interior.  A sleeping loft occupies the area above the kitchen and bathroom.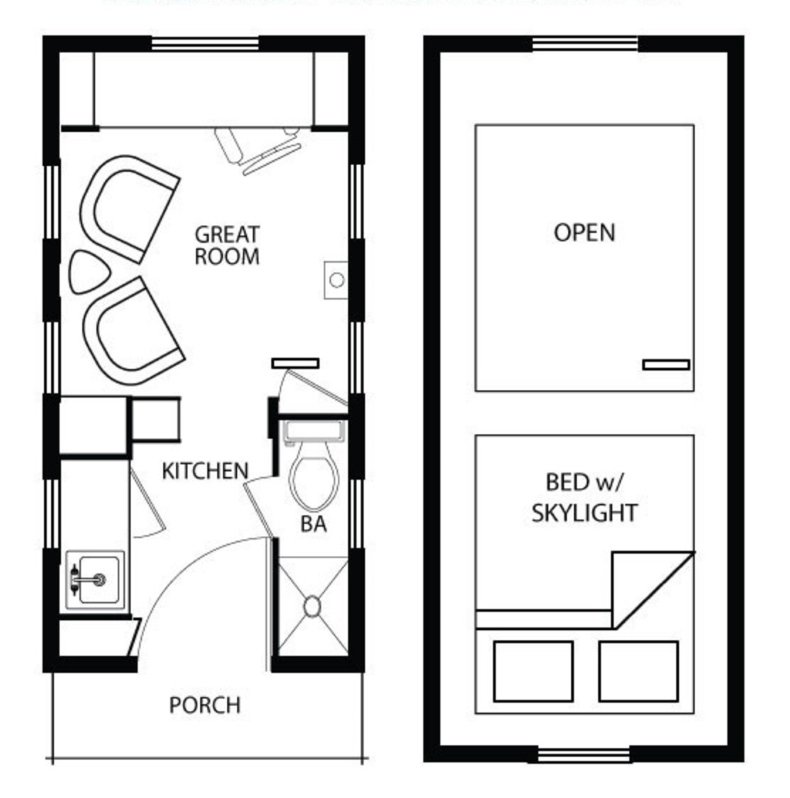 The front door opens to a galley kitchen (below left) lined with knotty pine.  Another view (below right) shows a compact sink and countertop, above which is installed a rack for hanging pots and pans.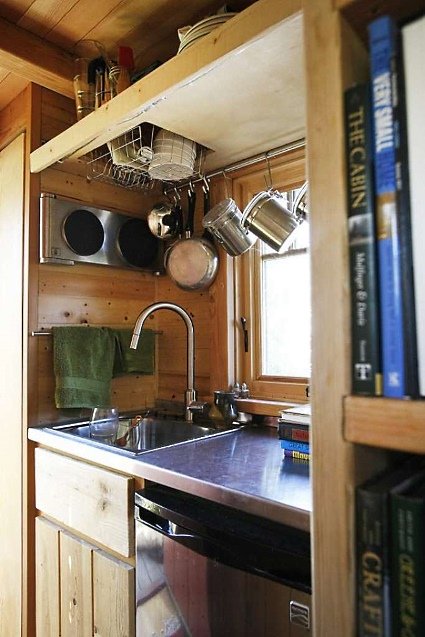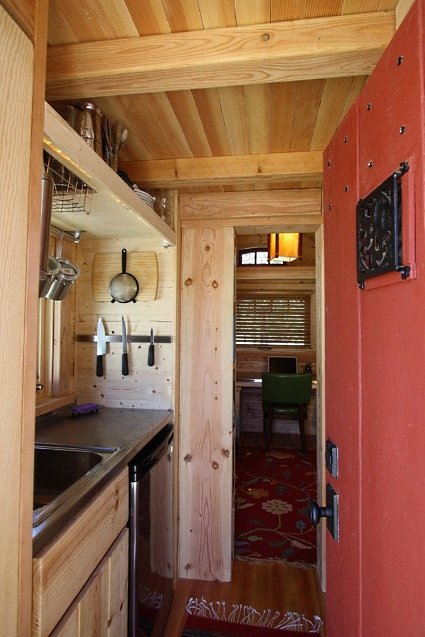 Directly opposite the kitchen, a door opens to a compact bathroom measuring 21 inches wide by 53 inches long.  The bath houses a toilet and small bathtub.

To give us a sense of scale, Jay Shafer poses in the bathtub.  Stainless steel panels surround the tub area.

Just beyond the kitchen and bath, a great room -- also lined with knotty pine -- features a cathedral ceiling 9 feet, 8 inches tall at the peak.  A built-in desk/dining table measuring 57 inches wide by 20.5 inches deep occupies the back wall.  Built-in shelving flanks the large window above (below left).
Opposite the desk alcove (below right), a ladder leads to the sleeping loft.  Built-in shelving to the right of the kitchen opening provides additional storage space.  A stainless steel fireplace by Dickinson Marine warms the interior.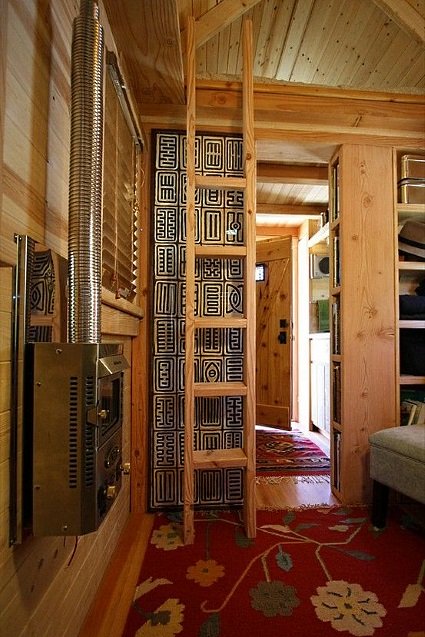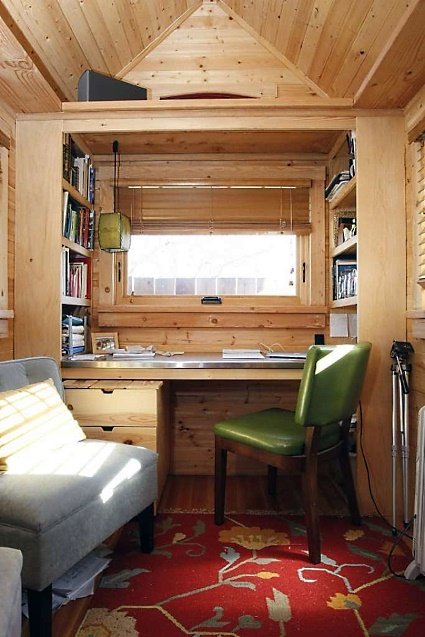 The sleeping loft measures 75 inches wide by 91.75 inches deep by 33 inches high.  In addition to a window, two operable skylights overhead can be opened to allow as much natural light in as desired.

Image source for all photos above: Four Lights Tiny House Company

Learn more about the Gifford tiny cabin plan!

Another Tiny Fishing Cabin Plan

A rather unique design by architect Steve Mouzon, "Fish Camp" is mobile and can be moved between your favorite fishing holes, as necessary.  It is designed so the left and right "wings" or extensions can be folded for transport.  According to Mouzon, Fish Camp "was inspired in part by the little cottages perched on lake shores at fishing camps all over the South."

A rather spacious porch leads to the front door.  Simple in design, the living area -- with the exception of a 3/4 bath in back -- is concentrated in a single room measuring 9.5 x 15.5 square feet.  To the right is a kitchen bay.  A Murphy bed in the left bay can be raised during the day to expand the living space.

Learn more about this tiny fishing cabin plan!
Please check back often or subscribe to our RSS feed,  as  we  frequently add tiny fishing cabin plans to our site.