Subscribe to the Cabin Designs


Newsletter for MORE Tips & Ideas!

The Cabin Designs Newsletter is chock full of ideas for planning, building, remodeling and furnishing a getaway cabin or cottage.  Designs ranging from simple to spectacular encompass nearly every taste, budget and style.  A richly diverse array of materials lends visual and textural appeal.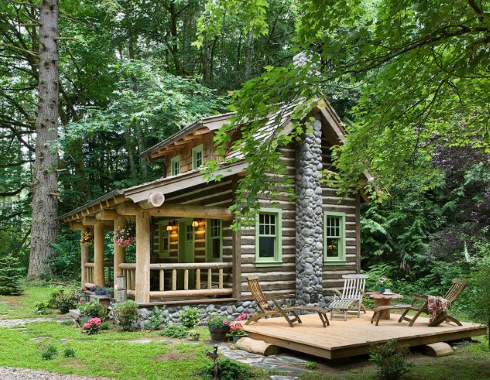 Fairy Tale Log Cabin in Port Orchard, Washington       
Photo Credit: Roger Wade Studio
Log, Timber & Stone Cabins
A distinctive look is achieved by the vertical alignment of logs in the design below.  Anchored by a large stone chimney, the Star Light, Wisconsin cabin is clad with a seamless metal roof.  Red painted door and window trim lend additional contrast.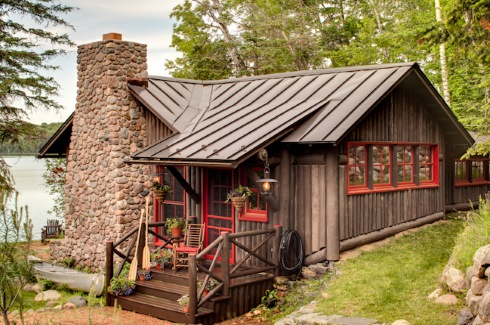 Log Cabin Design by Wade Weissmann Architecture
An inside look reveals how to instill a warm and cozy atmosphere.  In this example, a fieldstone fireplace rises to a ceiling with exposed log beams.  A wood mantel shelf resting on log corbels spans the stone arched firebox opening.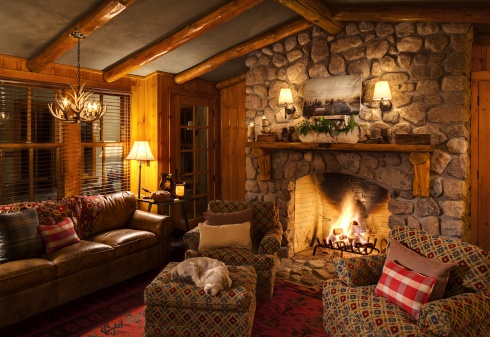 Wade Weissmann Architecture
A charming cabin design with wraparound porch features reclaimed barn wood siding.  An outdoor fireplace with soaring stone chimney anchors the left front corner beneath a metal porch roof supported by wood timbers resting on stone pedestals.

Image Source: Trestlewood Quality Reclaimed Wood Products
Cozy Cabin Plans
The Cabin Designs Newsletter features small cabin plans such as the fine example by William E. Poole pictured below.  Ideal as a fishing retreat, "Blue Ridge Hideout" is a 1-1/2 story, 1,172 square foot delight with a covered front porch and a cupola-crowned gable roof.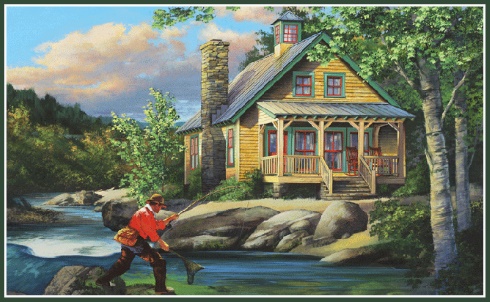 Perspective View: "Blue Ridge Hideout"
The main level features an open kitchen, living and dining area, as well as a master bedroom and full bath.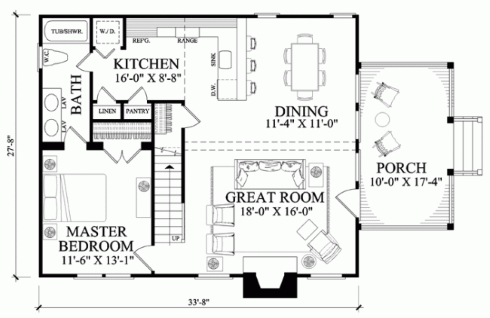 Level 1: "Blue Ridge Hideout"
Upstairs, a sleeping loft overlooks the living area below, flooded with natural light from the cupola.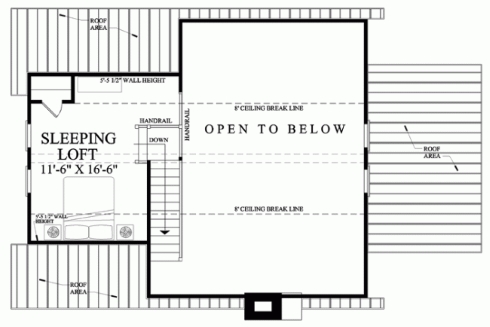 Level 2: "Blue Ridge Hideout"

See More Fishing Cabin Designs
Furnishings & Fixtures
The Cabin Designs Newsletter includes an emphasis on complementary furnishings and fixtures for your cabin or cottage, including product specifications, pricing, and where to buy.  Pictured below is a rustic log dining set made of hickory with bark on legs and chair backs.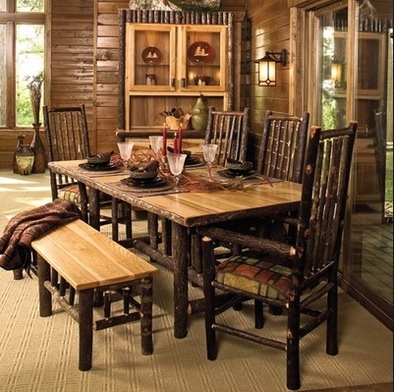 Clapboard, Stone & Shingle Cottages . . . . .
In addition to cabins, the Newsletter includes a wide range of cottages such as the lovely clapboard design below.  It features a front facing cross gable rising from a small shed roof which, in turn, projects from the main gable. 

Turned spindles descend like snowflakes from an arched entryway to built-in benches flanking the front door.  A charming picket fence complements the white painted trim. 

Photo Credit: Laurey W. Glenn (via Southern Living)
. . . with Storybook Appeal
Built in 1883 as a gatehouse lodge to an estate in Devon, England, "Eastern Lodge" (left below) is a whimsical stone cottage with 1,815 square feet of living area on two levels.  It features a wide 1-1/2 story tower pierced by a dormer and a "crooked" chimney. 

Below, right, a mountain hideaway in North Carolina appears to have sprung from the pages of a children's storybook.  Clad with bark and stone, the 850 square foot "Hobbit House" functions as a vacation rental with 2 bedrooms and 1 bath.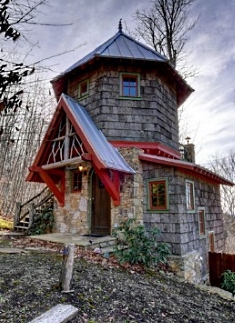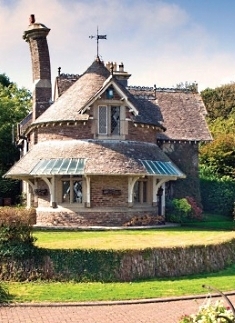 Image via theweek.co.uk                                                                                                                                                                 Image Source: Carolina Mornings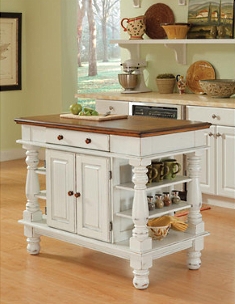 Farmhouse Charm
And last, but far from least, the Newsletter covers farmhouses, treehouses and more.  A farm house cottage (below) in south-eastern Australia oozes charm in spades.  The ivy-draped porch features a picket fence balustrade.

At right, a farmhouse kitchen island from Home Styles' Americana Collection performs double duty as extra storage and work top space.  More about kitchen island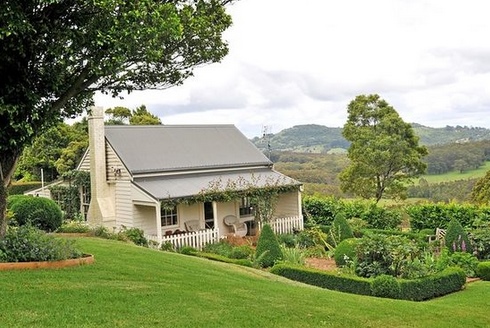 Image Source: The Wall Street Journal
Subscribe to our free Cabin Designs Newsletter today!



Get more exciting cabin and cottage design ideas by subscribing to our free e-newsletter.  Simply enter your email address in the form below and click on "Subscribe" so you won't miss out on a single future issue!