Hobbit House Designs...
Inspiring Ideas for "Hobbitats!"
The inspiring hobbit house designs featured here reflect the genius of talented artisans around the globe.  A treasure-trove of habitats for hobbits -- both "real" and in miniature or from a movie set -- the designs are bound to generate a host of helpful ideas for creating your own "hobbitat!"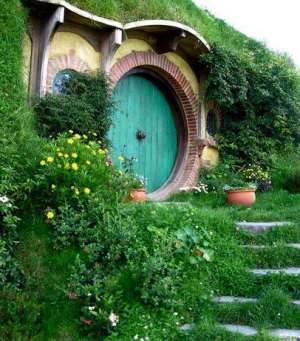 Inspired by the writings of J.R.R.Tolkien (1892-1973) and popularized by a series of movies based upon his fantasy novels (i.e., The Hobbit and The Lord of the Rings), hobbit houses are steadily gaining ground.  Pictured at top and directly below are two enchanting abodes from the Hobbiton movie set in Matamata, New Zealand.

In the Spirit of Hobbit Houses Everywhere

"Technically" speaking,  a hobbit house is an environmentally friendly dwelling built into the earth with a green roof and round windows and doors.  However, in the spirit of hobbit habitats everywhere, we've taken some liberties by including examples that may not fall within the strict definition of the term.  After viewing our selections here, we think you'll concur with our broader interpretation.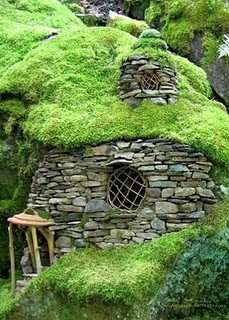 Pictured at right is a delightful miniature composition by artist Sally J. Smith of Greenspirit Arts.  Entitled Emerald Mossy House, the tiny stone structure boasts willow twig windows and a moss roof.


Pictured below is another one of Sally's miniature "environmental sculptures."  It features a moss-lined path of cedar roots and stones winding its way up to a little round door at the base of a tree.

Nestled in the hillside of a woodland forest in northwestern Montana is a magical hobbit village.  Created by J.R.R. Tolkien enthusiast Steve Michaels and his wife, Christine, it features several charming hobbit habitats such as the one pictured below.  A 1,000 square foot guest retreat -- the Hobbit House of Montana -- is available as a unique vacation rental.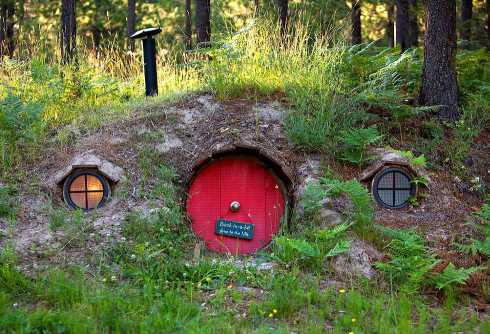 Hobbit House Designs for Humans
As enchanting as the preceding hobbit house images are, nothing beats a hobbitat that people can actually live in.  Each of the hobbit house designs that follow was built specifically for human habitation.  Really! 

Pictured below is a cozy hillside dwelling in Wales.  Homeowner Simon Dale framed the structure with logs gathered from the surrounding woodland.  Straw bales in the floor, walls, and ceiling provide insulation.  Lime plaster walls are capped with a green roof. 

See Floor Plan and Interior Pics of this Cozy Hobbit House Design!

The small stone structure that follows serves as a guest house in Preston Hollow, a neighborhood in north Dallas, Texas.  Designed by Stocker Hoesterey Montenegro Architects, it was inspired by the writings of J.R.R.Tolkien and the 1952 movie, The Quiet Man, starring John Wayne and Maureen O'Hara.

Storybook Style
Though each hobbit house design featured here has an inherent storybook quality, the following two examples are extraordinary.  Beautifully conceived and executed, they turn fantasy into reality. 

The use of natural materials gives them a timeless look.  Superb craftsmanship and impeccable attention to detail give them character and architectural integrity.  Appearing to have popped from the pages of a children's storybook, they evoke mystery, magic, and fanciful flights of imagination! 

The enchanting stone cottage pictured below is nestled in a parcel of gently sloping Pennsylvania farmland surrounded by woods.  Designed by Archer & Buchanan Architecture to house a collection of Tolkien memorabilia for an avid enthusiast, the 600 square foot Hobbit House provides an ideal -- and idyllic -- setting.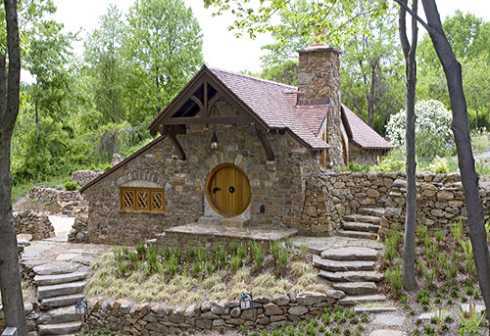 An undulating roof line (below left) and oversized stone chimney (below right) are typical features of Storybook Style architecture.  Note the handcrafted detailing in the playful "butterfly" window pictured below, left.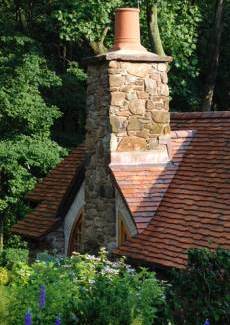 Learn More About the Hobbit
House Design Above
A warming hut to warm little feet . . . . . and BIG HEARTS!

Once upon a time, in a suburb of Boston, a fairytale cottage was created to warm the soles -- and toes -- of little children's feet.  Completed in 2007, the storybook design pictured at right and below serves as a family waterside "warming house" after a day of winter fun on the skating pond.  A product of the fertile imagination and creative  genius of Meyer and Meyer Architects, it is designed to warm the soles -- and SOULS -- of all kids . . . big and small!

During the concept stage, architect John Meyer says he imagined "something that was a cross between a miner shack and a hobbit hut.  I didn't want it to be too quaint or too rustic,  just something in between the two."  Judging by the photos below, it appears he succeeded beyond expectation!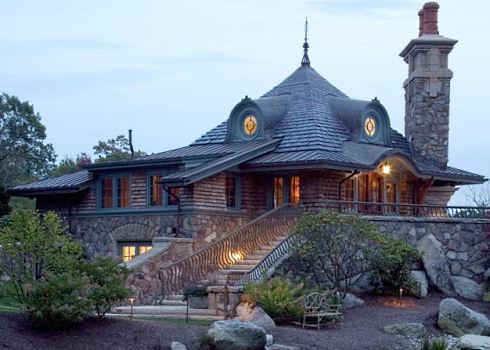 Its diminutive storybook exterior of stone, slate, copper and cedar belies the 1,800 square feet of interior space, which includes a living room, kitchen, bathroom, and small office.  Masterfully handcrafted with uncompromising attention to detail -- both inside and out -- this modern-day fairytale cottage may be just the key to living "happily ever after!"

See More Enchanting Storybook Cottage Designs
Please check back often or subscribe to our RSS feed, as we frequently add new images of storybook style cottage designs to our site.
YOU MAY ALSO LIKE:

Hobbit House Plans -
Storybook Sanctuaries!


MORE Hobbit House Designs -
Perfection in Pennsylvania!
Storybook Cottage House Plans -
Hobbit Huts to Cottage Castles!


Green Roof Design for Small
Cabins...Ahead of its Time!
Didn't find what you were looking for?
Use this search feature to find it.