A Standout Hobbit House...
Perfection in Pennsylvania!
At first glance, the hobbit house featured here may look like a figment of fantasy.  However, despite its mythical appearance, this masterful mix of creativity and craftsmanship is as real as the rocks from which it is built!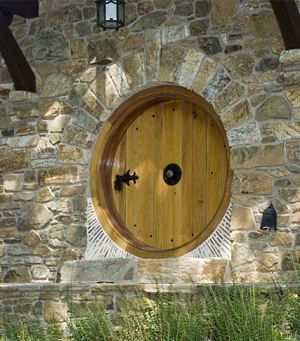 Welcome to the Hobbit House, an enchanting retreat in the gently rolling terrain of rural Pennsylvania.  A blend of imaginative design, skillful use of materials, and outstanding craftsmanship, it is an architectural gem!

Peter Archer of Archer & Buchanan Architecture in West Chester, Pennsylvania, is the creative force behind this striking present-day incarnation of Storybook Style design.  At only 600 square feet in area, the diminutive structure is a repository for J.R.R.Tolkien memorabilia. 

Commissioned by an avid collector of "everything Tolkien," it houses a private collection of manuscripts, original drawings, and early editions by the famed author. 

From its round hobbit hole entrance (for humans) . . . . . . .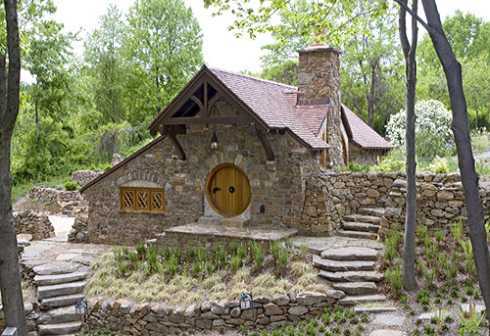 to its circular clay chimney pot exit (for smoke), this delightful stone and stucco cottage is the result of an amazing collaborative effort between a host of highly skilled artisans.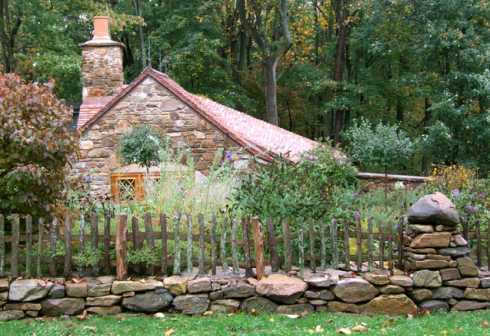 The images that follow give us a closer look at the chimney and clay chimney pot, as well as the cottage's picturesque roof lines.  The roof, itself, is clad with clay tiles from France.  Slivers of roofing tiles are also employed as decorative accents -- both inside and out -- as shown in the charming window surround below.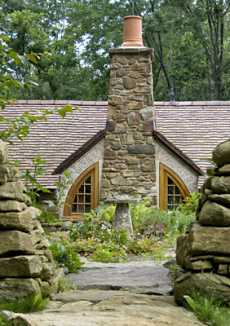 Following is an overall perspective of the cottage from the same side.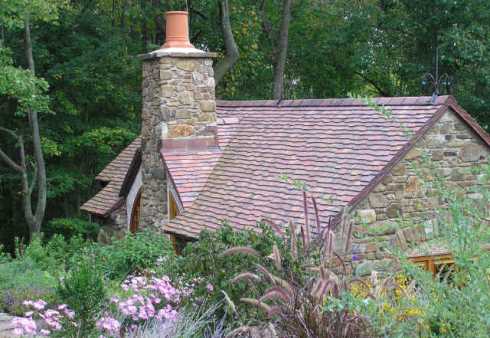 Around the corner, a horizontal row of three diamond-paned casement windows is framed by a stone arch . . . . .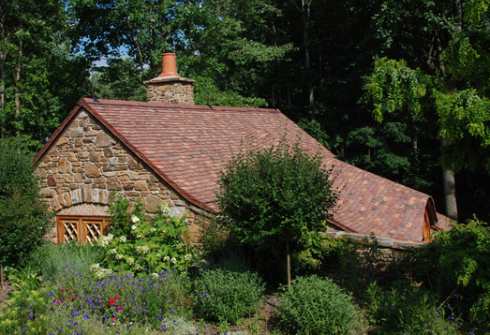 and, once again, it features slivers of clay tiles embedded in stucco around the window trim.  Note how it is patterned to echo the diamond-shaped window panes.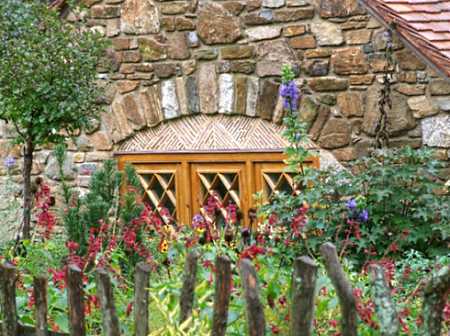 Finely crafted by a cabinetmaker in Delaware, the windows are made from mahogany.  Pictured below is the "butterfly window," named for the way it looks when its circular profile swings open to reveal two sections attached by hand-forged wrought iron hinges.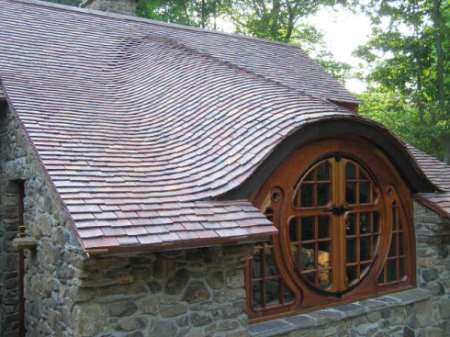 Hobbit House Interior
The interior is equally enchanting.  Just inside the front entry, visitors are greeted by a soaring stucco fireplace surround with thinly sliced clay tile accents.
Overhead, beautifully crafted trusswork supports a wood-lined cathedral ceiling.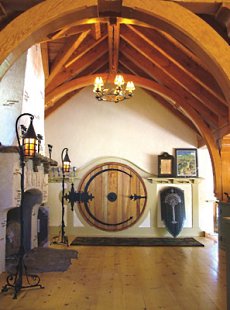 Please check back often or subscribe to our RSS feed, as we frequently add new images of storybook cottage designs to our site.

YOU MAY ALSO LIKE:

Hobbit House Plans -
Storybook Sanctuaries!


MORE Hobbit Abodes -
Inspiring Ideas for "Hobbitats!"

Storybook Cottage House Plans -
Hobbit Huts to Cottage Castles!
Green Roof Design for Small
Cabins...Ahead of its Time!
Didn't find what you were looking for?
Use this search feature to find it.