Hobbit House Plans...

Storybook Sanctuaries!
Hobbit house plans for humans offer an exciting alternative to the same ol' same ol' shacks in today's tract housing developments.  Though not for everyone, hobbit homes offer a unique and -- in many cases -- extremely energy efficient habitat.  Picturesque in their pastoral settings, the designs featured here are guaranteed to grab attention!

Perched high in the Blue Ridge Mountains of North Carolina, the charming "Hobbit House" (below) appears to have popped from the pages of a children's storybook.  The stone and bark clad exterior features an inviting entry porch overhang supported by massive wooden brackets.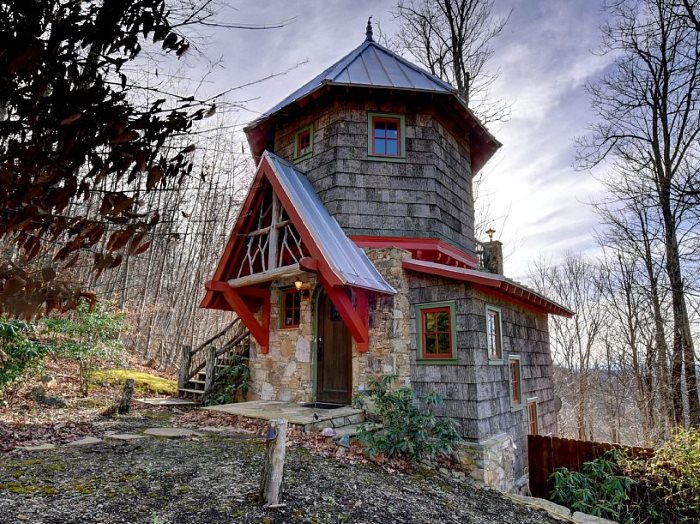 Image via Country Living
Encompassing an open floor plan of 850 square feet, the charming dwelling contains two bedrooms and one bath.  A cozy stone fireplace warms the wood-lined interior.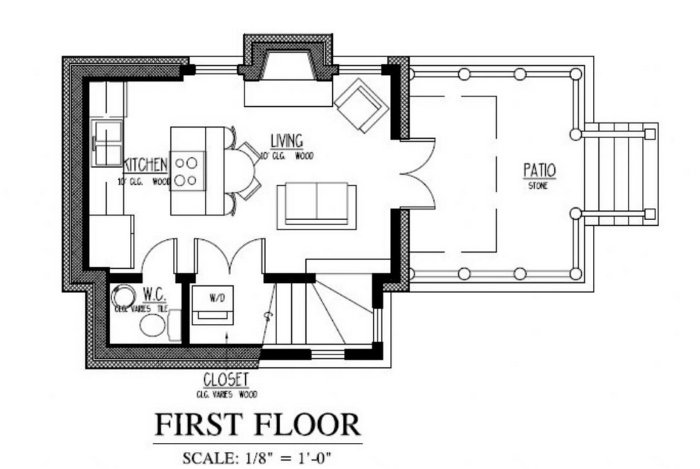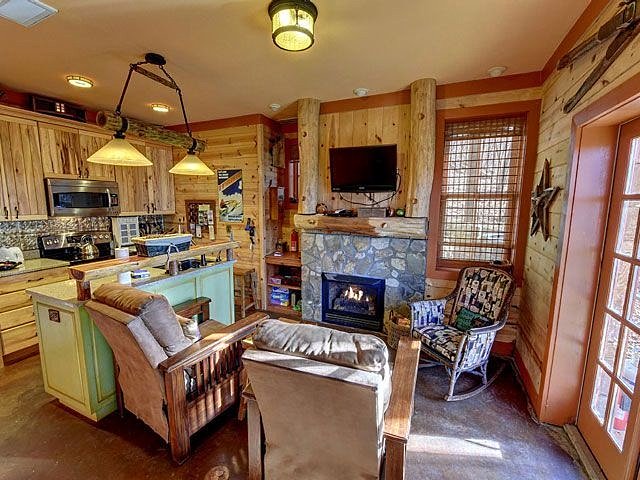 Image via Country Living
Harbor Springs, Michigan is home to an enchanting hobbit style gem from Hendricks Architecture.  Tall, pointed gables swoop down dramatically to a picturesque stone pile.  Echoing the curves of the gables, rows of cedar shingles line the exterior walls above the stone.  Decorative timberwork adorns the extended gable ends.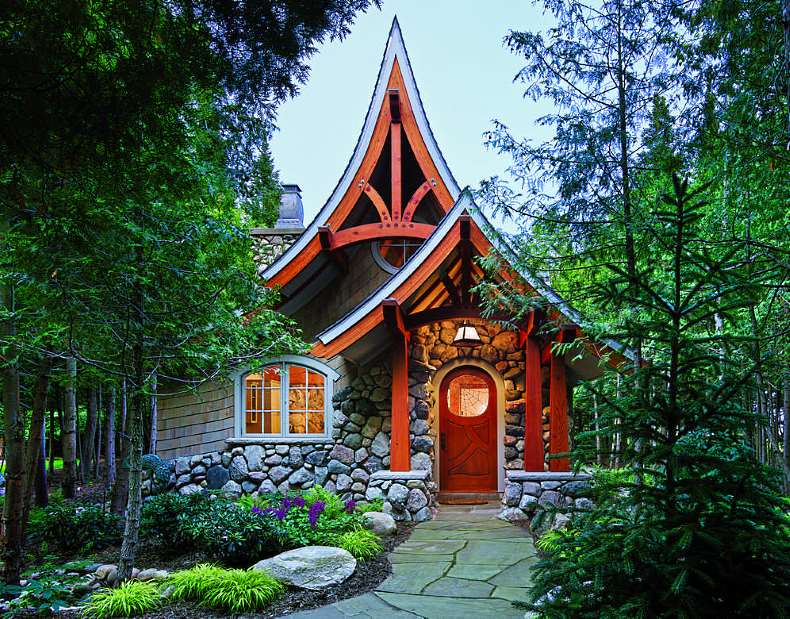 Image Credit: Roger Wade

In contrast to the charming exterior design, the interior is absolutely majestic.  Soaring timber trusses lend a cathedral like grandeur, leaving the visitor in a state of awe!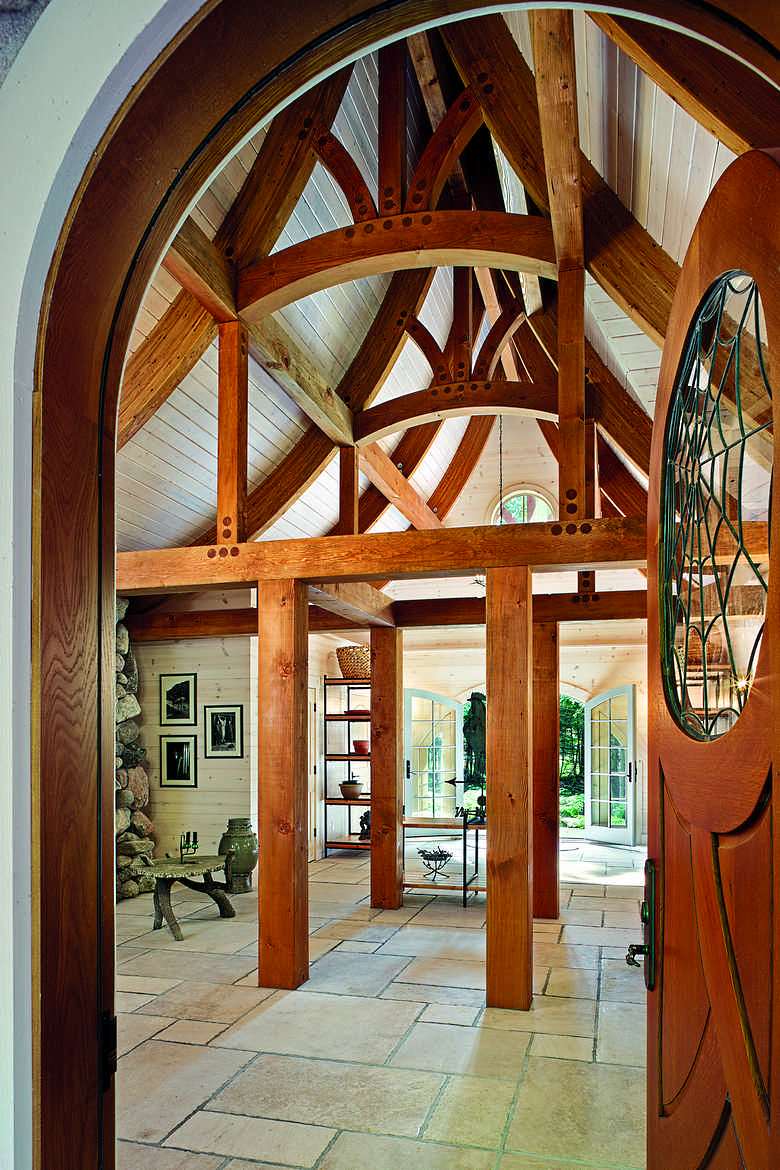 Awe-inspiring view from just inside the front door.
Image Credit: Roger Wade

A masterpiece of craftsmanship, the timber framed structure functions as a garden shed -- albeit a spectacular one!  Wood support posts rest on an ashlar patterned antique limestone tile floor.  A massive fireplace surround of stacked granite stones and boulders rises to the douglas fir glulam beams above.  Twig-themed lighting fixtures hang from a white-washed ceiling.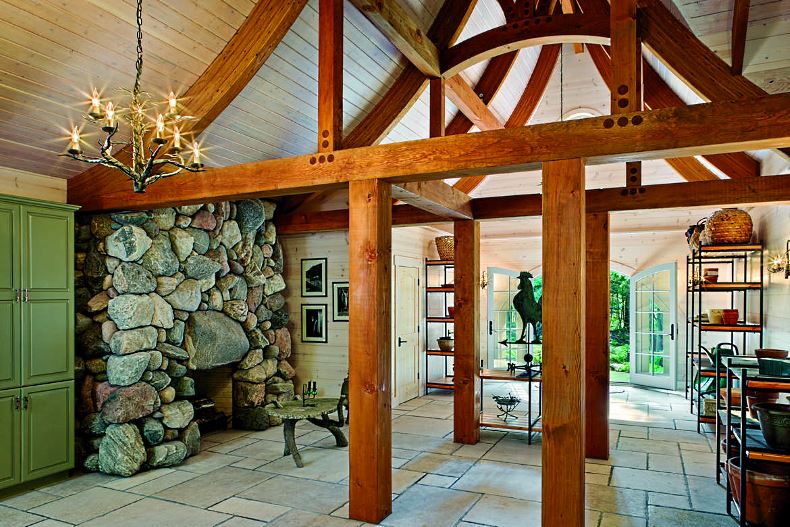 View toward arched double French doors in back.
Image Credit: Roger Wade

The open interior encompasses nearly 900 square feet.  A host of built-in cabinetry and free-standing shelving provides plenty of space for storage.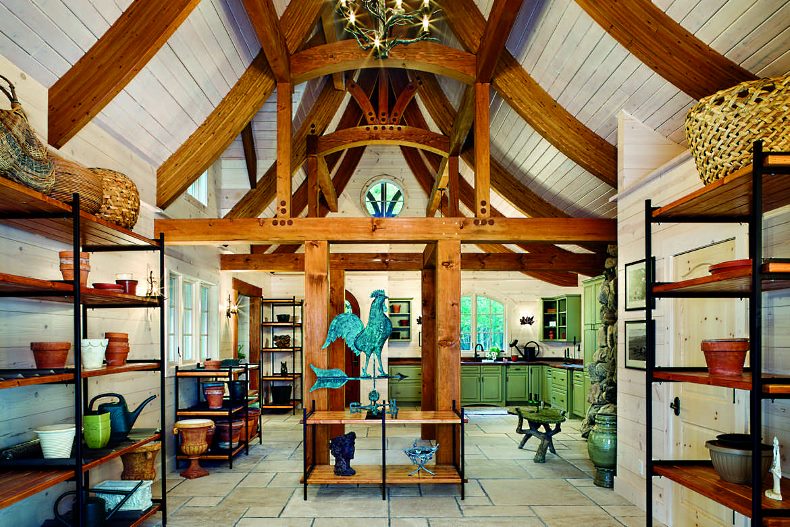 View across interior toward front door.
Image Credit: Roger Wade

See Floor Plans for this Enchanting Design!
More Hobbit House Plans
The hobbit house plans that follow are from Storybook Classic Homes.  A picturesque arrangement of half timbering, diamond pane windows, "crooked" stone chimney and a real hobbit style entry door, the home is nestled in a hillside, lending design authenticity and energy efficiency.  An above grade tower with large windows floods the interior with natural light.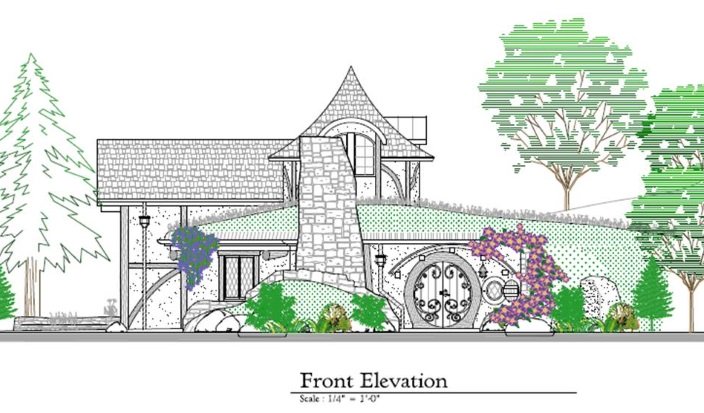 The interior features an open floor plan of 1,427 square feet.  The kitchen, living and dining areas flow seamlessly together.  Two bedrooms occupy the back of the home, including the master bedroom suite.  Accessed by a hall between two closets -- one of which is a large walk-in -- the spacious master bath features a private toilet, dual vanity sinks, and a separate tub and shower.  A laundry room and additional full bath complete the interior plan.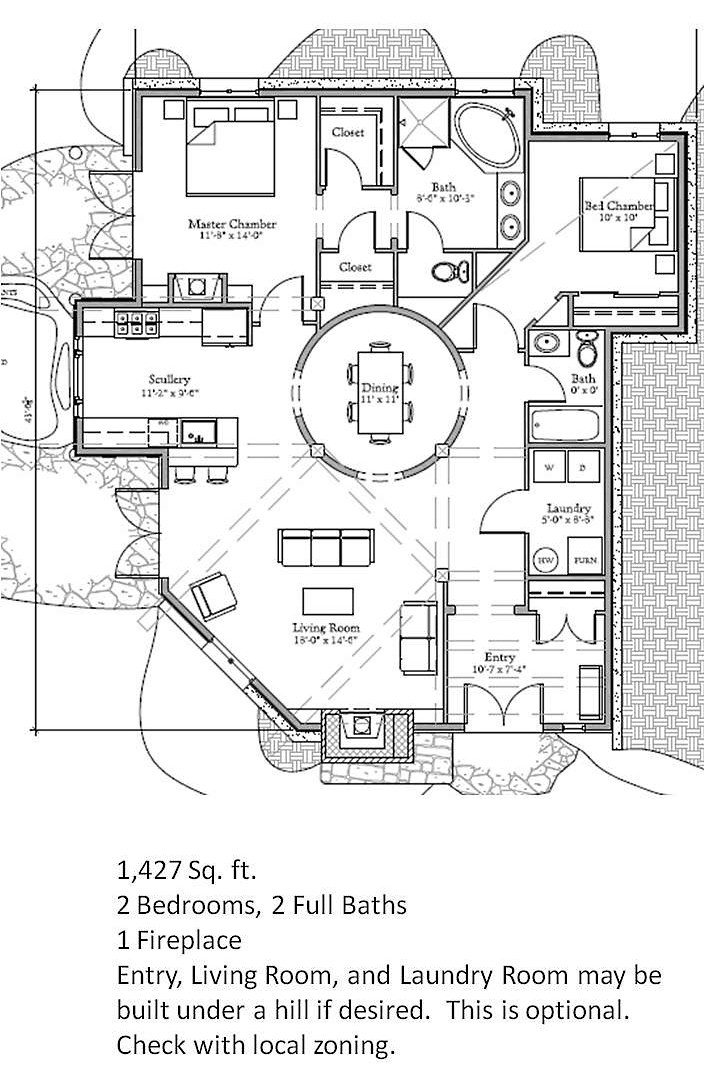 If a more rustic or earthy look and feel is what you have in mind, the following hobbit house design by Dale Simon may fill the bill.  Tucked into a hillside in Wales, the cozy dwelling is framed with oak thinnings collected nearby.  Straw bales insulate the floor and ceiling, as well as the walls, which are crafted from stone and mud, then finished with lime plaster.

Birch bark provides a substrate for the roof, which is then covered with a protective membrane and layered with earth.  Vegetation is planted to hold the soil in place.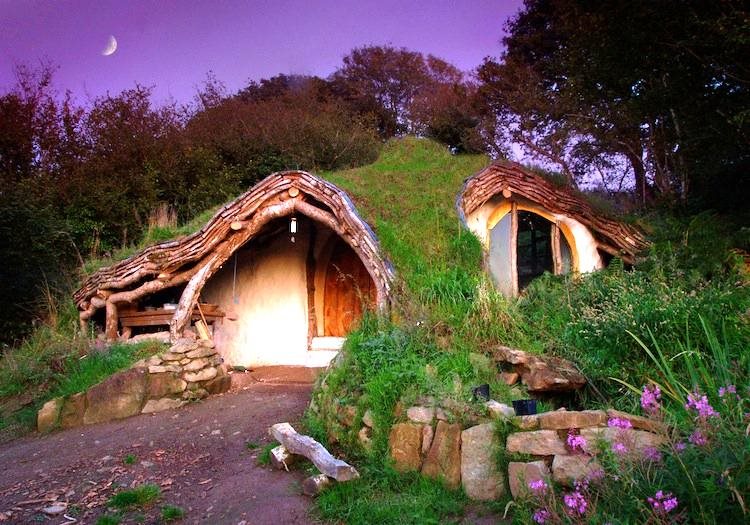 Image via allthatsinteresting.com

A cross section of the design illustrates the type and location of materials used in its construction.  A large skylight in the roof floods the interior with natural light.  Solar panels help make it more energy efficient.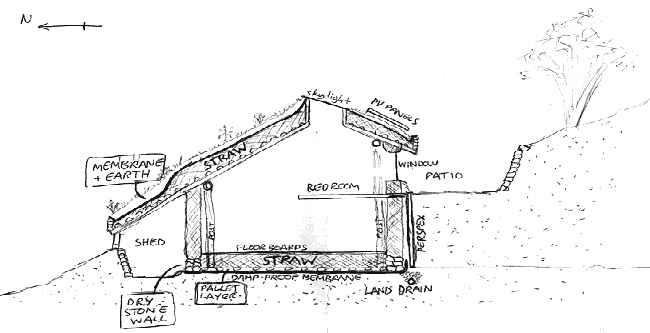 The organic interior features an open floor plan.  A stairway (far left) leads to a landing, providing back door access, then proceeds to a bedroom or sleeping loft overlooking the living area below.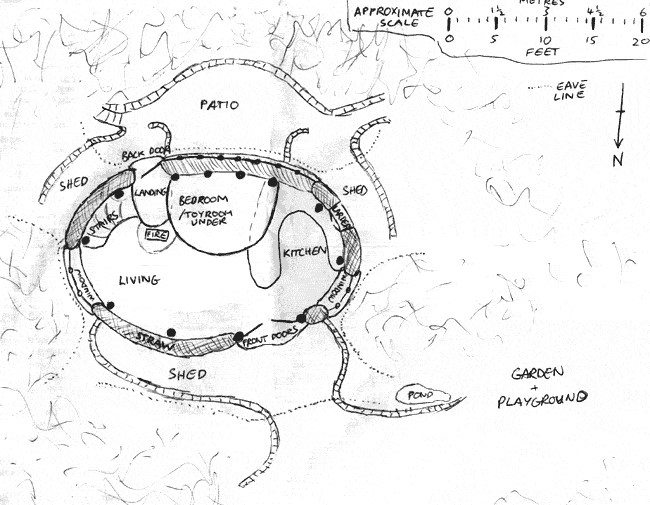 A view from the living room through one of the home's uniquely shaped windows.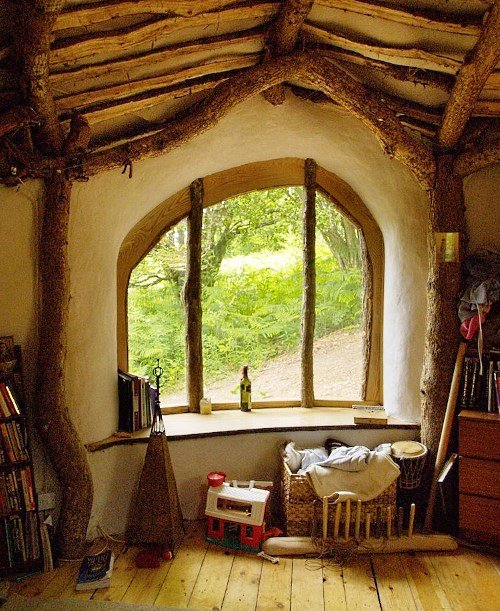 Image via allthatsinteresting.com

View from loft overlooking kitchen and part of living area below.

Image via allthatsinteresting.com

Cozy evening view of living room.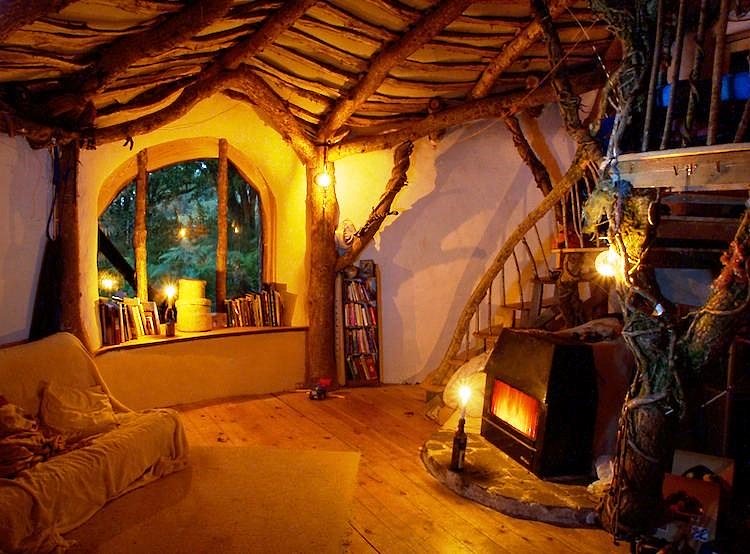 Image via allthatsinteresting.com

Learn more about this hobbit house plan in a short video interview of homeowner and builder, Dale Simon.

Inspiring video about the building of Dale Simon's hobbit house.

More hobbit inspired house plans coming soon!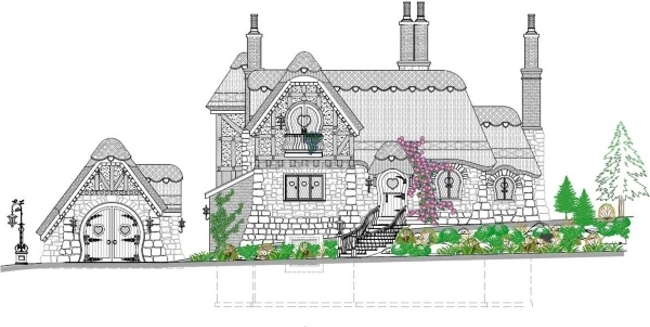 Please check back often or subscribe to our RSS feed, as we frequently add new hobbit house plans to our site.

YOU MAY ALSO LIKE:


Hobbit House Designs -
Inspiring Ideas for "Hobbitats!"


A Standout Hobbit House -
Perfection in Pennsylvania!


Storybook Cottage House Plans -
Hobbit Huts to Cottage Castles!