Standout Cabin Plans...
Blossoming Memories!
The cabin plans featured here are designed to get you thinking about the realm of possibilities available today.  Create your own special retreat and plant a garden of sweet memories that will blossom for a lifetime!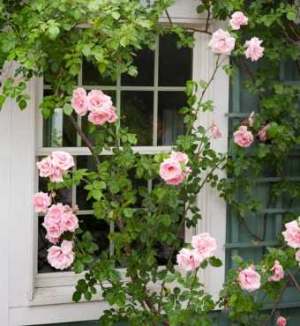 The pressures of everyday life can seem overwhelming at times.  A get-away cabin gives you a great opportunity -- at least momentarily -- to escape from it all.  An opportunity to kick back and relax.   An opportunity to stop and smell the roses.

Cabin designs -- both stock and custom -- are available in a wide range of sizes and styles.  Though many are readily adaptable to a variety of settings, some are especially tailored for specific uses and settings.

For example, seaside or lake cabins may incorporate walls of glass, expansive deck areas, and even a "lookout tower" -- such as that pictured below -- for viewing the tranquil waterscape.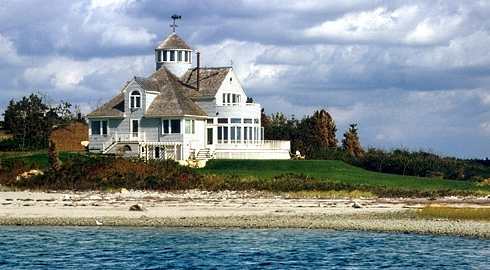 Similarly, mountain cabin designs such as that pictured below, right, incorporate walls of glass through which to view the majestic mountain vistas.  On the other hand, hunting cabin plans such as the rustic stone example pictured below, left, may be designed to blend into the landscape and to be as inconspicuous as possible.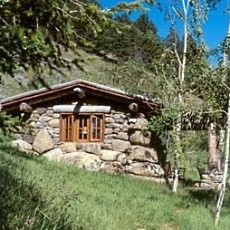 Cabin Plan Materials
Wood Shingles
Shingle style cabins and cottages, such as those pictured below, are ideal for both wooded . . . . .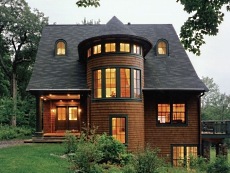 . . . . . . . and waterside settings.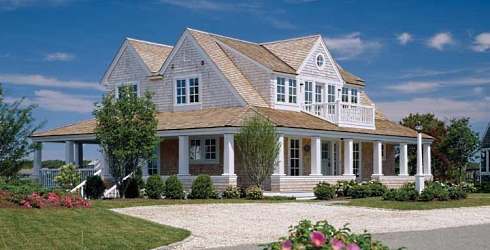 Design above by Polhemus Savery DaSilva Architects
(Photo Credit: Brian Vanden Brink)
Logs . . .
Log cabin plans are ideal for both wooded and mountain settings.  Hand-hewn logs lend a great deal of authenticity to the following designs.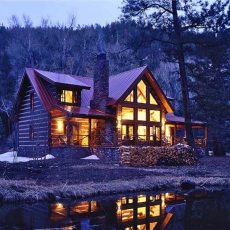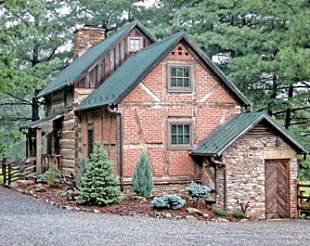 Combined with Bricks, Battens & Stones
Logs used in conjunction with other natural building materials lend visual interest, as well as authenticity, to many of today's cabin designs.  The Appalachian influenced design pictured at right and below, from Moss Creek, is an outstanding example of blending a variety of contrasting building materials to great effect.  Included in this design are hand-hewn logs, stone, bricks and timbers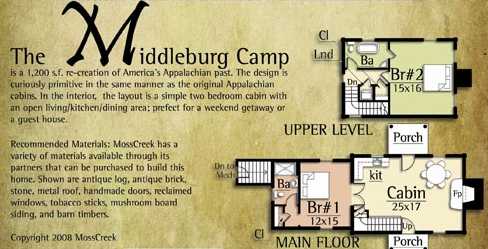 The aptly named "Getaway" from Moss Creek, pictured below, utilizes a combination of stone, hand-hewn logs and wood shingles in this compact design.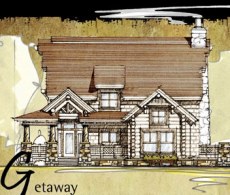 The following two designs from Rocky Mountain Log Homes combine stone, board and batten siding, and wood shingles for a rugged Western mountain look.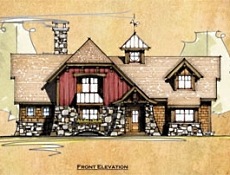 The unusual example pictured below is from Log Castles, Inc.  It combines fieldstone and round logs in a striking European-inspired design.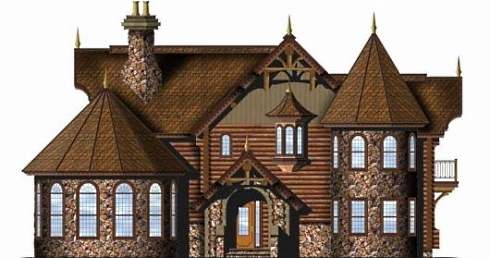 Please check back often or subscribe to our RSS feed, as we frequently add new plans to our site.