Small Cabin Plans...
Tiny Treasures!
Small cabin plans come in a vast range of styles -- both traditional and contemporary.  Timeless designs created for a variety of different settings, the little architectural gems featured here simply ooze nostalgic charm!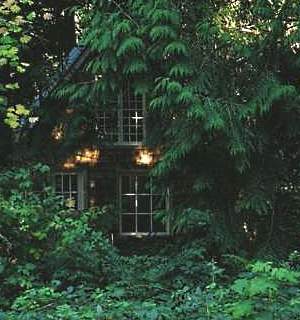 "Woodland Jewel"
Charming porches and spacious decks expand the indoor living area and "bring the outdoors in."  Framed by prolific blooms of cascading roses, the porch at right opens to vistas of the idyllic countryside surrounding it.
The cozy country cottage on the hobby farm pictured below provides a perfect weekend escape from the trials and tribulations of everyday urban life.
Farmhouse Design above by SALA Architects
See Gallery of Farm House Plans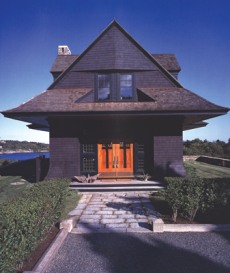 If a waterside setting is more to your liking, one of the following designs may be a better choice.  Though somewhat contemporary in style, the design at right incorporates traditional architectural elements and building materials -- such as multi-paned windows and wood shingles -- that tie it to its surroundings and its 19th century architectural roots. 
Similarly, though more traditional in style, the bracketed and shingled cottage pictured below takes its cue from its surroundings and its 19th century heritage.
Design at right by Shope Reno Wharton Architects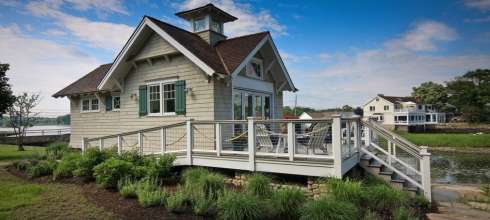 Cottage Design above by Michael Greenberg & Associates
More Small Cabin Plans
Small cabin designs, such as the example pictured below from Cool House Plans, are great for waterside settings.  The wide rear porch provides an ideal spot for relaxing and watching the gently rolling waves on a lazy summer afternoon.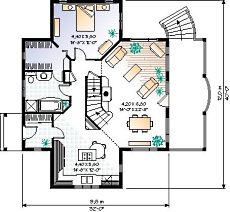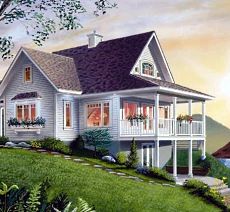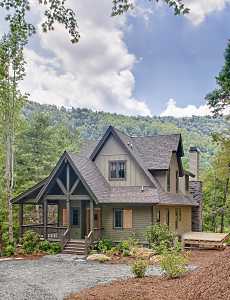 For those seeking a view that goes "on and on," a mountain retreat such as that pictured at right may be the answer.  The wraparound porch provides an ideal outdoor viewing area of the "miles of mountains" surrounding it.
Right: Design by Kirkland + Associates Architects
If a hideaway in a deeply wooded setting is more to your liking, the shingled cottage by Bernhard & Priestly Architecture, pictured in the images below, may be just right for you.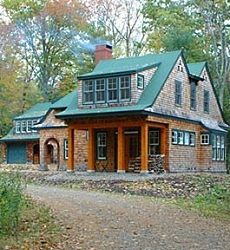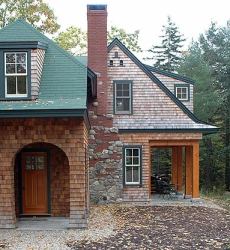 Small cabin plans such as that shown in the stone and shingle example below, left, from Rocky Mountain Log Homes, are ideal for western mountain settings.  The fieldstone and shingled cottage pictured below, right, is a perfect complement to its wooded setting.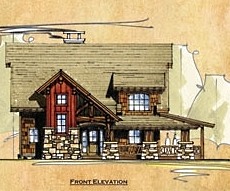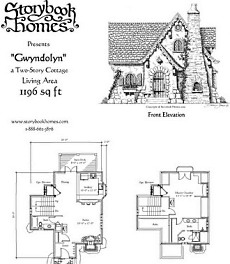 Plans for "fairy tale" cabins and cottages also appeal to many of us.   Period revivals such as that pictured in the English cottage design at right, from Storybook Homes, are timeless . . . . . having withstood the test of time. 
Similarly, the following two custom plans from TEA-2 Architects evoke an earlier, gentler time and continue to have widespread appeal to the present day!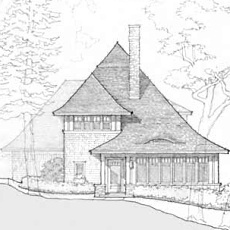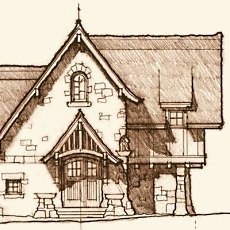 Please check back often or subscribe to our RSS feed, as we frequently add small cabin plans to our site.
YOU MAY ALSO LIKE:


Hobbit House Plans -
Storybook Sanctuaries!


More Small Cabin Plans -
Romantic Retreats!

Small Cottage House Plans -
BIG ON CHARM!