Small Cabin Designs...
Romantic Retreats!
The picturesque small cabin designs shown here embody a variety of building types not typically associated with dwellings or retreats.  Romantic mid-to-late 19th century structures such as boathouses and gatehouses are being rehabilitated and adapted for reuse as cozy weekend getaways!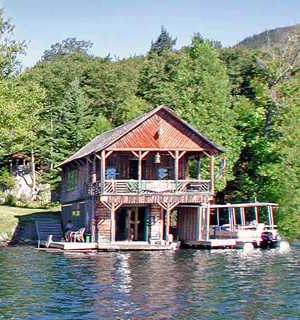 Adirondack Boathouse, Lake Placid, New York
The enchanting stone boathouses that follow evoke European castles in miniature.   At top, a rustic boathouse in the Adirondacks of Upstate New York is part of "Camp Solitude," an 1896 summer estate.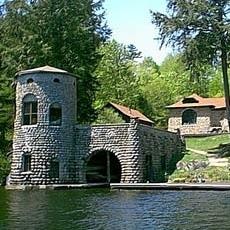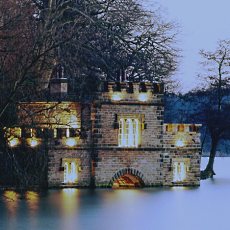 In addition, newly constructed boathouses, crowned with charming cupolas, are being created in period styles -- complete with built-in living quarters above.  These timeless "small cabin designs" echo the scale, proportion and detailing of a bygone era while incorporating floor plans tailored to today's lifestyles. 

The inherent comfort and easy livability of the interiors, coupled with their period charm, provide a refreshing escape from today's fast-paced society.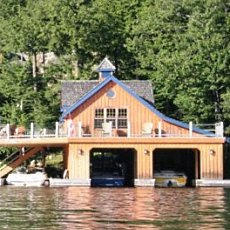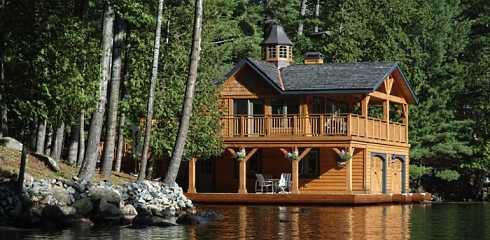 More Ideas for Small Cabin Designs
Pool houses, as well, are rehabbed or recreated in period styles to double as guesthouses and temporary places of refuge.  Romantic evocations of another time, they draw upon the style, craftsmanship, ambiance and integrity of yesteryear.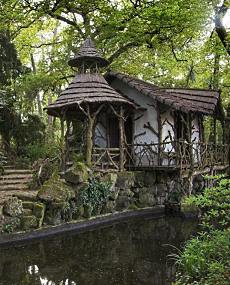 Quaint architectural follies and other outbuildings -- particularly in Europe -- are also being renovated or recreated in romantic period styles for use as hideaways and retreats.  Whether new or old, details such as picturesque gables and dormers, romantic turrets and towers, steep roof lines, leaded and multi-paned windows, and intimate, charming porches provide traditional forms which are easily understood, aesthetically pleasing and emotionally comforting.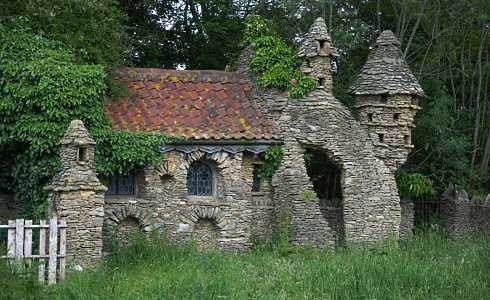 Likewise, Victorian-era gatehouses in both America and Europe, similar to those pictured below, are given new life as guesthouses and romantic retreats.  These charming structures convey a sense of history, permanence, stability and continuity through their linkage of the present with the past.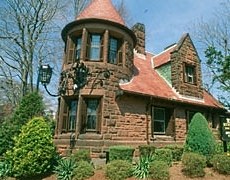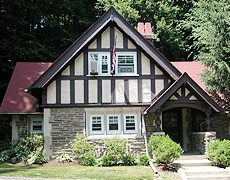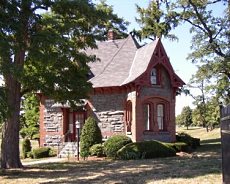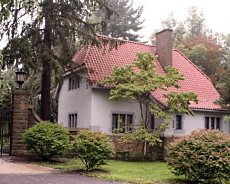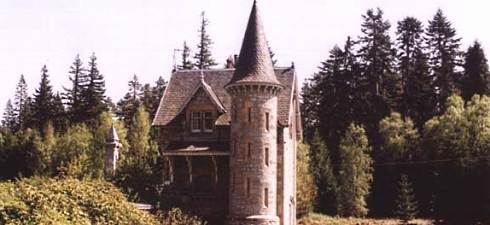 Please check back often or subscribe to our RSS feed, as we frequently add new designs for charming cabins and cottages to our site.

YOU MAY ALSO LIKE:



Small Cabin Plans -
Tiny Treasures

Small Log Cabins -
BIG STONE HEARTHS!

Small Cottage House Plans -
BIG ON CHARM!


Standout Cottage Designs -
Cozy, Cute & Quaint!


Standout Cottage Plans -
Country, Casual & Coastal!

Didn't find what you were looking for?
Use this search feature to find it.