MORE Small Cabins...
Little Spaces, Perfect Places!
The small cabins featured here blend traditional architectural elements and materials to create a "picture-perfect" look and feel.  Varying roof lines punctuated by dormers and chimneys lend a storybook quality to many of the designs, while walls of windows impart a contemporary flair to others.

Delightful compositions of timber, logs, wood shingles and stone "sprout" from the earth.  An artful balance of form and function, these cabin designs are timeless!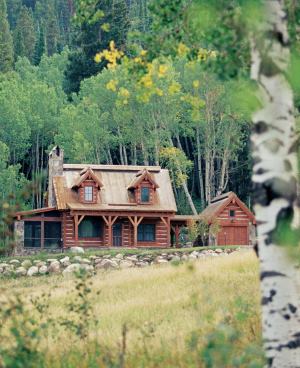 As the complexity of living in the 21st century continues to rise, our need to periodically get away from it all becomes increasingly important.  Our need to take a "time out" from the information overload that inundates us daily as a result of lightning fast advancements in communications technologies. 
Our need to take a break from the hectic pace of everyday life to replenish mind, body and spirit. 
Our need for harmony and balance in life.

Left: Log Cabin Design by
Charles Cunniffe Architects

For many, a small cabin or studio offers an ideal escape.  The designs that follow blend inspiration with imagination.  Though somewhat limited in area, i.e., square footage, their curb appeal is virtually limitless!
Small Cabins . . . BIG Design Options
Antique Allure
"Vintage" log cabins -- whether restorations, reconstructions or reproductions -- pay homage to our pioneer past and symbolize the spirit and strength of those that came before us.  Picturesque compositions in pastoral settings, they evoke nostalgic images of an earlier time and place.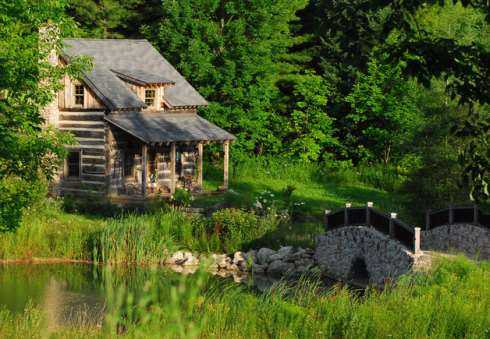 Photo Credit (above): The Landmark Group, Toronto, Canada
Antique Cabins & Barns, based in Lewisburg, West Virginia, specializes in salvaging and reconstructing 19th century log and timber buildings.  The cabin below was resurrected by the firm and adapted to the requirements of modern day living.  It features a picturesque arrangement of natural stone, chinked antique logs, board and batten siding, and bark shakes.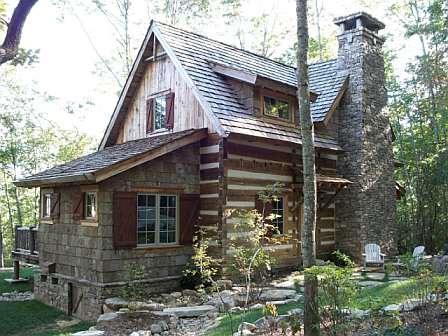 Cabin plans from The Historic Cabin Collection by Winterwoods Homes provide an opportunity to embrace the past while living in the present.  Based on the designs of historically notable log structures in America, the plans combine authenticity with 21st century livability.

Pictured below is the "Davy Crockett Cabin," a 1 bedroom, 1-1/2 bath design inspired by the legendary frontiersman's birthplace.  Anchored by a large stone fireplace, its open floor plan encompasses 600 square feet of living area on two levels (See floor plans beneath cabin rendering).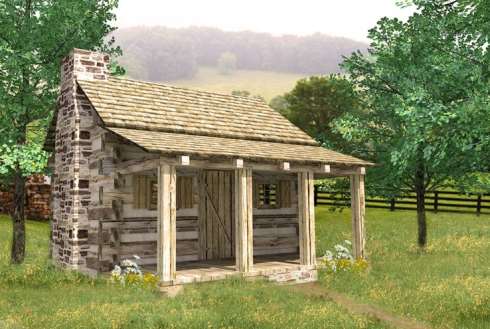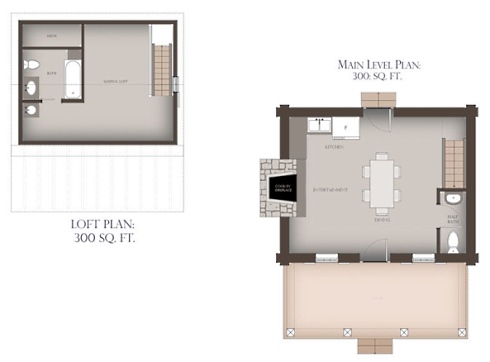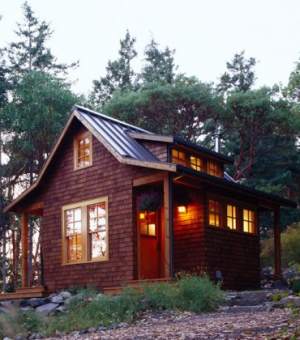 Shingles, Stones & Solitude
Pictured at left and below are two views of a small cabin on Orcas Island in the northwestern corner of Washington state.  Designed by David Vandervort Architects, it is clad with wood shingles and a metal roof. 
Shed dormers provide headroom for an upper level sleeping  loft.  At only 400 square feet, interior space is efficiently arranged to include a kitchen, eating area, living area, and bath.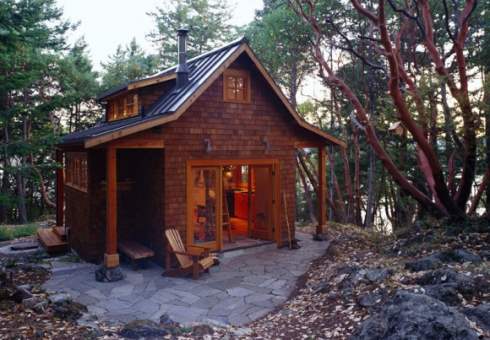 More Shingled Cabins & Cottages
The Colorado Rockies' Park Range plays host to the striking cabin below.  Designed by Stuart Arc, a Steamboat Springs architectural firm, it features a stone and timber exterior pierced by large glazed openings.  Weathered board and batten siding lends additional texture to the upper gable ends.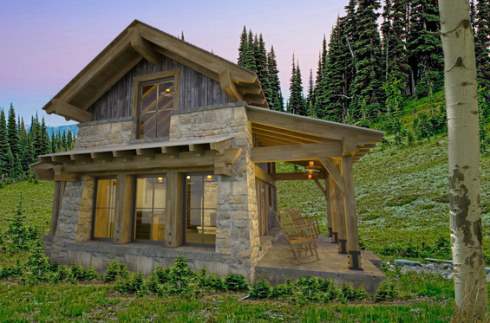 See Another Striking Stone Mountain Cabin
A playful arrangement of native stone with contrasting log and timber elements, the storybook cabin that follows is loaded with charm.  Oversize stone chimneys anchor each end of this enchanting design from Johnson Architecture in Knoxville,Tennessee.  Scalloped slate tiles cover the roof to enhance its fairy tale facade.

Photo Credit (above): Peter Montanti, Mountain Photographics

See Another Enchanting Storybook Cabin
Eaves with Emphases
An extended roof line redefines the "wraparound porch" typically found in Victorian-era dwellings.  Designed by Northworks Architects and Planners, this striking Colorado mountain retreat boasts a literal interpretation of the term.  Soaring timberwork frames the cabin's tall multi-pane windows while providing structural support for the roof.

The efficiently planned interior offers 800 square feet of space on 2 levels.  A kitchen and living area, full bath, and two bedrooms occupy the first floor.  The loft level provides additional room for sleeping.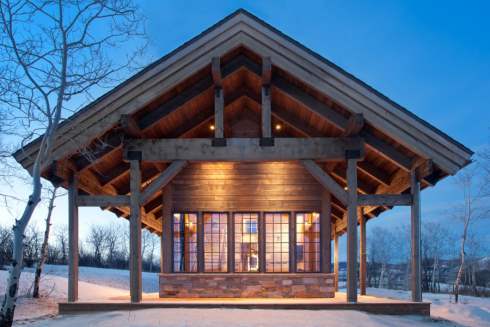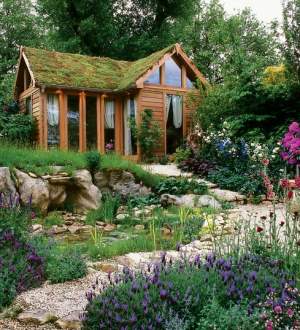 Contemporary Creations
Glazed gables, doors, and floor-to-ceiling windows lend contemporary flair to the small cabin pictured here. 

Sheathed in cedar siding, it features a "living" green cross gable roof sprouting with stonecrops.

(Photo at left via HGTV)

More Green Roof Cabins

Nestled on a hillside near Park City, Utah, the small studio pictured below is an inspiring example of what can be achieved with a relatively simple geometric form.  Essentially a cube with a shed roof, its "curb appeal" is greater than the sum of its parts.

Reclaimed posts and beams provide a traditional framework, while walls of glass impart a contemporary look to this striking design by Jack Thomas Associates.  A covered stone terrace extends the compact interior space to the out of doors.  Adding visual interest to the overall composition is a "built-in" pergola.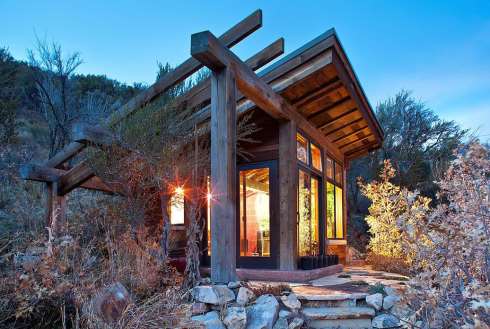 Set in a clearing on the northern edge of California's Tahoe National Forest, Chalk Bluff Cabin is a remote vacation getaway by Arkin Tilt Architects.  Though banks of windows make it appear larger, the cabin is modestly sized at 872 square feet.  An eco friendly building employing straw-bale construction, it features polished concrete floors and textured plaster walls.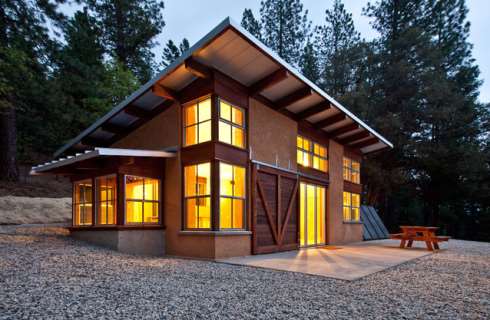 Photo Credit (above): Eric Millette

More Eco Friendly Cabin Designs

Please check back often or subscribe to our RSS feed, as we frequently add new images of small cabins to our site.

YOU MAY ALSO LIKE:

Reclaimed Wood Tile -
Ideal for Cozy Cabin Interiors!


Standout Small Cabins -
A Smorgasbord of Styles!

Small Cabin Design -
Tiny Traditionals to Compact Contemporaries!


Log Cabin Pictures -
Favorite Small Log Cabins!
Didn't find what you were looking for?
Use this search feature to find it.