Small Cabin Design . . .
Tiny Traditionals to
Compact Contemporaries!
Small cabin design -- done well -- successfully balances form and function.   Given the spatial and budgetary limitations within which designers must often work, a great deal of thought is required to create a plan that maximizes use of interior space AND provides visual appeal.  The examples featured here offer plenty of both!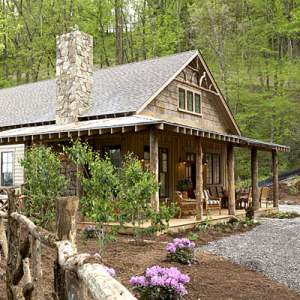 Design above by Allison Ramsey Architects
 (Photo Credit: Jean Allsopp)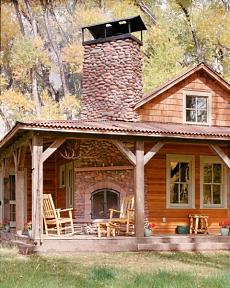 For example, the wood frame cabin at right is anchored by a massive outdoor corner fireplace made of river stones, giving it a truly distinctive "larger than life" appearance that defies its small stature!

See More River Stone Fireplace Designs at our Sister Site, Standout-Fireplace-Designs.com

From tiny traditional (below left) to compact contemporary (below right) designs, there is a style and floor plan to appeal to virtually everyone.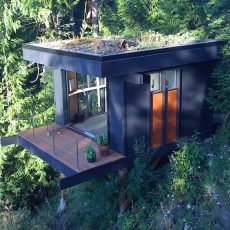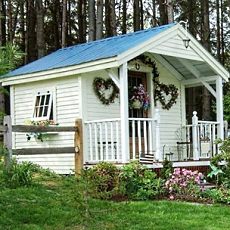 Cladding for Small Cabin Designs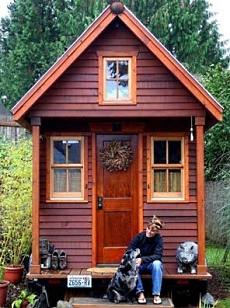 Clapboards
Exterior cladding varies widely and is often dictated by the architectural style.  For example, the glass walled contemporary design pictured above, right, contrasts sharply with the colored horizontal clapboard siding on the traditional design at right. 
The two designs that follow are also clad with clapboard siding.  However, the natural finish gives them more of a rustic look and feel.
Design above right by Tumbleweed Tiny House Company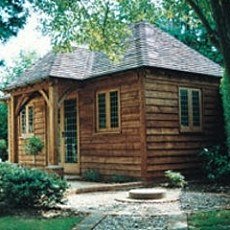 Boards and Battens
Another type of cladding, particularly with traditional designs, is vertically oriented board and batten siding, shown in the following two designs.   Once again, while the example on the left has a painted finish, the cabin on the right sports a natural finish to give it a more rustic look.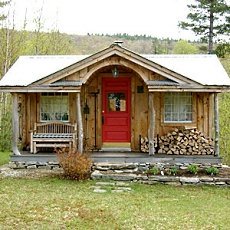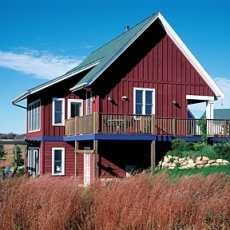 Wood Shingles
The Shingle Style cottage pictured below follows a long-standing tradition that began on the East coast in the latter part of the nineteenth century and quickly spread westward to California.  Popular to this day, the style is virtually timeless.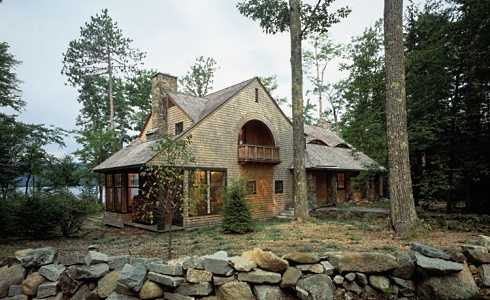 More Shingle Style Cottage Designs
Logs
The log cabin is another building type that never seems to go out of style.  Despite having been in existence in many parts of the world for centuries, its timeless appeal never wanes.
The fine example at right and below provides a strong testament to its ongoing popularity!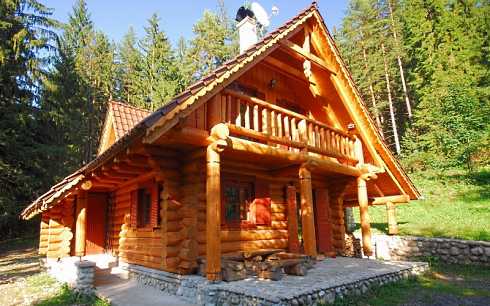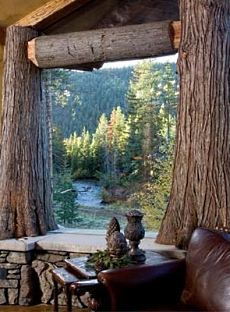 Logs and Stones
Combined with stone, the log cabin design pictured below is a veritable architectural masterpiece . . . leaving little doubt as to why this particular building type remains so popular to the present day!
Colorado residence, above, by bhh Partners Planners/Architects
Logs and Steel
And finally, for a contemporary twist on an old theme, the unique log design that follows is indicative of the possibilities that can be achieved with this age-old building type!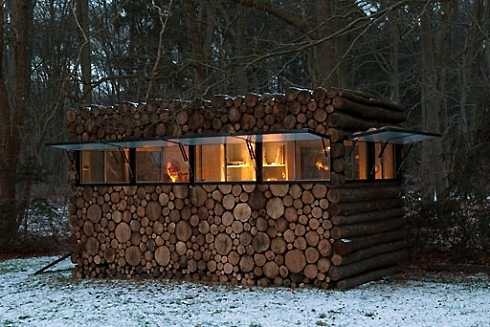 Contemporary cabin, above, by Dutch designer Piet Hein Eek
Please check back often or subscribe to our RSS feed, as we frequently add new small cabin designs to our site.
YOU MAY ALSO LIKE:



MORE Small Cabins -
Little Spaces, Perfect Places!


MORE Small Cabin Design Ideas -
Romantic Retreats!


Standout Small Cabins -
A Smorgasbord of Styles!


Small Cabin Plans -
Tiny Treasures!


Small Cabin Floor Plans
Compact...and Spacious?


Small Log Cabin Plans -
BIG THINGS in small packages!

Didn't find what you were looking for?
Use this search feature to find it.