Small Cottage Designs...
Shingled Sanctuaries!
Welcome to small cottage designs and the world of shingled retreats . . . the 19th century architectural style of leisure, which continues to this very day . . . . .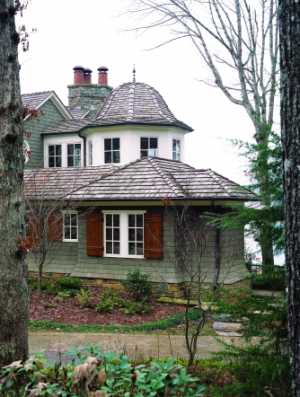 Design Above by Harrison Design Associates
. . . Pass through the gates of the stone arch below and discover a truly original American architectural style . . . . .
Design Above by Kean Development
Photo Credit: James Bleecker Photography
. . . . a style that combines stone and shingles with turrets and towers, a profusion of dormers and chimneys that pierce irregular and often complex roof lines, rows of charming multi-pane windows, and shady porches with American Colonial architectural detailing.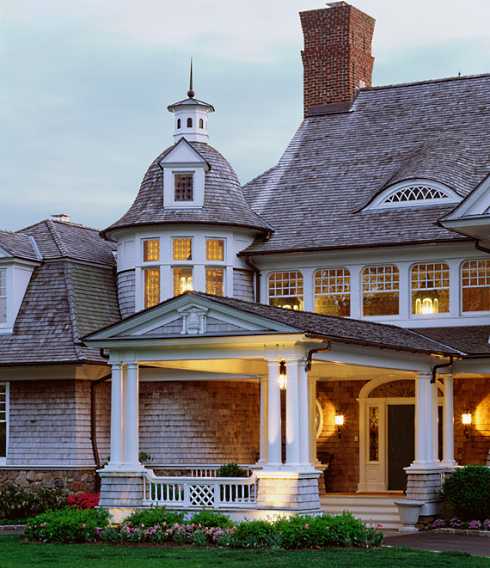 Design Above by Kean Development
Photo Credit: James Bleecker Photography
Welcome to the enchanting world of American Shingle Style architecture!
Early Shingle Style homes and cottages initially sprang up in the last quarter of the 19th century in Victorian seaside resorts along the northeastern seaboard of the United States.  Popular vacation spots like Newport, Rhode Island; Cape Cod, Massachusetts; eastern Long Island, New York; and Bar Harbor, Maine.  As the new architectural style caught on, numerous examples of it popped up across the United States . . . all  the way to the west coast! 

In the early 1900s the Shingle Style faded from popularity as other styles took the lead. However, it saw a revival in the second half of the twentieth century that has continued, unabated, to this day.  One of the most prolific present-day proponents and architects of the Shingle Style is Robert A. M. Stern, based in New York City. 

One of Mr. Stern's shingled designs is pictured below.  Built in 2005, the home is perched on the southerly tip of a secluded spot with panoramic views on Salt Spring Island in British Columbia, Canada.
Photo Credit: Peter Aaron / Esto
The little architectural jewel that follows was also designed by Robert Stern.  Located in Quogue, on New York's Long Island, this quaint structure with a distinctive corner tower is set among formal gardens and functions as a pool house.
Photo Credit: Peter Aaron / Esto
The small cottage design pictured below is yet another modern-day incarnation of the Shingle Style -- and an excellent one at that!  Designed in 2009 by Arleta Chang of Jarvis Architects, based in Oakland, California, this exquisite architectural gem rests along the shores of Lake Mendota, near Madison, Wisconsin. 

Highly detailed and true to form, it sports a broad, overhanging upper gable with a recessed row of windows neatly tucked in by shingles that curve inward on either side.  The flared out base of the lower level walls frames a recessed entry door and a large arched window with divided lights that echo the detailing of the upper portion of the second story windows.   A shed roof dormer and distinctive eyebrow dormer are visible from the front facade, as is a large river rock chimney on the right side of the cottage. 

All  in  all,  a beautifully conceived and finely executed example of authentic Shingle Style architecture and detailing!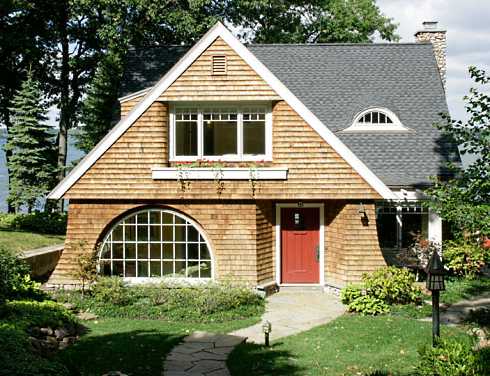 More Small Cottage Designs
The two small cottage designs that follow (next 3 images) were created by Rehkamp Larson Architects, based in Minneapolis, Minnesota.  The cross gabled design pictured directly below borrows heavily from the Shingle Style.  However, it incorporates a variety of additional decorative elements to add to its cottage charm.  For example, decorative bargeboards are attached to the gable ends. 

Cladding the upper portion of the front facing gable is wavy board and batten siding.  Just beneath it, shutters with decorative cut-outs flank the pair of windows centered over the front entry.  And finally, the roof of the wide front porch is supported by unique and distinctive pillars or posts.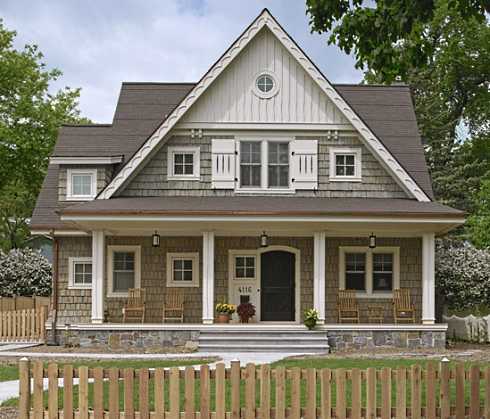 Not every house sided in shingles represents the Shingle Style.  For example, many of the characteristics and features of the Shingle Style were adopted by Gustav Stickley (1858-1942) -- a leading proponent of the Craftsman Style -- an American adaptation of the British Arts and Crafts Movement. 

Such is the case with the small cottage design pictured in the two images that follow.  Another design by Rehkamp Larson Architects, it features typical Craftsman Style elements such as bands of windows tucked under shed roof dormers and large brackets that support roof overhangs.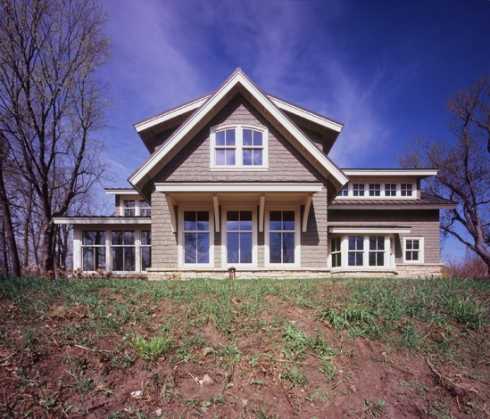 Pictured below is another shingle-sided cottage inspired by the Craftsman Style.  Created by Bensonwood Homes, based in Walpole, Hew Hampshire, this vacation getaway is located in central Vermont.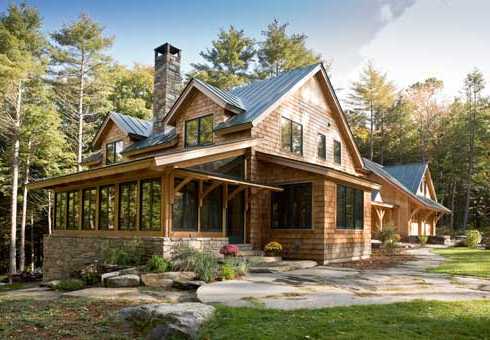 Back to more traditional Shingle Styling, the boathouse pictured at right was designed by Harrison Design Associates of Atlanta, Georgia.  Featuring a gambrel roof, shed roof dormers, and early American window detailing, it is typical of both past and present Shingle Style structures in the Northeastern United States.
And finally, the Shingle Style garage pictured below is evocative of late 19th century carriage house designs.  With its own private entrance, the spacious upper level provides an ideal guest retreat for family and friends of the property's home owner.
Photo Credit: Carl Vernlund
Please check back often or subscribe to our RSS feed, as we frequently add new small cottage designs to our site.

YOU MAY ALSO LIKE:


More Shingled Small Cottage Designs -
Country, Casual & Coastal!

Small Cottage Designs -
BIG ON CHARM!