Designs for Building a Log Cabin...
Energy Wise & Loads of Charm!
If you're building a log cabin and searching for designs that are both cutting edge AND loaded with charm, the examples pictured here are hard to beat.  Evoking the nostalgia and romance of a Terry Redlin print, they'll take you back to the "good old days" and -- simultaneously -- help you save money on energy costs!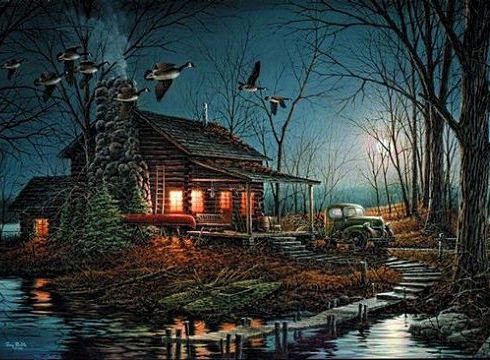 "Moonlight Retreat" by Terry Redlin
Tennessee-based architect, Shawn Fisher, is the creative force behind these enchanting structures. Designed for Natural Element Homes' aptly named "Jewel Box Cabin Plans" portfolio, they are infused with a special "something."
Varying roof lines, prominent chimneys, picturesque dormers, and a masterful arrangement of building materials including stone, recycled brick, sturdy timbers and decorative wood brackets give these architectural gems a storybook character and quality -- combined with 21st century livability -- unlike any other we've seen in a rustic retreat. Multi-pane windows and a variety of custom exterior wood finishes further enhance the timeless appeal of these log cabin designs.
Available exclusively from Natural Element Homes, a leading innovator in the log home industry, the cabins can be crafted with traditional logs OR one of the highly energy efficient building products/systems available from this company. A host of unique options gives you the ability to tailor a design that fits your style . . . AND your budget!
Building a Log Cabin . . .
The Prickly Pear
Building a log cabin such as "The Prickly Pear," pictured below, will definitely set you apart from the crowd.  Though moderately sized at 1,541 square feet on two levels, it packs a lot of punch. 

"The Prickly Pear's" enchanting facade features a 2-story porch framed with timbers that rise from stone and brick pedestals.  A decorative balustrade surrounds the upper level porch. 

Other decorative features include rustic wooden shutters patterned after the front door design.  Directly above, a cascade of color spills from a charming window box tucked beneath a through-the-cornice dormer window. 

Upon stepping inside the front door, you are greeted by a staircase (below left).  Just ahead is the primary living area, which features an open floor plan with a soaring Great Room and adjoining kitchen and breakfast areas.   A fireplace is centered along the Great Room's outer wall and flanked by double sets of French doors leading to a large rear porch -- complete with its own fireplace. 

The main level master bedroom suite includes another set of French doors which lead to an open deck adjacent to the covered rear porch.  Dual sinks and closets line opposing walls of the master bath. 

The upper level boasts two additional bedrooms and a full bath (below right), as well as attic space for additional storage.  A loft area overlooks the Great Room below.  Flooding the stair hall with natural light is a pair of French doors which open onto the quaint second story front porch.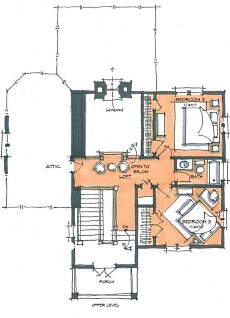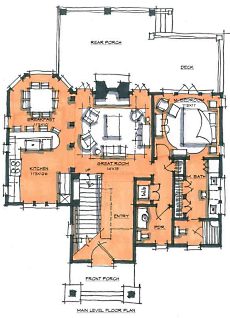 Level 1: 1,031 sq. ft                                                                                                              Level 2: 510 sq. ft.
See Enlarged Images of "Prickly Pear" Floor Plan
The Bear Paw
Following is another Shawn Fisher design for building a log cabin.  A real charmer, "The Bear Paw" features a pair of front facing gabled dormers with roof lines that step back. 

Board and batten siding surrounds wood-trimmed casement windows on the upper level.  Decorative bargeboards, brackets, and cut log ends add even more layers of frosting to this richly detailed confection. 

Just below, a wide front porch provides an inviting outdoor area for family and friends to gather.  Artistically arranged logs resting on stone and brick pedestals support its shed roof. 

Flared outside corners lend a handcrafted look to the logs.  Sidelight and transom windows accentuate the cabin's front entrance and help illuminate it's interior.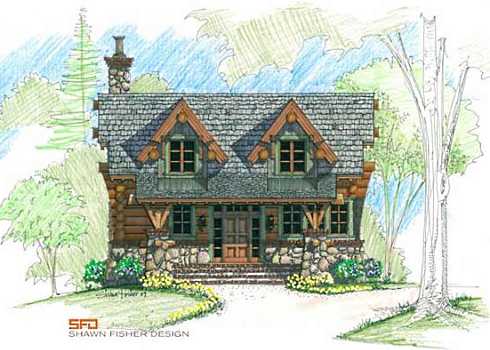 Inside, the main level features an open floor plan of 1,004 square feet (below left).  Designed for modern day living, the interior plan maximizes its use of available space.  For example, a compact laundry area is neatly tucked under the stairway leading to Level 2. 

A corner fireplace with built-in media center anchors the Great Room and adjacent dining area.  Extending the interior living area to the out-of-doors is a large back porch. 

The first floor master bedroom also opens onto the back porch.  "His" and "Her" closets and a bath with dual sinks complete the master suite. 

Level 2 (below right) encompasses an additional 597 square feet that includes two bedrooms (with closets) and two baths.  A wide 3-door closet in the upper stair hall provides extra storage space.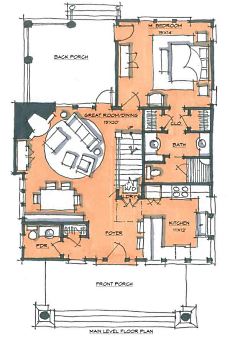 Level 1: 1,004 sq. ft.                                                                                                             Level 2: 597 sq. ft.
See Enlarged Images of "Bear Paw" Floor Plan
The Mulberry Mill
Natural Element Homes' portfolio of "Jewel Box Cabin Plans" includes the gem pictured below.  "The Mulberry Mill" -- another striking Shawn Fisher design for building a log cabin -- features a steeply pitched cross gable roof punctuated by shed roof dormers.  A masterful blending of stone, shingles, bricks, wood, and metal lends contrasting color and texture to this delightful design. 

At 1,450 total square feet on two levels, it is slightly smaller, albeit no less charming, than the examples pictured above.  Adding to its unbridled charm are shuttered multi-pane windows, flower boxes, and a graceful stone "half arch" that follows the rolling terrain as it slopes gently away from the cabin foundation. 

Sheltered by a covered porch, the front door leads to a soaring open space that encompasses a great room, kitchen, and dining area which, in turn, opens onto an expansive rear porch.  Large windows on the main level, as well as upper level dormers, flood the room with natural light.  An inglenook fireplace lends intimacy to the open plan. 

Opposite the great room is a bedroom suite with walk-in closet and 3/4 bath.  A powder room and laundry area complete Level 1. 

Level 1: 1,107 sq. ft.
The upper level encompasses 343 Square feet.  It features a second bedroom suite with a full bath, as well as space for a small study or computer work station.
Level 2: 343 sq. ft.
See Enlarged Images of "Mulberry Mill" Floor Plan
Please check back often or subscribe to our RSS feed, as we frequently add new images and ideas for building a log cabin to our site.

Didn't find what you were looking for?
Use this search feature to find it.