Small Log Cabin Floor Plans...
Tiny Time Capsules!
Small log cabin floor plans embraced by walls of wood, and steeply pitched roof lines punctuated by picturesque dormers and chimneys, are among the most enchanting designs ever conceived by man.  A treasure trove of charming architectural elements brought together to form a romantic vision of times past!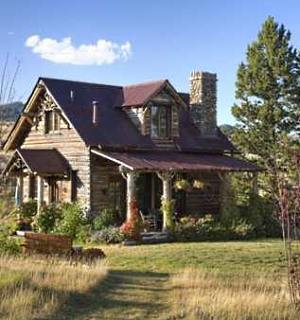 Cabin Above by Miller Architects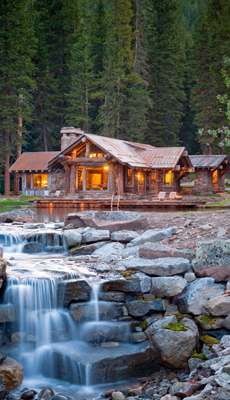 Few building types or styles evoke the romance and period charm of a small log cabin.  Shaded from the hot summer sun by an extended roof line while relaxing on the front porch . . . . . or warmed by the embers of a crackling fire from an indoor fireplace while sipping coffee on a crisp autumn morning, they provide an escape from the rigors of daily life that is hard to match. 
Nestled in a deeply wooded forest near a quiet lake or meandering mountain stream, they are about as close as one can get to "heaven on earth!"
(Cabin pictured at right by architect Daniel Turvey of Dan Joseph Architects . . . . . more about this design)
Photo Credit (Right): Audrey Hall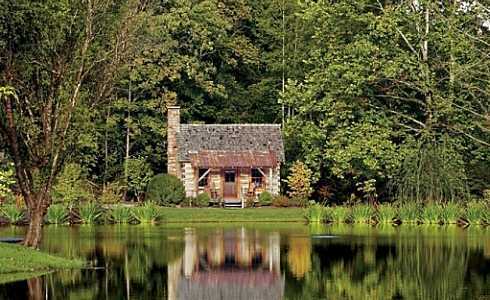 Log Cabin at Blackberry Farm in Tennessee's Great Smoky Mountains
(Photo Credit: Jeff Herr; Architect: Jack Davis)

More Small Log Cabin Floor Plans
The cozy cabin pictured below is perfect as a summer retreat, weekend getaway, or a great retirement cottage.  The 643 square foot Summerhill from Stonemill Log Homes boasts several charming design features, such as an open loft and space-saving spiral staircase, yet is a very economical choice.  The design reflects an efficient use of space.
The loft, which can be used as an extra bedroom, study or den, overlooks the living room and adds to the look of spaciousness.  The kitchen/dining area opens into the living room on the ground floor and features a cathedral ceiling.
The master bedroom has a spacious walk-in closet and adjoining full shower bath.  The 24 foot long porch runs the full length of the cabin and is just right for cool summer night stargazing and relaxing in a rocking chair.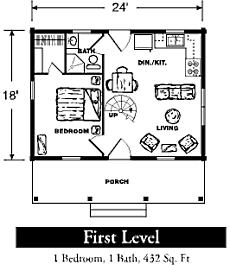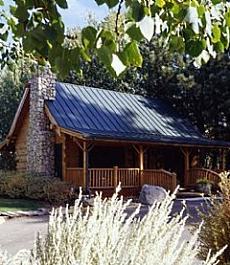 A perfect weekend or vacation getaway, the design pictured below from Hochstetler Milling encompasses 1,132 square feet on two floors (Main level shown below right).  The open concept great room with extensive glass area affords an unobstructed view of the surrounding landscape and is further enhanced by an exposed timber ceiling and fireplace.  The galley kitchen features a convenient raised counter and laundry area.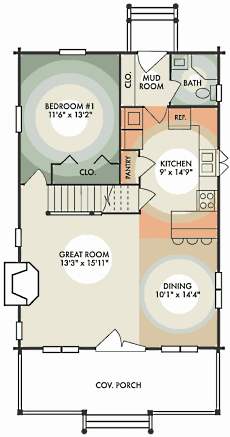 The two story design from Stonemill Log Homes pictured below has three bedrooms and two baths in 1,768 square feet of living area.  It features a beautifully efficient great room concept revolving around an open kitchen with bar, dining room and living room with fireplace.  A covered porch runs the length of the cabin in both the front and rear.
The ground floor master bedroom has a large walk-in closet and adjacent full bath.  The option which features one bedroom on the second floor includes a large loft open to the main floor, a big bedroom, full bath and ample closet and storage space.
The alternative, providing two upper bedrooms, gives you oversized rooms including a large bath and lots of closet space.  There is plenty of elbow room in this log cabin floor plan!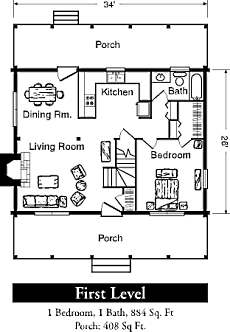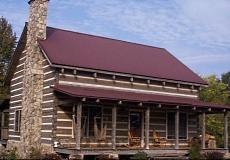 Pictured below is the Springcrest from Stonemill Log Homes, which encompasses 1,786 square feet and boasts many appealing amenities.  Downstairs, the great room style of the living room with a handsome stone fireplace and cathedral ceiling, opens into the dining area and is separated from the kitchen with a four stool, eat-in kitchen bar.
Both of the downstairs bedrooms have double closets, and one bedroom has French doors opening onto a porch.  There is a full bath, laundry room, and ample storage space.
Upstairs, the large open loft -- which is ideal as a recreation room or extra bedroom -- overlooks the living room, adding to the airy, spacious look of the overall design.  The master bedroom has a generous double closet and adjoining full bath.
Outside, a wraparound porch graces three full sides of the home, with more French doors opening from the dining room.  On the upper level, there are three front dormer windows and the back exterior roof line is accentuated with one large dormer.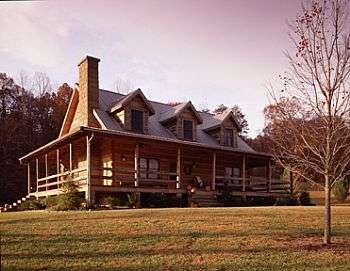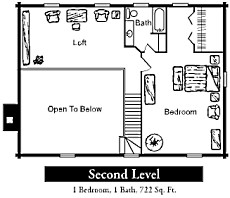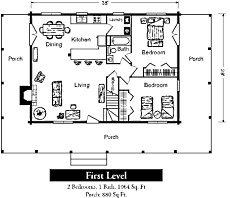 The storybook cabin pictured below was produced by Hearthstone Homes.  Designed for use as a guesthouse, its compact, but open floor plan of 805 square feet features a great room with a stone hearth and vaulted ceiling.  Upstairs, a sleeping loft with bath overlooks the living area below.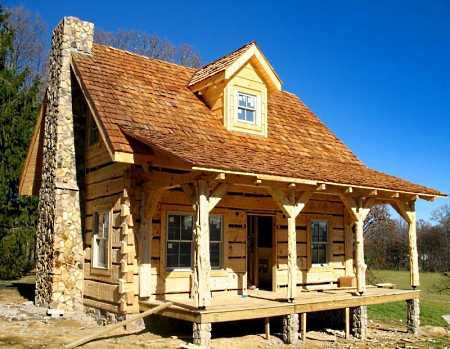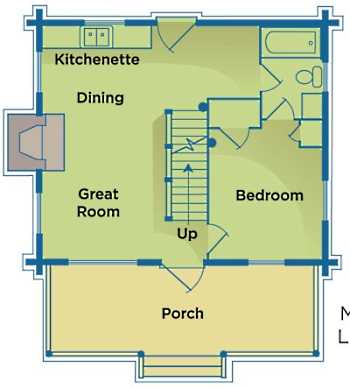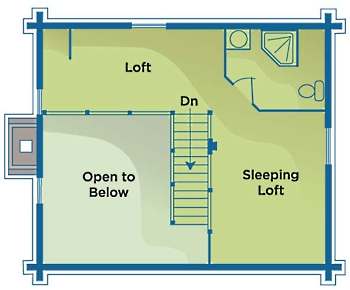 ---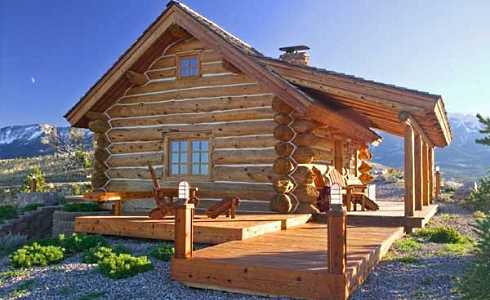 Small log cabin (840 sq. ft.) near Red Lodge, MT
(Photo Credit: Gibeon Photography)
Please check back often or subscribe to our RSS feed, as we frequently add new designs for log cabin floor plans to our site.
YOU MAY ALSO LIKE:


Log Cabin Floor Plan Designs -
Little Architectural Jewels!

Small Log Cabin Floor Plans -
BIG THINGS in small packages!