Log Cabin Floor Plan Designs...
Architectural Jewels!
The log cabin floor plan designs shown here feature storybook exteriors that simply ooze nostalgic charm. If you've been dreaming of a romantic hideaway, these little gems are bound to capture your imagination!

Each of the designs pictured here (available at architecturaldesigns.com) incorporates conventional 2-by-6 framing which is then clad with log siding on the exterior and -- if desired -- can also be used to clad interior walls. Log siding is often used in full-log construction, as well . . . typically on dormers, garages and outbuildings.
Though small in size at only 324 square feet,  the following design is big on charm! This rustic cabin plan is perfect for a weekend escape.    The front, or primary living area, has an open floor plan with a vaulted ceiling.     The dramatic wall of windows on the front provides plenty of natural  light  and makes the living area appear larger than it actually is. A bedroom with bath and shower is tucked in the back.   If more living space is needed, an addi-
tional 301 square feet --almost double the size -- can be  gained  by  con-
verting the garage to living quarters, as depicted in the bottom illustration.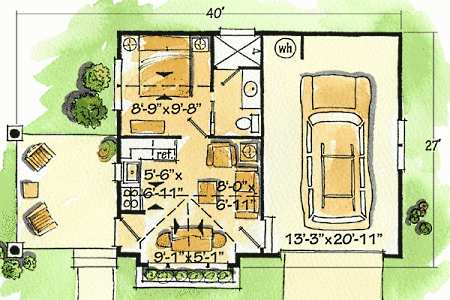 At 1,642 square feet on two  floors,  the cozy  log cabin  pictured  below
with main  level  plan  at  right  has
quite a  bit  more  space  than  the previous design.   The first floor has
a completely open floor plan to give
it a feeling of spaciousness. The up-
per level  contains  three  bedrooms
and two full baths.
The country cabin pictured at right   and  below  has  a  total  of  1,215
square feet on two floors.  A wind-
ing spiral stairway leads to an open   loft area on the second  floor  that overlooks the main level below.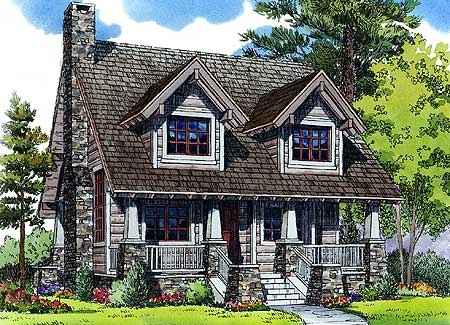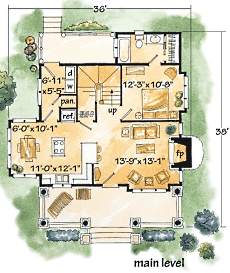 The  cozy  cabin  pictured   below
boasts a  massive  stone  chimney
on the exterior and a  large  stone hearth  inside,   as  shown  in  the
floor plan at right.  Compact in de-
sign at 1,362 square feet, it,  nev-
ertheless, encompasses three bed-
rooms and two full  baths  on  two
levels.

See More Cozy Cabins with
Large Stone Hearths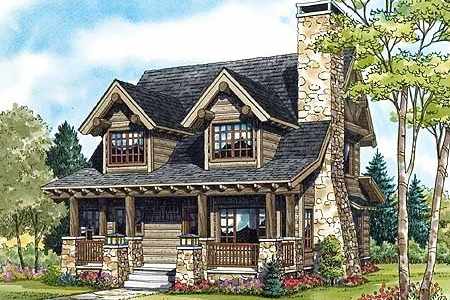 More Log Cabin Floor Plans
The following log cabin floor plan   boasts a full width porch at both
front and rear.     With a total of
1,173  square  feet,  it  has  one
bedroom and  one  bath  on  the
first floor and a loft area  of  619
square feet on the upper level.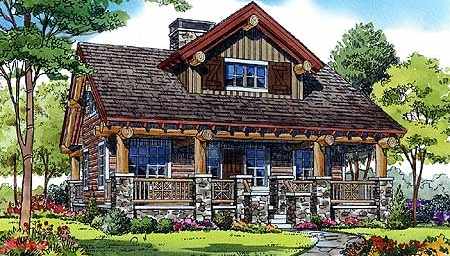 Once again, the design pictured be-
low features a full  width  porch  at
both front and rear.  Despite its rel-
atively  small  size  totalling   1,234
square feet on two levels,  the effi-
ciently arranged interior boasts four bedrooms and two full baths!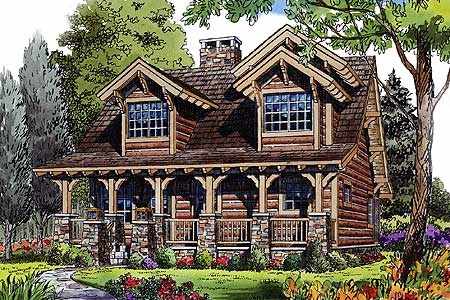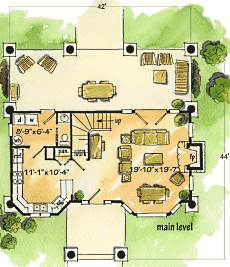 The rugged and rustic design that follows is a bit more  spacious  at
1,456 square feet.   It encompas-
ses three bedrooms and two  and
a half baths on two floors.
And finally, the following log cabin floor plan is of similar size, totaling 1,416 square feet.  It features three bedrooms and two full baths on one level.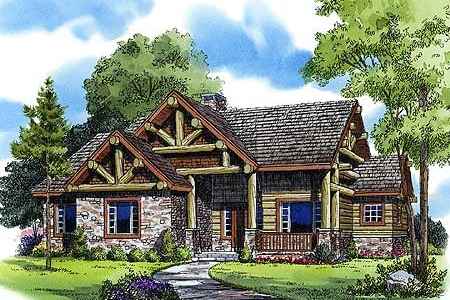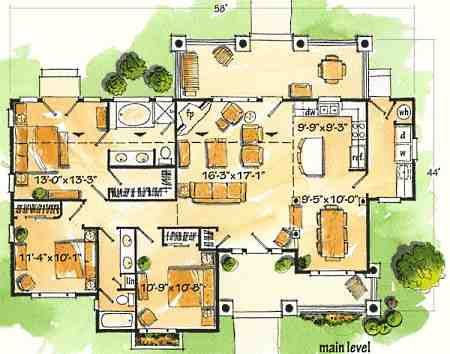 Please check back often or subscribe to our RSS feed, as we fre-
quently add new log cabin floor plan designs to our site.

YOU MAY ALSO LIKE:





MORE Log Cabin Floor Plan Designs -
Tiny Time Capsules!








Small Log Cabin Plans -
BIG THINGS in small packages!








The Log Cabin Fireplace -
Warming Hearts to this Day!

Back to Standout Cabin Designs Home Page


Didn't find what you were looking for?
Use this search feature to find it.
LIKE THIS PAGE?
Copyright © 2010-2018 standout-cabin-designs.com
All Rights Reserved.
STANDOUT CABIN DESIGNS
Minneapolis, Minnesota USA