The Storybook Cottage...
Happily Ever After!
The storybook cottage designs featured here are what fairy tales are made of . . . . . except that these cottages are REAL!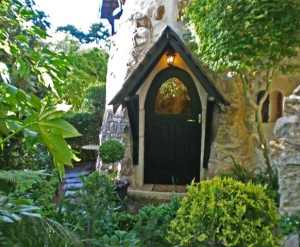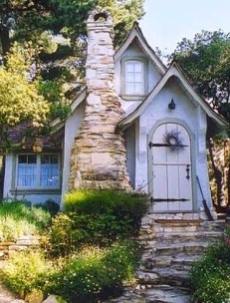 What if we could rewrite our own childhood story?  Wouldn't it be great?  
Well . . . some people have done just that!


Once upon a time, in the early 1920s, a man named Hugh Comstock built a little cottage for his wife in Carmel-by-the-Sea, California . . . . .
      "Hansel" (front view)

It had a steeply pitched roof, plaster mixed with pine needles, and a crooked stone chimney.  He named the cottage "Hansel," and the fairy tale began . . . . . . .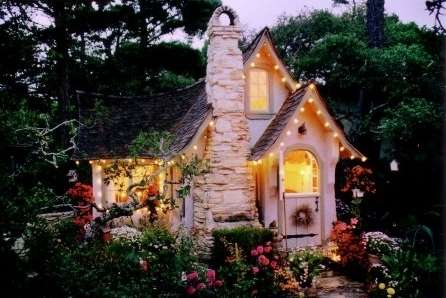 "Hansel" (perspective view)

Soon after he built "Gretel," pictured below.  Gretel had a crooked roof, a half-timbered facade, and shutters on her windows. 

Not long after that, the locals began to ask him to build whimsical cottages for them, as well.  Though he was not an architect or builder by trade, he agreed and went on to design and build dozens of fairy tale cottages around Carmel.  His magical creations are now so popular that people come from far and wide just to see them.   

And so the fairy tale lives on . . . . . happily ever after!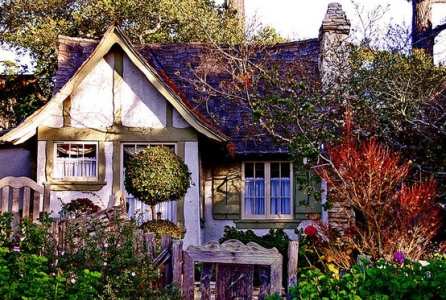 "Gretel" (front view)

Pictured below is a storybook cottage in Beverly Hills, California.  The Spadena House, also known as "The Witch's House," is recognized for its fanciful design that makes it look old and dilapidated. 

The adobe walls of the house slope precariously, and its steeply pitched roof is pointed like a witch's hat.  The saggy wooden window shutters are hung at odd angles and an eccentric picket fence surrounds the property, made of wavy, warped wooden pickets. 

Designed by Hollywood art director Harry Oliver, and built in 1921, the residence appears in movies to this day, including 1995's Clueless.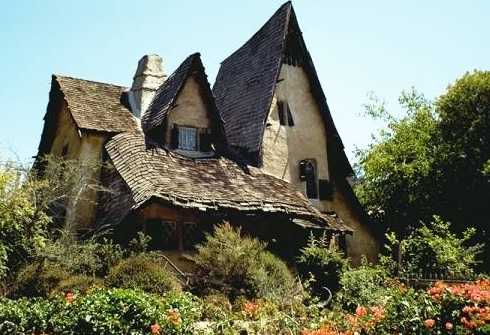 The "Spadena" or "Witch's House"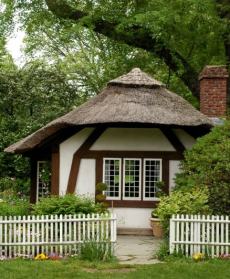 Some playhouses for children, such as those shown here, would also be ideal as live-in cottages for adults.
The little Tudor Revival design with thatched roof, pictured at right, is in Old Westbury Gardens on Long Island, New York.
The charming stone cottage pictured below is a playhouse at Winterthur, a museum and country estate in Winterthur, Delaware.  Once again, it has a beautiful thatched roof.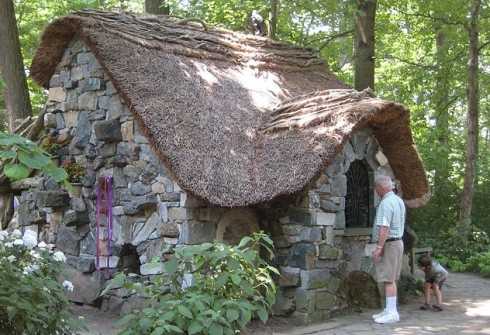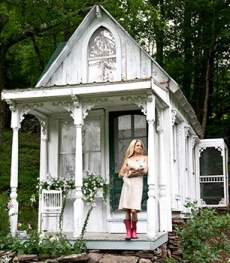 Victorian Storybook Cottage
The tiny cottage pictured at right and below is in the Catskill Mountains of New York.  Originally a 9 x 12 foot hunting cabin, the owner turned it into the romantic Victorian cottage she always wanted.
See More Hunting Cabins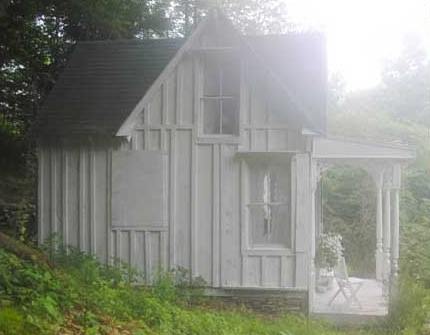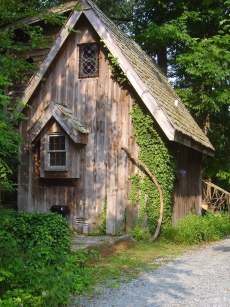 And finally, if you're looking for something a bit more rustic, one of the two cottages pictured here might fill the bill.  The charming Carpenter Gothic cottage at right is located in the Blue Ridge Mountains of western North Carolina.  A vacation rental that overlooks a mountain stream, it is operated by Down to Earth Cottages.
The inviting cottage pictured below is located in North Bend, Oregon.  A private residence, it is clad with board and batten siding and crowned with a cupola.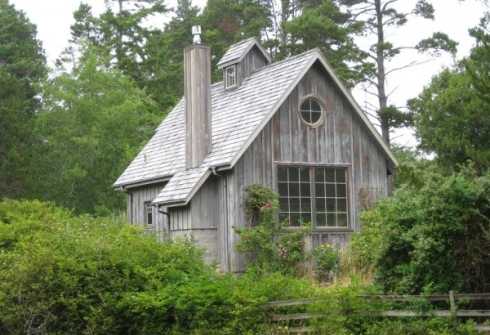 Please check back often or subscribe to our RSS feed, as we frequently add new storybook cottage designs to our site.

YOU MAY ALSO LIKE:


More Storybook Cottages -
The Fairy Tale Continues!

Fairytale Cottages -
Once Upon A Time...
Storybook Cottage House Plans -
Storybook Style!

Stone Cottage Architecture -
"StoryStone" Style!