Fairytale Cottages
Once Upon A Time...
The fairytale cottages featured here are "proof positive" that fairy tales ARE real.  Carefully chosen for their irresistible charm from the English countryside, the hamlets of France, and the Pacific seacoast of the United States, a more romantic, picturesque, and quaint cottage collection cannot be found anywhere!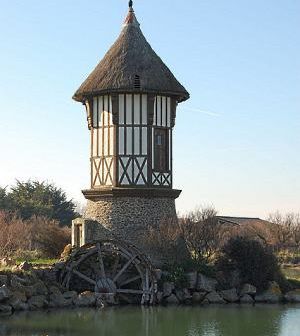 We  begin  our  trip  in the Lower Normandy region of northwestern France.  The storybook structure pictured above is a mill located in Courseulles-sur-Mer.  It features a stone base with stucco and half-timbering on the upper level.  Crowning this architectural gem is a thatch roof.
Heading in a southeasterly direction to Versailles, just outside of Paris, brings us to the fairytale cottages pictured at left and below.
Built as part of a rustic retreat for Marie Antoinette on the vast park-like grounds of the Palace of Versailles, they are among twelve cottages erected at her Hameau de la Reine (The Queen's Hamlet) between 1785 and 1792.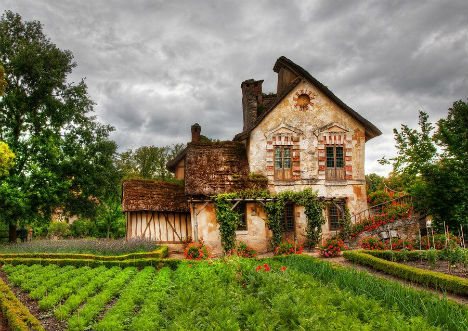 More Fairytale Cottages
Heading north, across the Channel to England, brings us to the enchanting English cottage pictured below. A prominent bay window, multiple decorative chimneys, and a varying roof line covered with thatch contribute to the irresistible charm of this picture book cottage!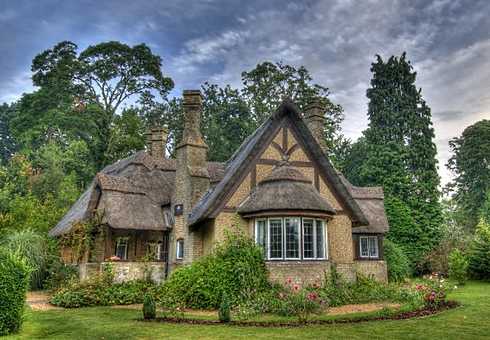 The fairytale cottage that follows is located in Selworthy, a small village in Somerset, England.  It features a picturesque "stepped" or "tiered" roof line covered with thatch, and light stucco walls.  An oversized front-facing chimney adds to the charm of this exquisite architectural jewel!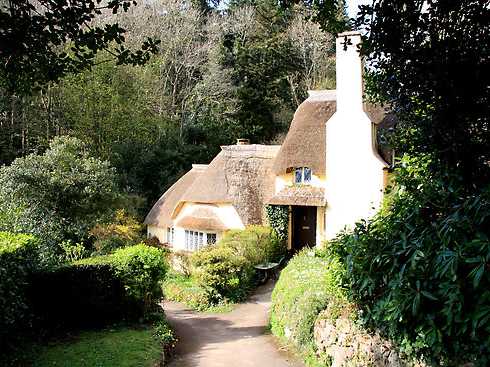 Photo Credit: Dave Law
The charming English cottage pictured below also features a beautiful thatched roof and light stucco walls.  Diamond-paned windows and a large, decorative brick chimney further enhance its storybook appeal.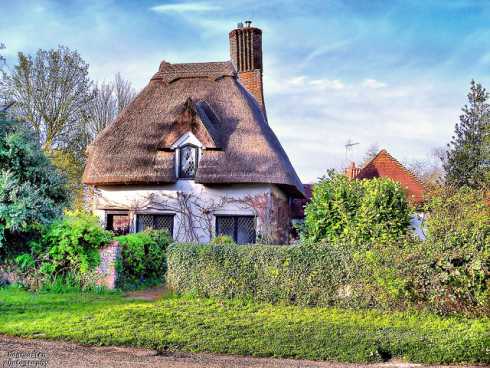 See More Charming English Cottage Designs!
The tiny fairytale cottages that follow are neatly tucked in the English countryside.  Each boasts a charming thatched roof and stucco walls -- one of which includes half-timbering (below right).  The cottage pictured below, left, also sports a pair of brick chimneys with elaborate clay chimney pots, as well as Gothic style windows with pointed arches.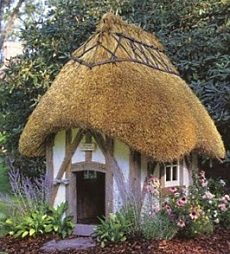 The  romantic cottage that follows is similar in design to some of the fairytale cottages found at Blaise Hamlet in northwest Bristol, England.   Peeking out from under a heavy thatch roof and ivy-draped walls are little windows with diamond panes.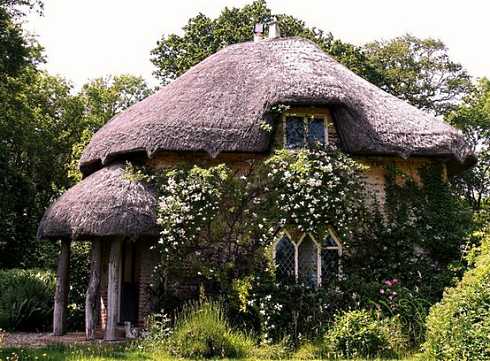 See the Fairytale Cottages of Blaise Hamlet!
The tiny cottage pictured below looks as if it jumped off the page of a children's storybook!  Meticulously handcrafted from bricks, tree branches and twigs, this little gem also boasts a thatched roof. 
Just to the right of the entry is a charming leaded glass window framed by twigs.  Also note the window boxes made of twigs.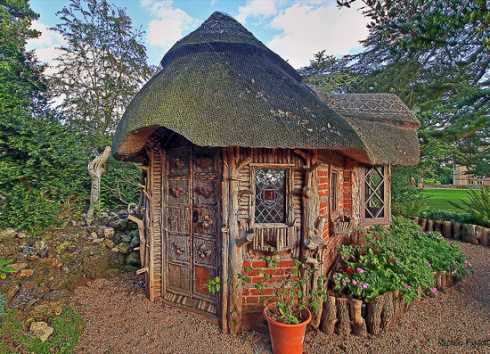 See More English Storybook Cottage Designs!
Our final stop in the English countryside brings us to the enchanting stone cottage in the woods pictured below.  Oozing with charm, this is Little Red Riding Hood, Goldilocks, Hansel and Gretel, AND Snow White and the Seven Dwarfs . . . . . all rolled into one!
In addition to its idyllic wooded setting, everything from the irregular stonework on the walls and chimney, to the varying roof lines with clipped gables, to the tiny diamond-pane windows and clay chimney pots, screams FAIRYTALE COTTAGE!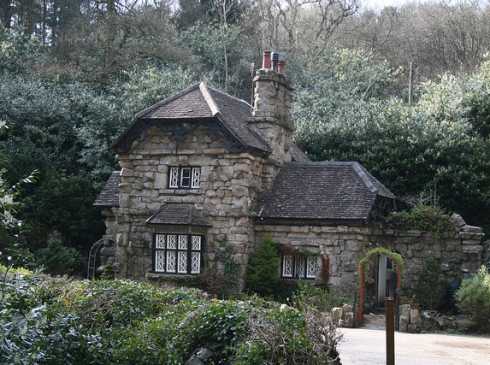 See More Enchanting Stone Cottage Designs!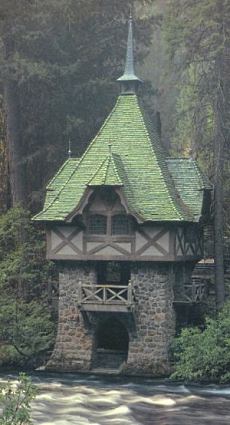 Hopping across the pond to North America, then heading cross-country to the western United States, brings us to the charming little architectural jewel pictured at right. 
Nestled along the  shoreline of the McCloud River in northern California, it is one of several storybook structures designed by architect Julia Morgan (1872 - 1957) for publishing magnate, William Randolph Hearst (1863 - 1951), at Wyntoon -- his private rural retreat.  
Built in the early 1930s, its picturesque design was inspired by the medieval architecture of Bavarian and Alpine villages in Germany and Austria.
Heading south along California's Pacific coastline brings us to the charming cottage community of Carmel-by-the-Sea, our final destination.  Well know for its fairytale cottages, Carmel's "cottage industry" began in the 1920s when Hugh Comstock, a local resident, built a tiny cottage for his wife's doll collection.
Another storybook cottage soon followed.  They were such a hit that other local residents asked him to design and build a storybook cottage for them, as well . . . and so on . . . and so on.  Today there are 21 of Hugh Comstock's legendary cottages remaining in Carmel-by-the-Sea.
Pictured below is one such cottage.  Needless to say, it is little wonder that his work was in such high demand!
This English-inspired design features a stucco exterior and a shingled roof with rolled eaves to simulate thatch, as well as wavy or "crooked" ridge lines to simulate age.  Multi-pane windows and a large stone chimney add to the fairytale charm of this delightful cottage!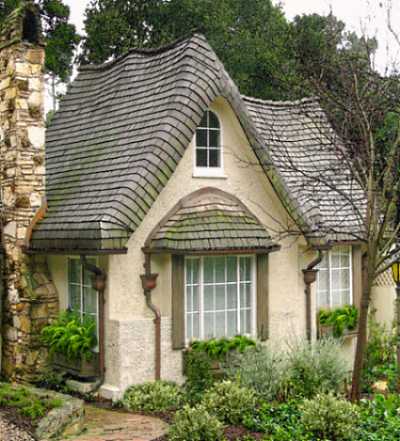 Photo Credit: Linda Yvonne

See More Storybook Cottage Designs in Carmel-by-the-Sea!
Please check back often or subscribe to our RSS feed, as we frequently add new images of fairytale cottages to our site.
YOU MAY ALSO LIKE:
Stone Fairytale Cottages -
Downright Irresistible!

More Stone Cottage Architecture -
"StoryStone" Style!


The Storybook Cottage -
Happily Ever After!


More Storybook Cottages -
The Fairy Tale Continues!


The English Cottage -
Like No Other!


English Cottage Designs -
Enchanting Escapes!


The English Storybook Cottage -
Fairy Tale Fantasies!


Storybook Cottage Designs -
The Fabulous Cottages of Blaise Hamlet!


Stone Cottage Designs -
Picture Perfect!