English Cottage Designs...
Enchanting Escapes!
English cottage designs are as revered throughout much of the Western World, as are the quaint and cozy log cabins we've all come to love and adore. For many of us, they conjure up thoughts -- perceived or real -- of simpler times and a much kinder and safer world.   Escape, momentarily, to the idealized reality of an earlier, gentler time in one of these enchanting abodes!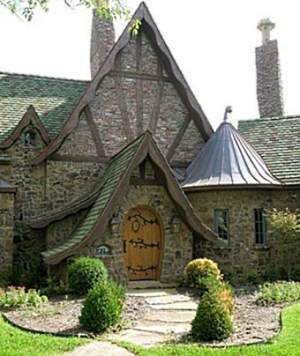 Frequently associated with fairytales, their storybook styling has served as an ideal model for book illustrators for centuries.  It is little wonder they have continued to endure and to capture our imaginations to this day!
With their steeply pitched and varying rooflines -- often punctuated by a profusion of dormers, gables, elaborate chimneys and other decorative ornamentation -- they present a visually intoxicating architectural feast in miniature!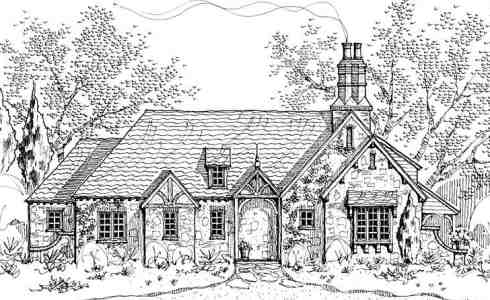 Cottage rendering pictured above from New South Classics
See More English Cottages from New South Classics

Often draped in ivy and set in the midst of a colorful cottage garden, the enchanting English cottage is, without a doubt, an icon of picturesque domestic tranquility.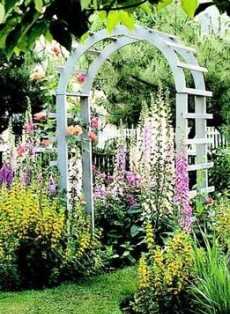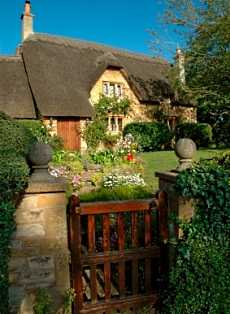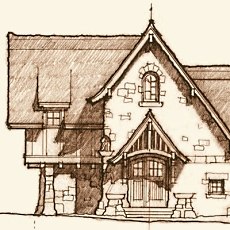 English Cottage Design Details
Asymmetrically arranged, English-inspired designs generally utilize stone, brick, stucco, tile, wavy wooden siding -- or any combination of these materials -- in their construction. 
Cottage rendering pictured at right from TEA-2 Architects
Tudor Revival half-timbering, particularly in the gable ends, is also frequently employed to emulate the timber-framed cottages of centuries past.   In some examples, the gable ends are extended and fitted with elaborate bargeboards made of intricately arranged timbers, such as pictured below, right.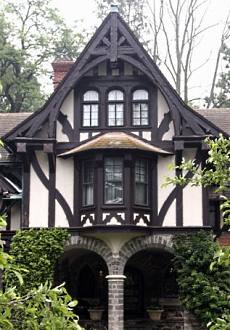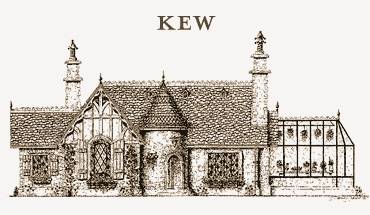 Cottage rendering pictured above from Storybook Homes
See Floor Plans of this Charming Cottage Design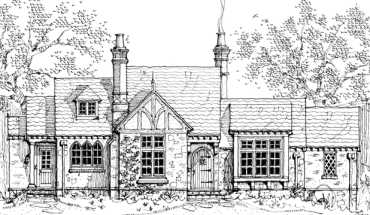 Cottage rendering pictured above from New South Classics
See English & Country French Cottage Plans from New South Classics
Chimneys are often extremely elaborate and are frequently fitted with equally elaborate chimney pots, such as shown in the following examples.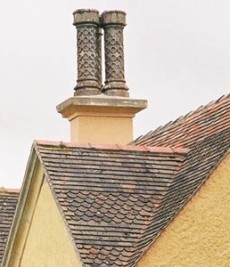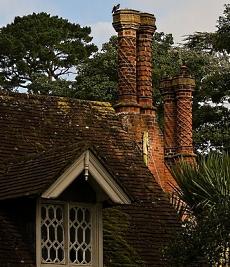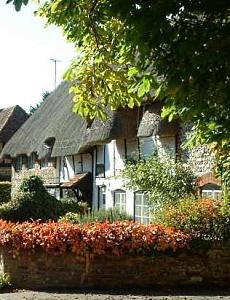 Roofing materials for English cottage designs generally consist of tile (pictured above) or thatch (shown at right) -- particularly in England and other parts of Europe.
Though less commonly used in North America, where English cottage designs have also enjoyed resurging periods of immense popularity dating back to the 1920s, steam bent cedar shingles are sometimes used to approximate the look of thatch, such as shown in the splendid example below.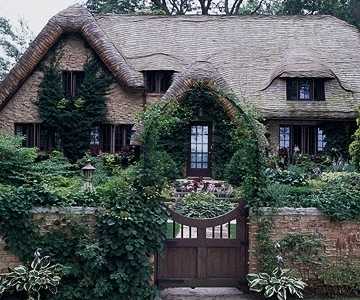 Adding to the inherent ambiance and charm are the cottage windows.   Frequently divided into small square or diamond-shaped panes such as those pictured in the following example, they harken back to medieval times.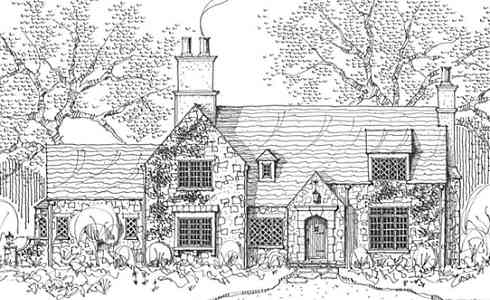 Cottage rendering pictured above from New South Classics
See English Cottages with Floor Plans from New South Classics
Please check back often or subscribe to our RSS feed, as we frequently add new cottage designs to our site.
YOU MAY ALSO LIKE:

The English Cottage -
Like No Other!
The English Storybook Cottage -
Fairy Tale Fantasies!


MORE English Storybook Cottages -
The Fabulous Cottages of Blaise Hamlet!


English Cottage House Plans -
Storybook Style!