More Storybook Cottages...
The Fairy Tale Continues!
The enchanting storybook cottages featured here are what childhood dreams are made of . . . . . . .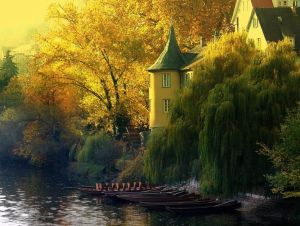 . . . . . Oozing period charm and ambiance,
        they  take us back to a time of innocence,
        when life was magical and fairy tales were
        real!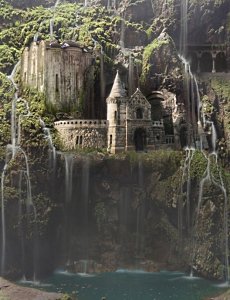 The  romantic  designs  with fairy tale towers shown here  evoke  images  of long, long ago when little girls grew up to be princesses and lived happily ever after  with  their  Prince Charming in a turreted castle.
Pictured below, left, is a stepped gable design in the Scottish Highlands.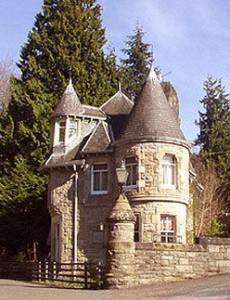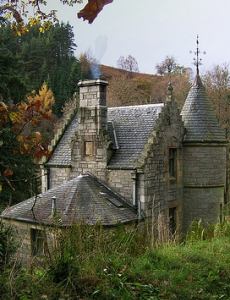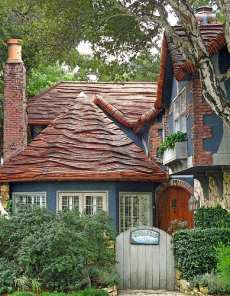 Crossing "the pond" and continuing
on  to  the western United States,
the  whimsical  cottages  pictured
here are located in Carmel-by-the-
Sea, California.
A  mecca  for  storybook cottages, Carmel boasts dozens upon dozens
of these delightful structures!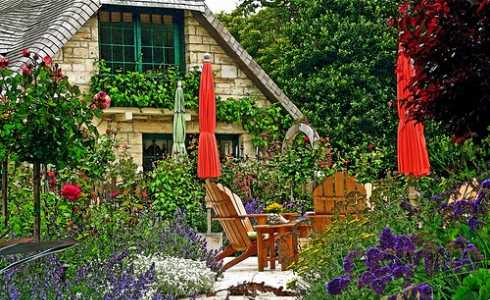 Though  the  location  of  the  fanciful design that follows is unknown, it is similar in appearance to the cottages of Carmel.     With typical "storybook style"  characteristics,  it is asymmetrical in design,  has a steeply pitched roof, tall, narrow multi-paned windows arranged in bands, decorative stone and brickwork, and a prominent chimney.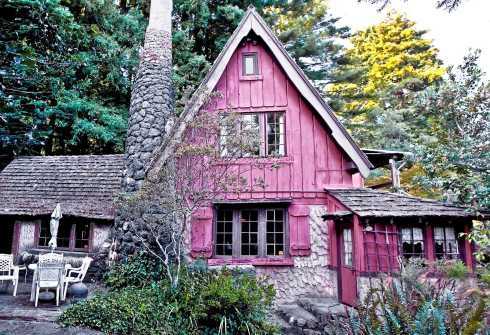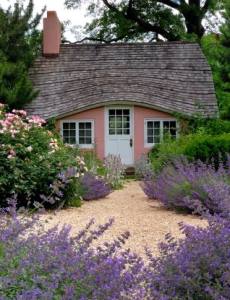 And Even MORE Storybook Cottages
Heading  back across the U.S. to the east coast, the charming garden cot-
tages pictured at right and below are at  the  Planting Fields Arboretum  in Oyster Bay, New York.     Originally a magnificent gilded age,  "Gold Coast" estate on the north shore of Long Is-
land,  it  is  now  an  arboretum  and
state park covering  more  than  400 acres    of    beautifully   landscaped
grounds.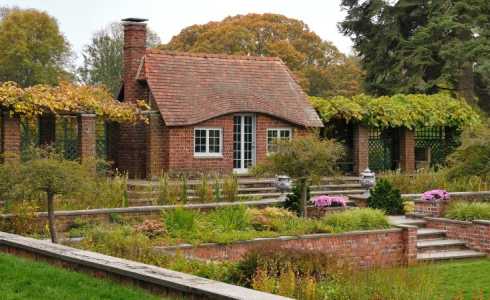 Exuding  loads  of nostalgic charm are the Victorian cottages that follow. The wood frame gingerbread cottage pictured at left is a North American Carpenter Gothic design dating to the Victorian era.     On the right is an English Victorian-era design.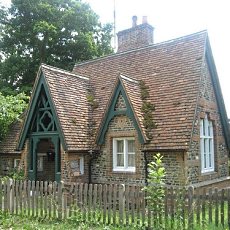 And finally, the tiny stone cottage in the  woods pictured at right appears
to have leapt from the pages of Han-
sel and Gretel . . . . .
Photo Credit: Mike Scott Photos  


. . . while the lush,  ivy-draped cottage with stone arch bridge and mean-
dering stream pictured below  --  somewhere in the wooded English coun-
tryside -- makes a perfect setting for living "happily ever after!"
Please check back often or subscribe to our RSS feed, as we fre-
quently add new images of storybook style cottages to our site.

YOU MAY ALSO LIKE:




Fairytale Cottages -
Once Upon A Time...





More Storybook Cottages -
Happily Ever After!




Stone Cottage Architecture -
"StoryStone" Style!

Back to Standout Cabin Designs Home Page


Didn't find what you were looking for?
Use this search feature to find it.
LIKE THIS PAGE?