Tiny House Designs...
A Fairy Tale Log Cabin!
Nestled in a woodland grove outside Port Orchard, Washington in the Pacific Northwest, an enchanting cluster of cabins and cottages looks like something out of a Brothers Grimm fairy tale.  Designer, builder and craftswoman Rebbecca Abair has erected eight diminutive structures on her three acre site so far . . . and what a SIGHT they truly are!

Among the tiny house designs, "Squirrel" is the largest and currently serves as Rebecca's residence.  It measures 13 x 18 feet in size, with just 360 square feet of interior living space -- including a sleeping loft. 

The gabled 1-1/2 story design features a full width front porch (8x13 ft.) beneath a shed roof.  Resting on a stone clad foundation, large log posts support the roof extension via cross beams and exposed log rafter tails.   

Double-hung windows with divided upper sash lights punctuate the exterior walls.  Painted a distinctive shade of green, they contrast beautifully with the rustic log siding. 

A dormer with two tiny windows and cedar shake cladding overlooks the porch.  Once again, exposed log rafter tails peek out from under the dormer's shed roof. 

The poured foundation and masonry block chimney are covered with river rock.  Overhead, a cedar shake roof caps off this delightful composition.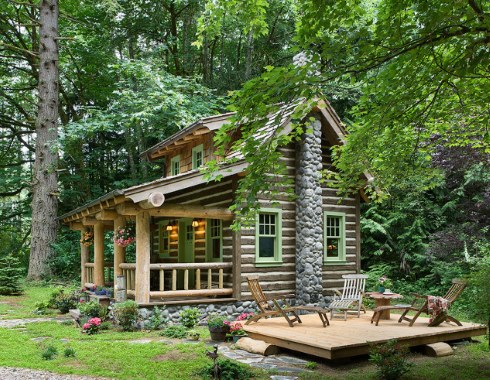 Perspective view of facade from right
Photo Credit: Roger Wade Studio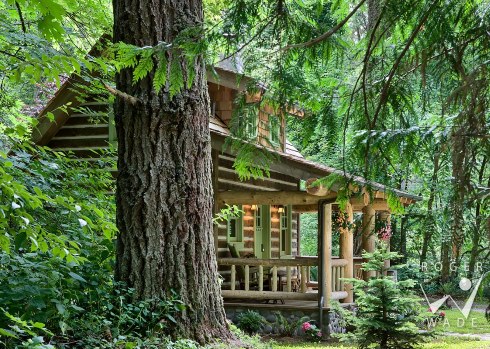 Perspective view of facade from left
Photo Credit: Roger Wade Studio

Hand-hewn 2 by 8 inch fir boards from Pioneer Log Siding cover the exterior.  Rebecca is pictured here during the installation process.  She followed up with an application of Perma-Chink between the boards to complete the cabin's look of authenticity.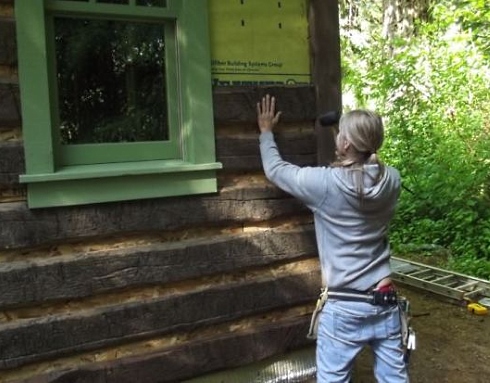 Rebecca installing Pioneer Log Siding 
Image via Pioneer Log Siding

With just 230 square feet on the main level and a loft area of 130 square feet, the interior exemplifies optimal efficiency in space planning, making it seem larger than it actually is.  Exposed roof rafters and floor joists under the loft contribute to its feeling of openness.  Whitewashed tongue-and-groove pine (1x6 inches) lines the walls for a bright, cheery effect. 

A partial view of the living room reveals a soapstone wood stove and a ladder to access the sleeping loft.  Furniture is neatly arranged to maximize floor space.  Oriental rugs lend color and contrast to reclaimed fir flooring.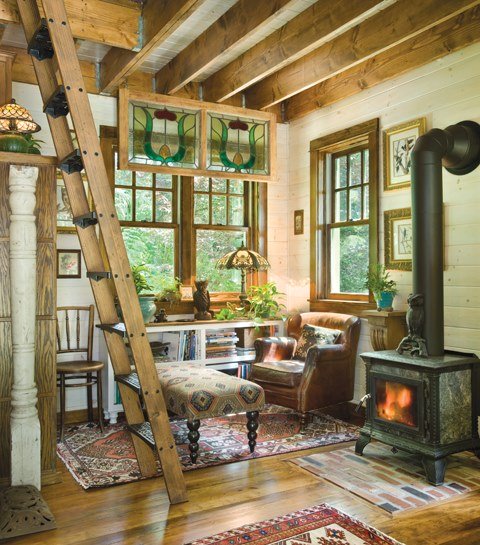 Partial view of living room
Photo Credit: Roger Wade Studio

Another corner of the living room looks out onto the front porch and provides a quiet space for reading and reflecting.  An antique grandfather clock reaches to the top of the window casing.

Cozy corner in living room
Photo Credit: Roger Wade Studio

Despite its size the compact kitchen has all the amenities necessary for a modern-day gourmet, including a Viking stove and under counter Kitchen-Aid refrigerator.  Maple butcher block counter tops provide work space for food preparation. 

A deep, white porcelain farmhouse sink offers plenty of room for fresh produce.  Cabinets with built-in antique sewing machine drawers and vintage leaded glass door panels lend visual appeal and ambience.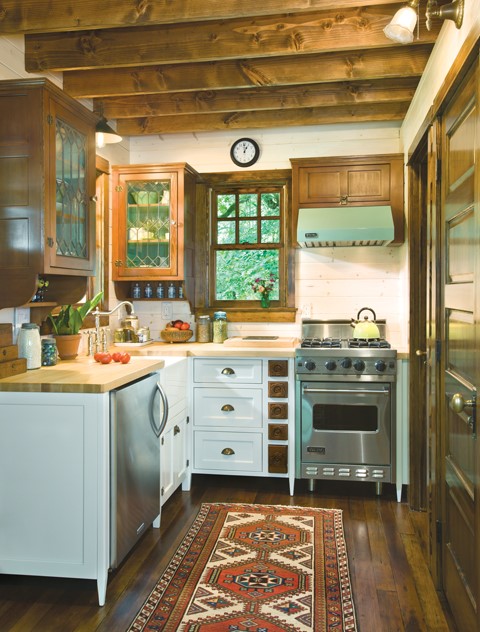 Kitchen in tiny house design
Photo Credit: Roger Wade Studio

A parting shot with a close-up view of the locally harvested logs used to build the front porch.  (Photo Credit: Roger Wade Studio)

Please check back often or subscribe to our RSS feed, as we frequently add tiny house designs to our site.

YOU MAY ALSO LIKE:


Tiny House Plans -
Little Log Cottages!

The Small Log Cabin -
Simply Serene!

MORE Small Cabins -
Little Spaces, Perfect Places!

Small House Plan -
A Storybook Cabin Cottage!

Fairytale Cottages -
Once Upon A Time...