Small House Plan...
A Storybook Cabin Cottage!
A small house plan with loads of charm characterizes the "Patriarch," a log post and beam gem resembling something from a children's storybook.  Anchored by a large octagonal tower, the 1-1/2 story gable design features a steeply pitched roof punctuated by front and rear dormers.  A full basement incorporates a tuck-under garage, while twin stone chimneys soar above the roof line.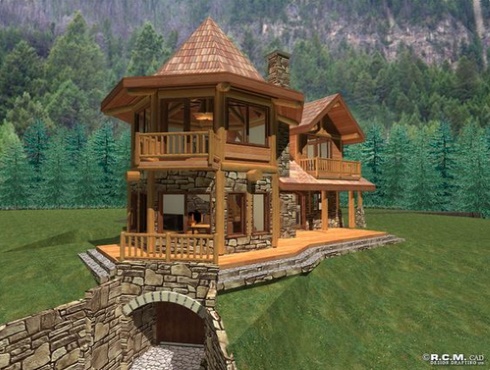 Perspective view of back from tower side
From Jeremiah Johnson Log Homes, the main floor is constructed of concrete with stone cladding.  Wood siding lines the upper level gable ends.  A perspective view (from right front) shows a gabled entry with arched double doors.

Perspective view of facade from right front
A perspective view from the left front depicts an extended covered porch and a shed roof carport supported by log posts resting on stone pedestals.

Perspective view of facade from left front
A spacious deck with outdoor fireplace extends across the back and wraps around the tower of this enchanting getaway.  Large windows and multiple sets of sliding doors flood the interior with natural light. 

Tucked beneath the dormer's projecting roof line, an outdoor balcony leads from the upper level master bedroom suite.  A second balcony is sheltered by a flared roof extension over the "Rapunzel like" tower. 

Perspective view of back

Storybook Small House Plan
The "Patriarch" encompasses 1,736 square feet of living area on two levels.  Level 1 features an open floor plan with kitchen, dining area and great room flowing seamlessly together.  A bedroom and 3/4 bath complete the main level.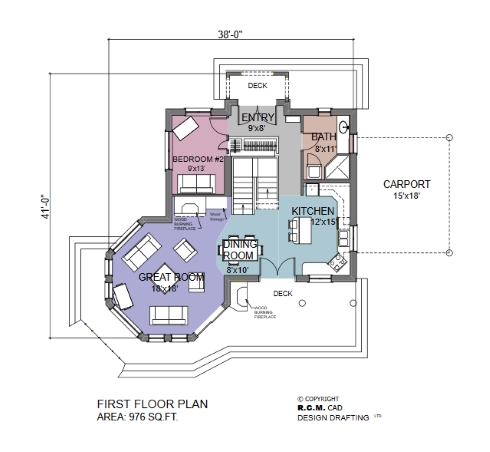 Artist's rendering of open main floor interior
Level 2 houses the master bedroom suite, which includes a large walk-in closet.  The master bath has a private toilet area, as well as a separate tub and shower.  A study occupies the upper level tower.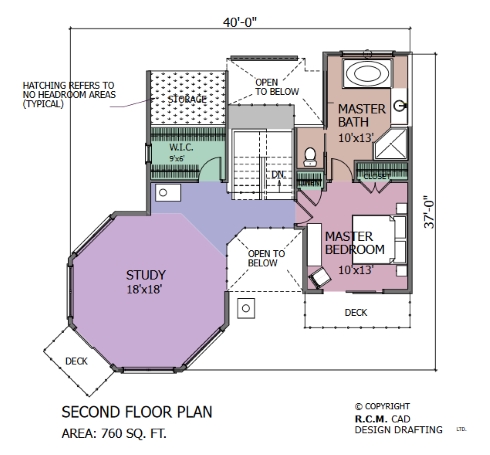 More about the "Patriarch" from Jeremiah Johnson Log Homes

Please check back often or subscribe to our RSS feed, as we frequently add new small house plans to our site.

Didn't find what you were looking for?
Use this search feature to find it.