Tiny House Plans...
Little Log Cottages!
Tiny house plans from The Little Log House Company are bound to enchant the child inside you with their storybook appeal.  The Irish firm builds each cottage by hand, then dismantles it for shipping to the U.S., Canada and Europe, where it is reassembled on site.  The Little Log House Company aptly summarizes its mission and product line with the motto . . . "Details Inspired By Fairytales...We Love Our Work & Making Dreams Come True."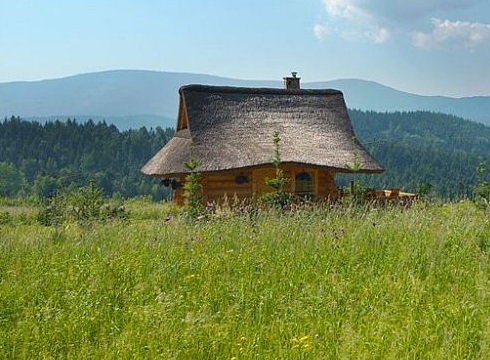 "Hermit's Cottage" (scroll down page for more about this design)
Gate Lodge

The "Gate Lodge's" dramatic façade seems to pop out from your favorite fairytale classic.  Yet, it's focus is on comfort and convenience inside.  A charming design from The Little Log House Company, the "Gate Lodge" reflects an ideal balance of privacy, family communal space, and of course, coziness.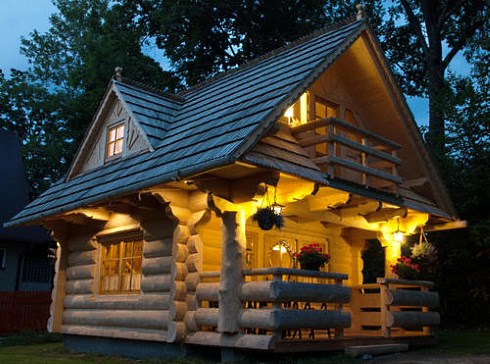 A welcoming porch invites visitors to this tiny log cabin.  The front door leads to a sitting room, kitchen and dining area with one full bathroom tucked conveniently into a nook.  Though less than 550 square feet in size, the open floor plan makes it feel larger than its modest footprint suggests.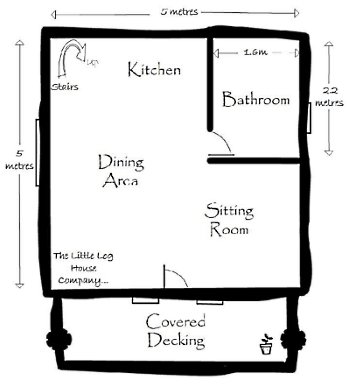 "Gate Lodge" - Level 1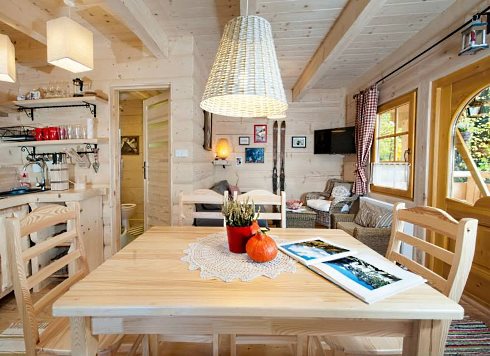 A cozy dining area looks toward the sitting room.
Two bedrooms occupy the second level, where a generous master suite complete with sitting area opens to the outdoors with a private balcony.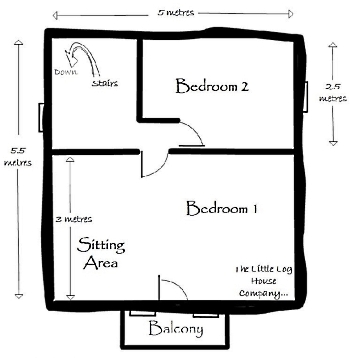 "Gate Lodge" - Level 2
Several variations of this plan are available from The Little Log House Company.  Design 1D, pictured below, includes an additional side entrance.  Window boxes filled with geraniums provide a festive splash of color.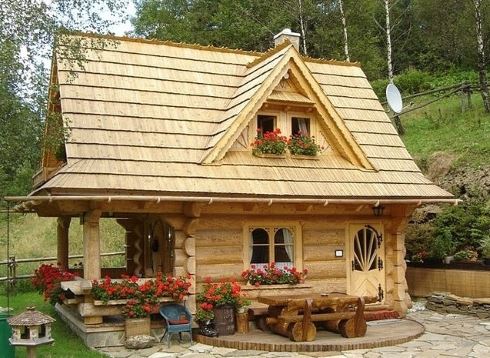 With its distinctive styling, outstanding craftsmanship, large semi-round logs, wood shingled roof and whimsical detailing, the "Gate Lodge" can be modified to suit your individual requirements.  The efficient arrangement of interior space makes it an ideal getaway retreat!

More Tiny House Plans
Hermit's Cottage
Imagine smoke billowing from the chimney of a humble cottage nestled on the wooded slope of a mountain . . . . . truly an image of serenity.  The "Hermit's Cottage" has all the makings for cozy cottage life, presenting a picture perfect example of the ideal hideaway!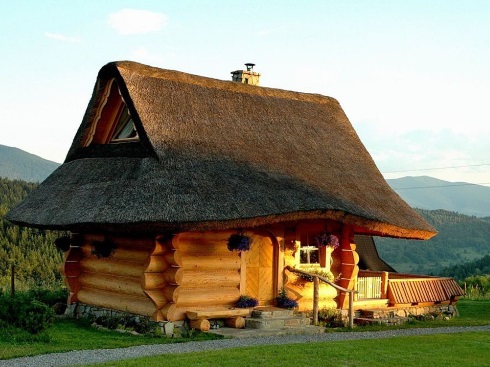 With a modest 380 square feet, the open floor plan offers a carefree and convivial atmosphere.  Finished with rustic timber floors, the sun-filled sitting room flows seamlessly into the kitchen and dining area.  A large covered deck extends the living space to the out of doors.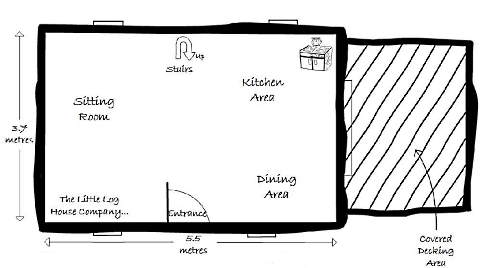 "Hermit's Cottage" - Level 1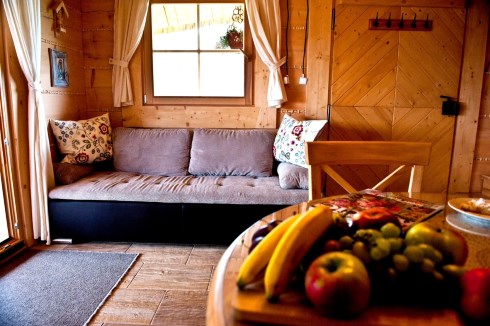 Cuddle up in a cozy nook
Another version of "Hermit's Cottage" from this tiny house company simply oozes with warmth.  Note the meticulous attention paid to interior details.

A woodworking wonderland
Tucked beneath the sloping thatched roof, the upper level of this tiny house plan features a bedroom with ensuite bath.

"Hermit's Cottage" - Level 2
As the saying goes, "it takes hands to build a house but only hearts can build a home."  The Little Log House Company takes pride in both hands and hearts!

"Eyebrow Cottage"
Please check back often or subscribe to our RSS feed, as we frequently add new tiny house plans to our site.

YOU MAY ALSO LIKE:

Log Cabin Kit Homes -
Kozy Cabin Kits!


The Small Log Cabin -
Simply Serene!


MORE Small Cabins -
Little Spaces, Perfect Places!


Small Log Cabin Plans -
BIG THINGS in small packages!

Didn't find what you were looking for?
Use this search feature to find it.