Standout Fishing Cabins...
Rustic Elegance!
The enchanting little fishing cabins featured here come from the wooded foothills of the Great Smoky Mountains in Tennessee . . . and the banks of a majestic lake in the northwest corner of Montana.  Evoking the romance and charm of an earlier era, they appear to have jumped from the pages of a storybook and sprung to life!
Above: John Oliver Cabin (ca. 1822-23)
Cades Cove Historic District, Tennessee
Pictured at right is Tadpole Cottage, one of five cabins comprising Toad Hall, a rustic compound in the Great Smoky Mountains of Tennessee . . .
Built from antique timbers, the cabins at Toad Hall -- including the architectural jewel pictured below -- are a combination of rugged and refined.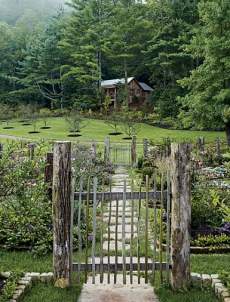 Designed by Atlanta architect Jack Davis, the main house, as well as the cabins, utilize a variety of materials in their construction, including chinking, shingles, stone and tin.  Pictured in the background of the pastoral scene at right is another one of the charming cabins in the compound.

Walls and ceilings of salvaged wood and a rustic stone fireplace offset the sophistication of the great room's furnishings and art, shown below, in the main house.
The inviting porch overlooks a pond and two of the enchanting cabins on the property.
Montana Fishing Cabin
The cozy fishing cabin pictured at right and below sits on the wooded shoreline of  Montana's Flathead Lake -- the largest natural freshwater lake in the western part of the contiguous United States.  A one room hideaway of just 300 square feet, it celebrates authentic camp living.
With its primitive charms, pictured below, the interior has been designed to maximize use of its limited amount of space. Not a square inch is wasted. 

A mini-refrigerator and shelves make up the kitchen area.  A bed covered in old Swiss Army blankets and Navajo rugs serves as the bedroom. 

A table and captain's chairs out on the porch act as the dining room.  A weathered armoire provides storage space.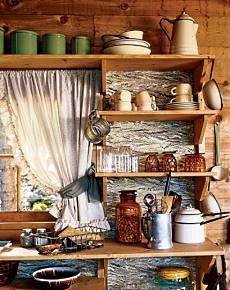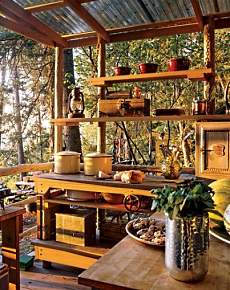 Off one end of the cabin is a "cook tent" made of log posts and Plexiglass, shown at right and below.
The ambiance and charm of this tiny fishing retreat is undeniable. According to the owner, "Even people you wouldn't think would respond to it want to be there washing the dishes and heating the water and all that." 

Summing it up, she goes on to say,  "Every man, including my husband, who walks in says, 'What more do you need?' " 

Please check back often or subscribe to our RSS feed, as we frequently add new images of small cabins to our site.
YOU MAY ALSO LIKE:
Tiny Fishing Cabin Plans
for Those on the Go!


Fishing Retreat Floor Plans -
Powerful Visual Appeal!

Fishing Retreat Plans -
Sliding Walls & Soaring Ceilings!
More Rustic Fishing Cabins -
Netting Fish & Nostalgic Charm!
Didn't find what you were looking for?
Use this search feature to find it.