Log Home House Plans...
A Majestic Masterpiece!
The log home house plans featured here showcase an astounding rustic retreat in New York's Hudson River Valley.  With panoramic views of the Catskill Mountains, this majestic structure is crafted from massive logs averaging 18 inches in diameter!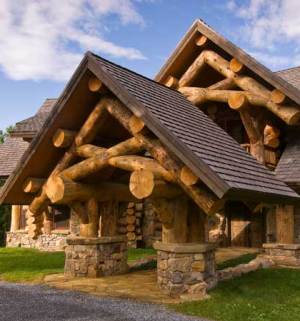 Monumental Entrance
Designed by the architectural firm of Holmes, King, Kallquist & Associates, the sheer magnitude and scale of this log masterpiece harkens back to the incredible Great Camps of the Adirondack Mountains in Upstate New York during the late 19th and early 20th centuries.  A modern day version of the style, it definitely raises the bar!
The monumental entrance of this log home house plan, pictured at left, with a side view below, only hints at the grand scale of the interior.  The roofing material of cement tiles, designed to look like cedar shakes, is fireproof.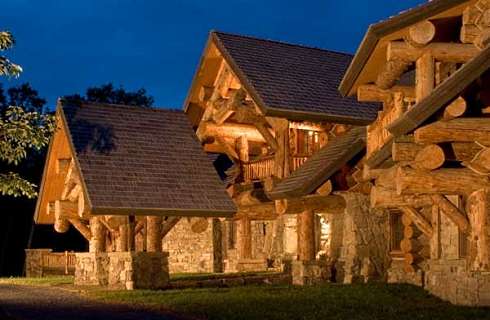 Indeed, the overall composition is designed to impress . . . . . and it clearly succeeds in that endeavor!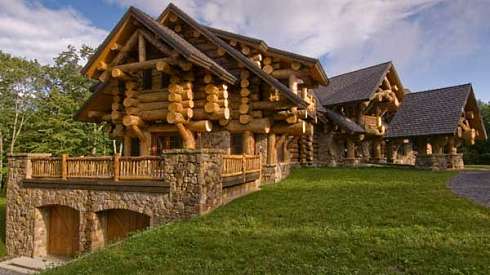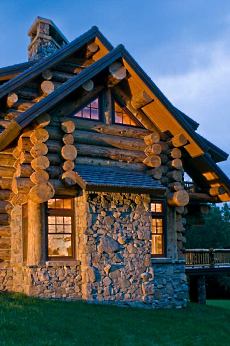 The side view pictured at right and below shows the interplay between stone and logs.  Contrasting shapes, textures and colors complement one another beautifully and provide a visually intoxicating feast!


See Another Stunning Log
and Stone Design!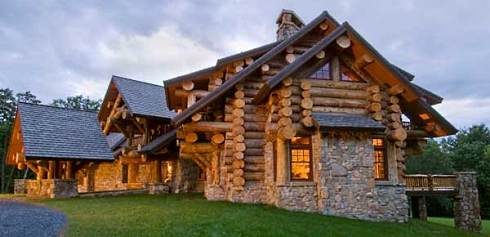 The rear of this stunning log residence includes an expansive deck from which to savor the sweeping views of the Catskill Mountains in the distance.

Log Home House Plan Close-ups
A close-up of one of the 140 corners and intersections of different materials in this stunning design shows the symmetry of handcrafted log ends juxtaposed with the random patterning and placement of the beautiful stone work.  
A majestic stone outdoor fireplace on the spacious rear deck provides an ideal place to get warm and cozy on cool moonlit evenings.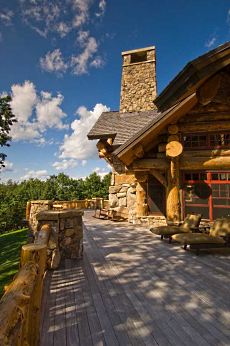 See More Stone Outdoor Fireplaces at our Sister Site, Standout-Fireplace-Designs.com
During the day under the light of the sun, the deck's Adirondack style rocking chairs provide a great vantage point from which to enjoy the magnificent views of the Catskill Mountains!
See Interior Photos of this Monumental Retreat
Please check back often or subscribe to our RSS feed, as we frequently add new log home photos and floor plans to our site.

YOU MAY ALSO LIKE:

Extraordinary Log Cabin Houses -
BIG, BOLD & BEAUTIFUL!
Log Home Fireplaces -
Bold & Breathtaking!
Didn't find what you were looking for?
Use this search feature to find it.