Extraordinary Log Cabin Houses...
BIG, BOLD & BEAUTIFUL!
The extraordinary log cabin houses featured here are among the finest in North America.  Unparalleled craftsmanship and meticulous attention to detail are hallmarks of these exquisite designs!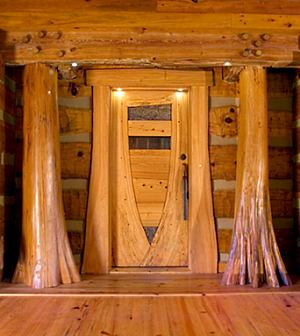 Photo Above from Hearthstone Homes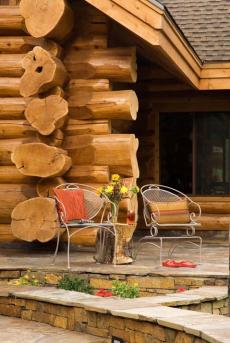 Each of the five incredible log home designs portrayed here is a testament to the creativity and skill of a dedicated team of architects, designers, builders and craftsman, in conjunction with the home owner.
The beautifully handcrafted log cabin house pictured at left and below is tucked away in the White Mountains of Arizona.  Encompassing 4,260 square feet, this lovely home was produced by Summit Handcrafted Log Homes, based in Boise, Idaho.  Note the striking flared-end cedar logs in the image at left.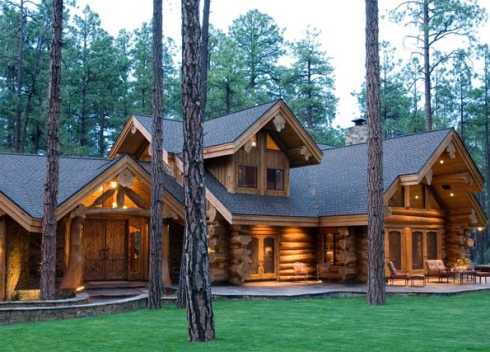 See Floor Plan & More Photos of this Lovely Handcrafted Log Home!
The stunning design that follows is used as a hunting lodge in South Carolina.  Sitting on a 1,600 acre hunting preserve, the attention to detail on this nearly 6,000 square foot structure is extraordinary!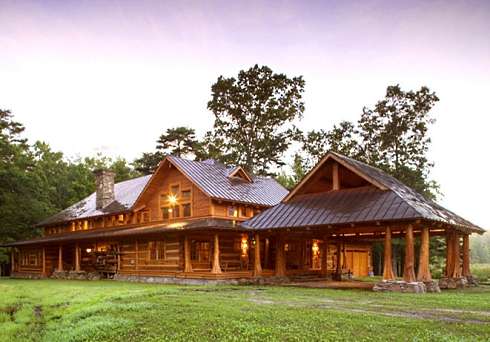 Meticulously crafted by Hearthstone Homes, in conjunction with a bevy of local craftsmen, it features a series of enormous cypress tree posts that appear to sprout from the stone foundation to hold up the roof.  On the interior, deer antler door handles and grab bars in the shape of shotguns are just some of the incredible details included in this spectacular design.
See Floor Plan & More Photos of this Spectacular Hunting Lodge!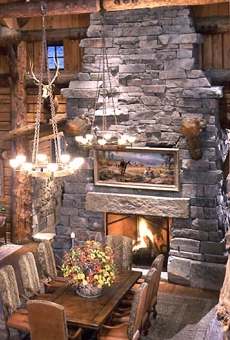 More Log Cabin Houses
The  extraordinary design pictured at right and below is located on a 4,500 acre cattle ranch in Montana.  An entertainment lodge used for family and business gatherings, the 10,000 sq.ft. post and beam, log and stone structure was designed by Ewing Architects, based in Pasadena, California.  It features a Great Room anchored on each end by a majestic stone fireplace (right), as well as a library/billiard room, media room, bar and kitchen.

See More Photos of this Extraordinary Entertainment Lodge!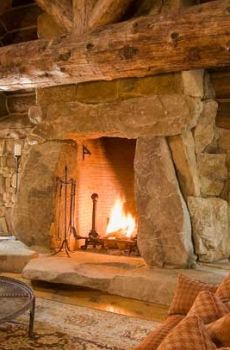 The stunning log home pictured at right and below is truly a modern day architectural masterpiece!  Located in New York's Hudson Valley with sweeping views of the Catskill Mountains, this magnificent rustic retreat is crafted from massive logs averaging 18 inches in diameter.
Designed by the architectural firm of Holmes, King, Kallquist & Associates, the home's oversize logs were provided by Log Knowledge, based in northern Colorado.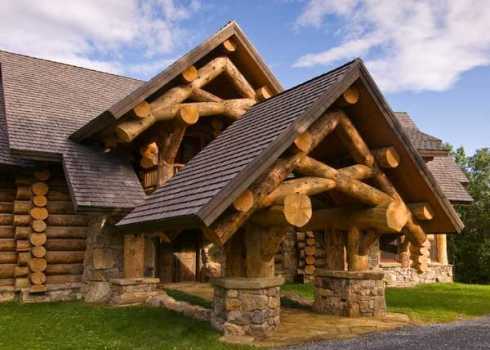 See Floor Plan & More Photos of this Magnificent Retreat!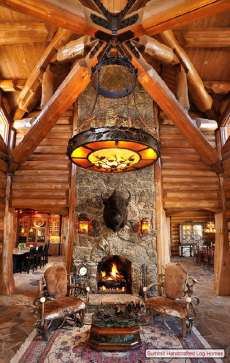 The sprawling 10,000 square foot log cabin house pictured below is located in Jackson Hole, Wyoming.  A western red cedar post and beam log structure with log fillers between the posts, it features several soaring stone fireplaces such as that pictured at right.
As with the first log home showcased here, this rambling design was crafted by Summit Handcrafted Log Homes, based in Boise, Idaho.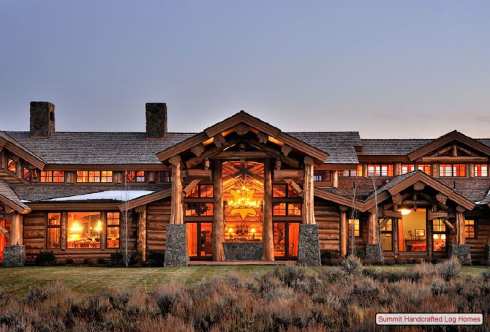 See Floor Plan & More Photos of this Majestic Mountain Home!
Please check back often or subscribe to our RSS feed, as we frequently add new images of log cabin homes to our site.
YOU MAY ALSO LIKE:

MORE Log Cabin Houses -
Escape to a Gentler Time!
Log Home Fireplaces -
Bold & Breathtaking!