Standout Log Cabin Homes...
Carefully Crafted!
The log cabin homes featured here are finely crafted, with loads of charm.  Relatively small in size, they are BIG on attention to detail!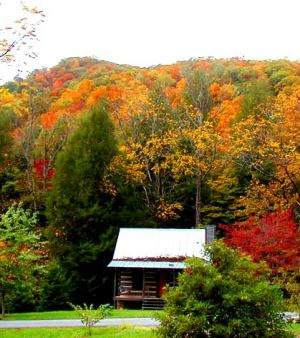 Above: Turnstone Log Cabin Rentals, Otto, NC
Nearly everyone loves the nostalgic charm of a log cabin.  From humble beginnings on the frontier to the custom, handcrafted designs featured here, nothing beats the ambiance of a cozy log home.
The beautifully crafted log cabin and outbuilding pictured below are located in a remote area of Pennsylvania.  Built as a year-round hunting and fishing retreat, the cabin is constructed of milled 10 inch round eastern white pine logs provided by Estemerwalt Log Homes.  Note the finely crafted shutters and doors stained to contrast with the logs.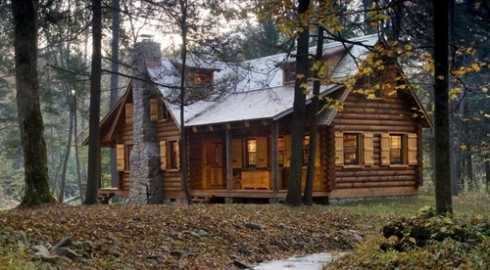 More Hunting Cabins

More Fishing Cabins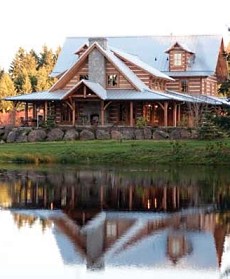 More Log Cabin Homes
Pictured at right and below is a striking Appalachian-Style log cabin in Washington State.  Featured in Log Home Living, it is built of western hemlock timbers and boasts a sprawling wraparound porch.
Design by Jeff Leuthold Inc. and
StoneMill Log & Timber Homes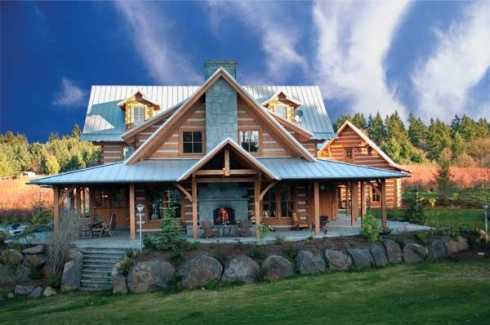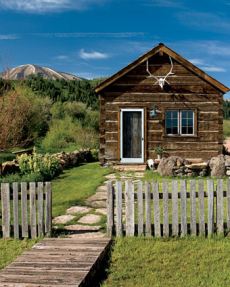 The rustic log cabin designs shown here are actually guest cabins at a family compound in the Colorado Rockies.  Pictured at right is a single room cabin made of reclaimed timber.
The guest cabin pictured below is called the "caboose" because its rooms are aligned in a boxcar configuration.  As with the example at right, it is crafted from reclaimed materials in a traditional log cabin style.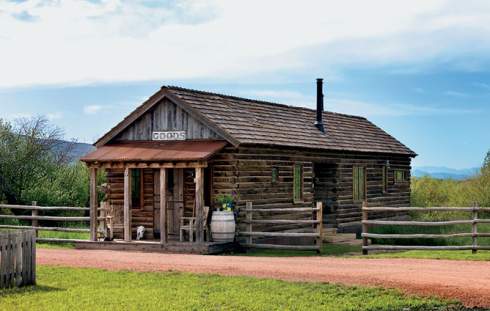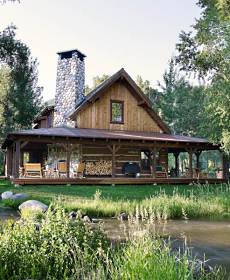 Pictured at right is a finely crafted log home at the Roaring Forks Club in charming Basalt, Colorado.  Note the vertical siding on the upper level, as well as the large river rock fireplace and chimney at the corner. 
Located in Quebec, Canada, the lovely hand-hewn cabin pictured in the images below packs a great deal of quality craftsmanship in a relatively small design.  Fitted with multi-pane windows and capped with a metal roof, it is the quintessential log cabin getaway!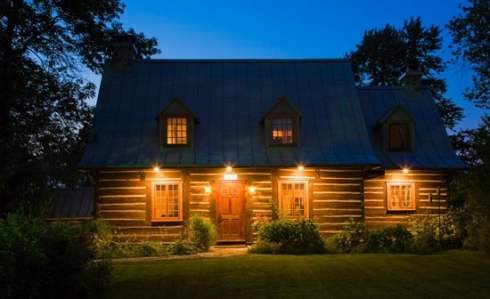 Above Photo Credit: Perry Mastrovito (via Log Home Living)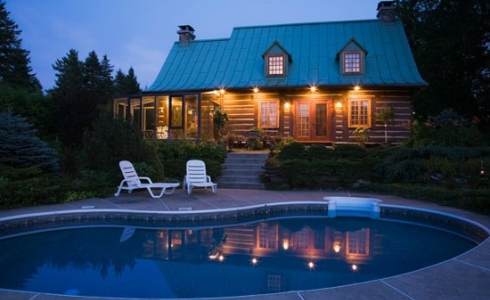 Above Photo Credit: Perry Mastrovito (via Log Home Living)
Please check back often or subscribe to our RSS feed, as we frequently add new images of log cabins to our site.
YOU MAY ALSO LIKE:


More Small Log Cabin Homes -
Rustic Retreats Designed for Fun!