Pole Barn Homes...
  Beyond Exercises in Utility!
Pole barn homes provide another viable option for weekend getaways, as well as year round living.  Commonly perceived as modest, metal-clad utilitarian structures used to shelter livestock and farm equipment, the examples featured here go well beyond that perception!

Pole framing or post-frame construction was developed in the 1930s as a simpler, less expensive alternative to timber-framed barns and sheds.  In addition, metal pole barns could be built more quickly than their hand framed counterparts.  Their generally nondescript appearance was a trade-off for functionality, ease of construction, and affordability.

In recent years, that functionality has expanded to include housing for humans.  And the look has significantly improved, as well!
Among the more experienced providers of pole barn homes is Illinois-based Morton Buildings.  One of their homes, pictured below, features sliding barn doors on a gable end clad with bricks and climbing ivy.  Note the finely detailed window surrounds.
The steel-clad sides feature brick wainscoting, swinging Dutch doors and cedar shutters.  Twin cupolas crown a metal roof.

The wood-lined interior features an open floor plan with a cathedral ceiling.

See Floor Plans for above Design
More Pole Barn Homes from Morton
Horse & Home
A picturesque composition of cross gables and shed roof overhangs on posts defines a multi-purpose structure for horses, humans and vehicles.  Openings with Dutch and sliding barn doors pierce the stable's steel siding.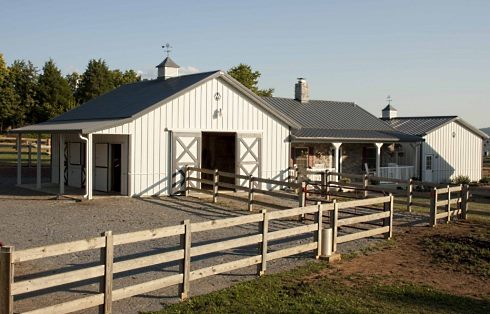 Nestled between the metal horse barn (left) and garage (right), a charming cottage-like dwelling boasts a covered front porch.

With stone-clad walls and metal roof, the cottage is adjoined by a delightful wood pergola in back.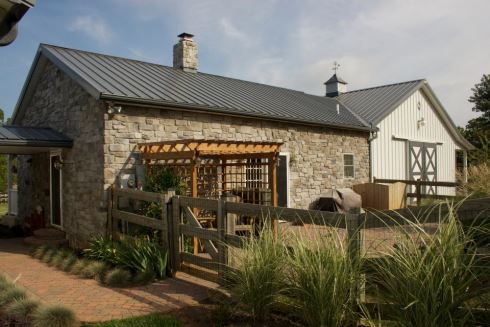 Wide Screen Porch
The gable roof design below is punctuated by dormers and crowned by a cupola.  A screened porch with shed roof extends across the rear facade.  At one end, a stone chimney provides ventilation for a fireplace inside the porch.

At 46 feet in length, the back porch offers plenty of room to relax and enjoy them view.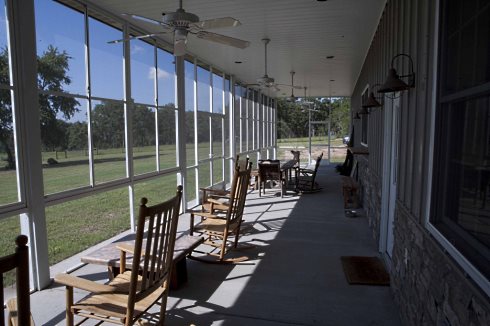 Carriage House Charisma
A rambling carriage house style residence in North Carolina features Dutch doors and wide "through-the-cornice" dormers.  An octagonal cupola with multi-pane windows lends Old World charm.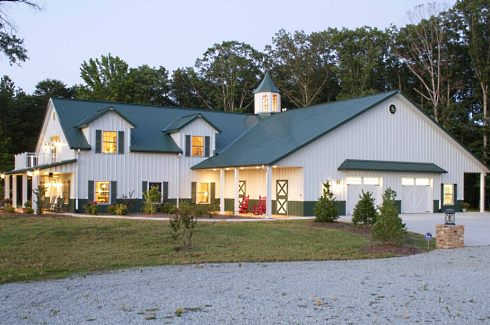 The interior features an open floor plan, soaring cathedral ceiling and finely detailed millwork.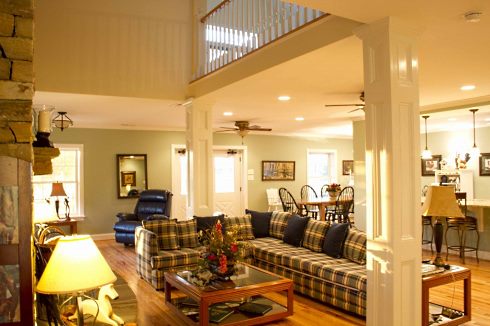 A large stone hearth with a flat screen TV over the mantel provides an inviting spot to gather around with family and friends.

Please check back often or subscribe to our RSS feed, as we frequently add new pole barn houses to our site.

YOU MAY ALSO LIKE:

MORE Pole Barn Homes -
Post-Frame Flexibility!
Barn Home Designs -
Endearing and Enduring!

Standout Barn Homes -
Renewed Resources!
Barn Style House Plans -
In Harmony with Our Heritage!

Hobby Farm Homes for Humans...
AND our Furry/Feathered Friends!
Didn't find what you were looking for?
Use this search feature to find it.