Hobby Farm Homes for Humans...
AND our Furry/Feathered Friends!
The hobby farm homes featured here are designed for families of all types -- human, feathered, and furry.  Many of us (humans) find a cure to our work week woes in these pastoral pockets of paradise!

And understandably so.  Gently rolling terrain and wide open skies offer a welcome retreat from the hectic pace of modern-day living.  Split rail fences and  groves of trees with autumn leaves punctuate a romantic rural landscape in Holmes County, Ohio (below).
Photo via American Institute of Building Design
If a picture is worth a thousand words, the image below offers a priceless testimonial to the joys of hobby farming.  A tender moment is captured when little chicks bond with a bunny while a young goat gently nuzzles the huddle.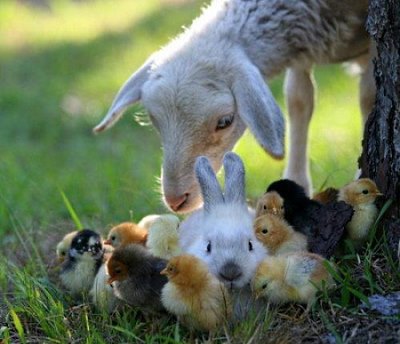 Hobby Farm Homes . . . . .



Little Red Farmhouse
A quaint two-story farmhouse with contemporary flair (below left) is the realization of a dream for a close-knit family of five in Oklahoma.  The centerpiece of their hobby farm, it features an open floor plan of 2,014 square feet. 

The 9 acre property also includes dwellings for a menagerie of feathered and four-legged friends.  Pictured below, right, is a raised chicken coop with "walk-up" ramps.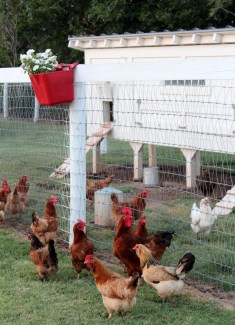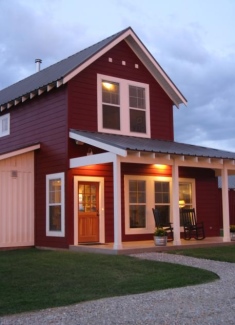 A sheep shed with a lean-to shelters the hobby farm's woolly inhabitants.  Details such as Dutch doors, wide exterior trim and exposed rafter tails lend authenticity to this charming structure.  A metal roof keeps inclement weather at bay.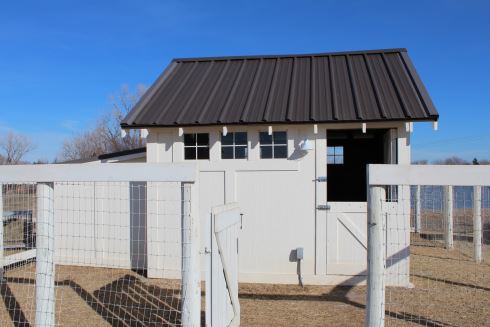 Click here to visit the Little Red Farmhouse blog
Holly Ridge Farmhouse
A board and batten farm house design by SALA Architects offers stunning vistas of the river valley below from an inviting wraparound porch.  Encompassing 1,973 square feet of living area on two floors, "Holly  Ridge Farmhouse" is the focal point of a 40 acre hobby farm near Ellsworth, Wisconsin.  The property also features a barn, chicken coop, apple orchard and vegetable garden.

See Floor Plans & Photos of "Holly Ridge" Hobby Farm Home

Storybook Hobby Farm Havens

Varying roof lines punctuated by dormers and crowned with a cupola exude storybook charm in a design by Liederbach & Graham Architects.  Note the finely moulded detailing above the dormer windows (below right).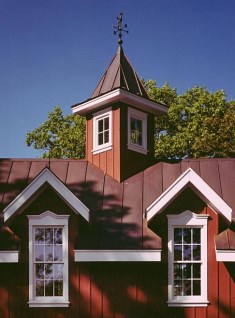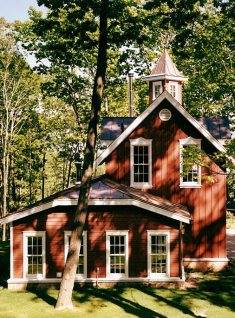 Country French meets the American Midwest in another picturesque storybook design by Liederbach & Graham Architects. Evoking a cluster of farm buildings in the French countryside, this enchanting wood and stone structure is nestled in a quiet setting outside of Chicago.  Adjacent to a gravel drive lined with apple trees, numerous varieties of native grasses and wildflowers carpet a prairie garden designed by landscape architect Anthony Tyznik.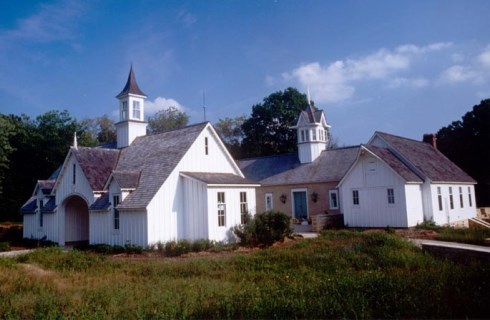 See MORE Storybook Cottage Designs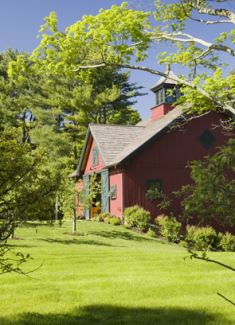 Habitats for Horses
Inspired by 19th century stable and carriage house architecture, these 21st century structures evoke the nostalgia and romance of that era.  Ideal for sheltering our equine friends, they blend old-fashioned craftsmanship with present-day efficiency.  Pictured at right is a design by Mark P. Finlay Architects.
Right: Photo by Eric Roth

Country Carpenters, based in Hebron, Connecticut, produces pre-cut, pre-engineered, color-coded post and beam building kits for barns, carriage houses and garden sheds.  Pictured below is one of their many fine examples.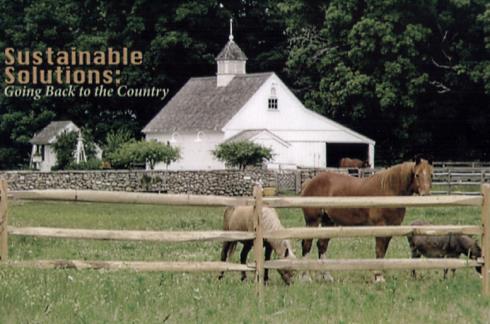 See Barn Style House Plans for Humans
A Special Place to Go . . . and GROW
If you like to grow your own fruits and vegetables, gather your own eggs, or raise your own livestock, a hobby farm makes an ideal getaway.  A special place to go to nurture and be nurtured.  A place to bring your family together for a lifetime of memories!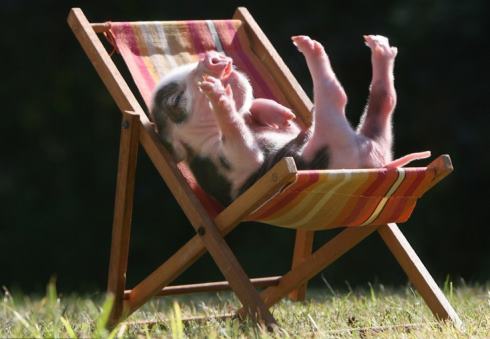 "Ain't this the life?"  (Photo via Daily Mail)

Please check back often or subscribe to our RSS feed, as we frequently add new designs for hobby farm homes to our site.
Didn't find what you were looking for?
Use this search feature to find it.