The Olde Farmhouse...
New Life for an 1860s Brick Beauty!
Nestled in the gently rolling terrain of rural western Wisconsin, an olde farmhouse gets a new lease on life as both a lovingly restored residence and the centerpiece of a growing farm animal sanctuary.  Homeowner Kara Breci acquired the 11 acre property -- which includes a series of barns and outbuildings -- in 2015 and immediately set to work on her dream of creating a safe, lifelong haven for farm animals. 

What was once a working farm that sustained generations of families now sustains a growing menagerie of previously abused and neglected creatures of the feathered, furry, and woolly type (More on this later). 

Distant View - The Olde Farmhouse
Approached by a long drive, the elegant 2-1/2 story farmhouse slowly comes into view through a profusion of vegetation.  At once stately, yet understated in a "Midwestern" manner, the 1867 residence boasts a brick exterior with a richly mellowed patina only time can bestow. 

Tall double-hung windows are capped by decorative brick arch detailing, while flanking black painted shutters -- complete with vintage hardware -- echo the curvature of the brickwork above. 

Front Facade - The Olde Farmhouse
Deriving its cues from the Italianate Style popular in the United States from about 1840-1885, the home features a low pitched hip roof with flat top.  Hip roof dormers with paired windows punctuate the roof line.  Decorative brackets support widely overhanging eaves.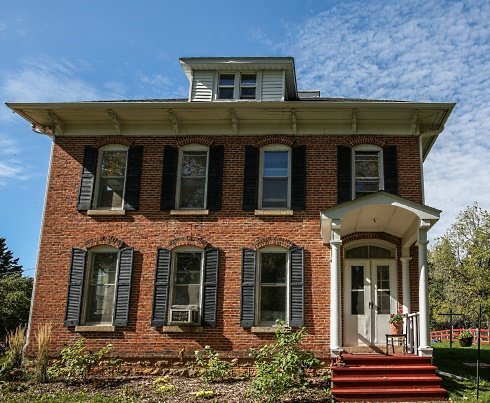 Close-Up of Front Facade - The Olde Farmhouse
Just inside the double French doors beneath the front entry porch, an elegant stairway leads to the second story.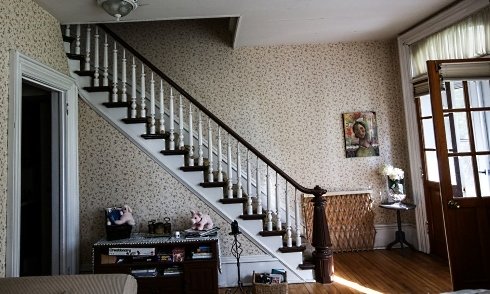 From Level 2, a separate "semi-secret" stairs winds its way to the third floor.  Recently refurbished, the former 3rd floor attic is now part of a spacious and delightfully furnished guest suite . . . . .

. . . And it can be yours just for the asking!  (well, at least temporarily)

A New Beginning for the Olde Farmhouse, or . . . . . more accurately . . .

. .

FarmSTEAD
But this charming home is only the beginning of a memorable experience that awaits visitors and volunteers alike at SoulSpace Farm Sanctuary.  The original farmstead's 19th century barns and outbuildings have been redeployed to shelter the kindred creatures of the 21st century.  To serve as a life long haven for our fellow furry, feathered and woolly friends.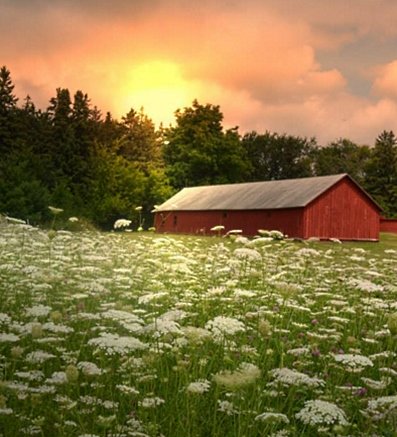 Surrounded by hundreds of acres of pristine farmland, the vintage -- albeit sturdy and functional -- buildings evoke the nostalgic charm of yesteryear.

It's All About Love
The founding and nurturing of SoulSpace Farm Sanctuary is a love story.  It's a story of courage and commitment.  A story of sharing and caring.  A story of kindness and compassion.  A story of love for all sentient beings . . . . . and hope for a better future. 

Founder Kara Breci, pictured below with a very content "Brock," embodies all these qualities -- and then some.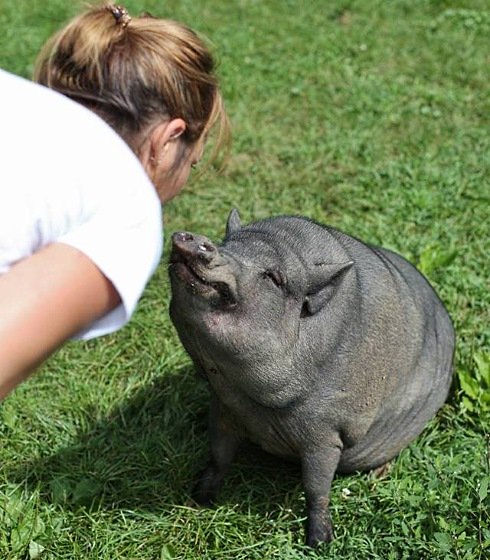 Even the residents, themselves, seem to have a shared sense of purpose.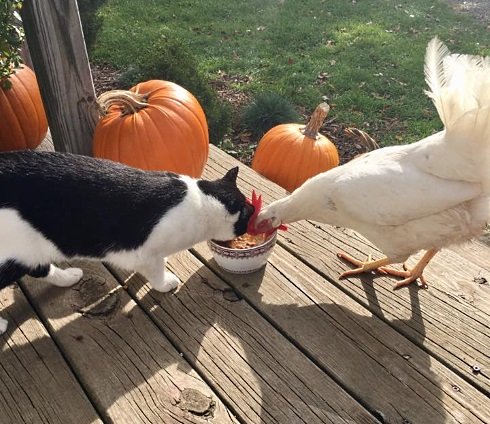 And the children -- our world's most precious resource and future agents of change -- share the unconditional love inherent within them so generously . . . . .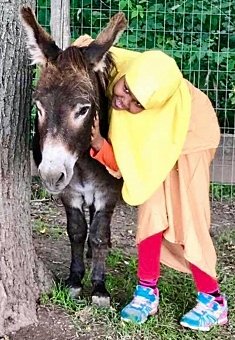 . . . while simultaneously receiving it . . . . . a big "Win-Win" for all!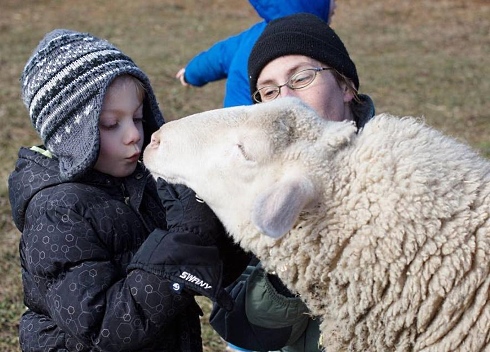 And lest there be any doubt, the love at SoulSpace Farm Sanctuary extends to kids of all ages, as "Amos," the resident miniature donkey, so tenderly demonstrates.

(Photos above courtesy of SoulSpace Farm Sanctuary)

Learn more about the amazing work of SoulSpace
Please check back often or subscribe to our RSS feed, as we frequently add olde farmhouse designs for weekend getaways and rural retreats to our site.

YOU MAY ALSO LIKE:
Hobby Farm Homes for Humans...
AND our Furry & Feathered Friends!

Small Farmhouse Plans -
Cozy Country Getaways!

Standout Barn Homes -
Renewed Resources!
Didn't find what you were looking for?
Use this search feature to find it.