Small Farmhouse Plans...
Cozy Country Getaways!
The small farmhouse plans featured here pack a lot of punch in their diminutive designs.  Simple forms imbued with character and charm offer modern comfort and convenience!

From a tiny gable front with Victorian gingerbread details to an enchanting California country cottage creation, a small midwest vernacular farmhouse to a cupola-crowned New England post and beam barn home . . . . . they feature open and efficient floor plans ranging in size from 261 to 1,632 square feet.  Charming porches expand interior living space to the outdoors.
Small Farmhouse Plans for Living LARGE
Nestled near a creek in California's Napa Valley, "Calistoga Cottage" evokes the romance of yesteryear with its varied roof lines, gabled dormers and multi-paned windows.  Under the careful supervision of Hunt Hale Jones Architects, a nondescript 1950s-era shack was transformed into the picturesque farmhouse cottage we see today. 
Utilizing -- and expanding upon -- the existing foundation, the architects created a blend of old and new by salvaging and reusing materials from the earlier structure, as well as incorporating sustainable items such as board and batten style fiber-cement siding and metal roofing.  Among its most distinguishing features is a large wraparound porch addition.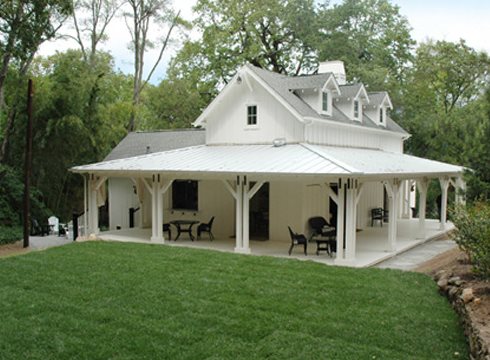 "Calistoga Cottage" encompasses a total of 1,614 square feet of interior living space on two levels.  The main level features an open floor plan of 1,350 square feet, which includes a kitchen, dining and living room, as well as a master bedroom suite.  Sliding doors from the living and bedroom areas open to the expansive (930 sq. ft.) wraparound porch.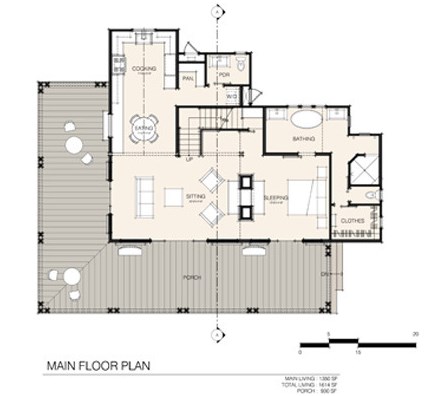 The upper level of 264 square feet features a TV loft that overlooks the living room below.  A half bath and storage closet adjoin the loft in this enchanting small farmhouse plan.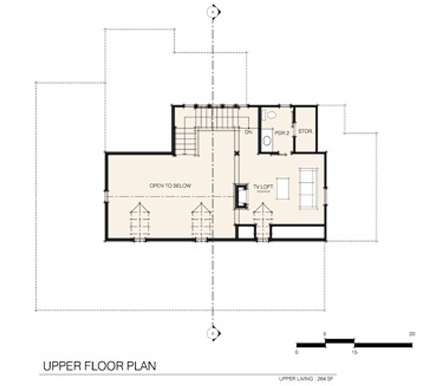 Contact Hunt Hale Jones Architects for More Information
See MORE Small & Sustainable Designs
Tiny Tumbleweed Farmhouse Cottage
If space requirements are minimal, the "Bodega" from Tumbleweed Tiny House  Company makes a perfect guest house or weekend getaway.  Available in a pint size package of just 261 square feet, the tiny farmhouse cottage features a front facing gable and covered porch with quaint Victorian-era detailing.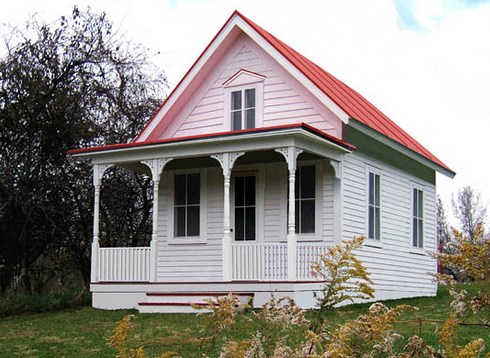 In addition to a kitchen, full bath and living area or "Great Room" on Level 1, a sleeping loft is neatly tucked beneath the sloping roof line above.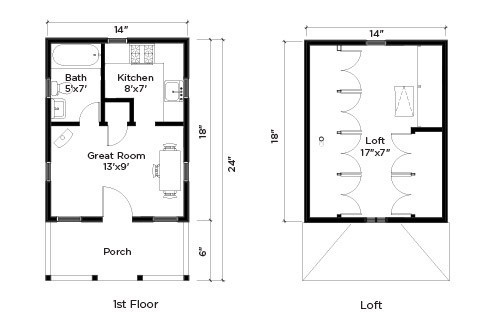 Bodega with Studio/1 Bath: 261 sq. ft.
An optional add-on bedroom expands the first floor living area to 356 square feet.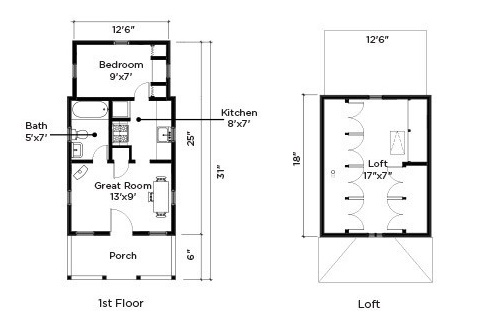 Bodega with 1 Bedroom/1 Bath: 356 sq. ft.
See MORE Tiny Tumbleweed Houses
LESS Tiny Tumbleweed Farm Cottage
For those who need a bit more space, Tumbleweed's "Sebastarosa" may fit the bill.  It features a 1 1/2 story cross gable design with a porch across the front, covered by a hip roof.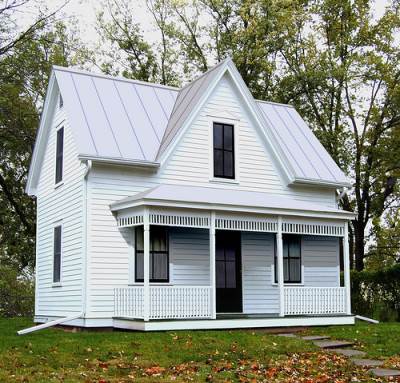 The "Sebastarosa" encompasses 750 square feet of living space on two floors.  Level 1 includes a kitchen, half bath, and great room.  Two bedrooms and a full bath occupy the upper level.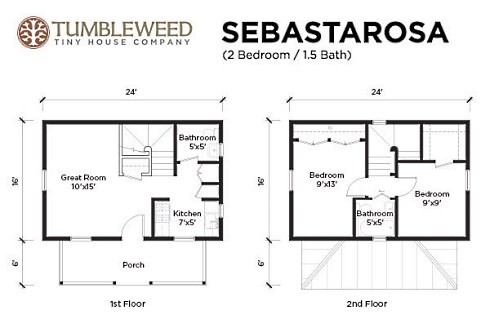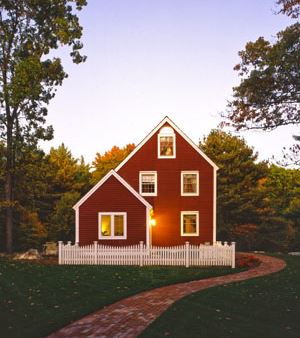 Barn Home Charm
Nostalgic reminders of our rich  agricultural  heritage, barn homes continue to rise in popularity.  No longer the exclusive domain of feed and farm animals, barns and barn style buildings are also ideal for human habitation.

Right:  Charming post and beam design from American Post & Beam

Multi-pane windows pierce the facade of a delightful barn-style haven in Millbrook, New York (below).   Built by Robert J. Campbell Jr. & Sons, the post and beam "Millbrook Barn Home" is crowned with a captivating cupola.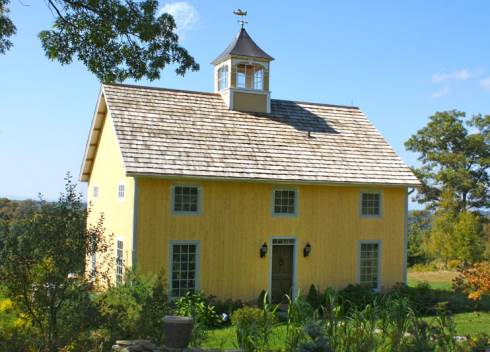 The interior plan features 1,632 square feet of living area on two levels.  Open and airy, Level 1 boasts a great room with a soaring cathedral ceiling.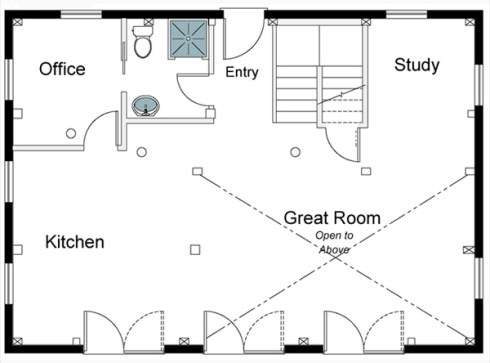 Level 1: Millbrook Barn Home Plan
Occupying Level 2 is the master bedroom suite with walk-in closet.  The master bath includes dual sinks, and a separate bathtub and shower.  A loft area overlooks the great room below.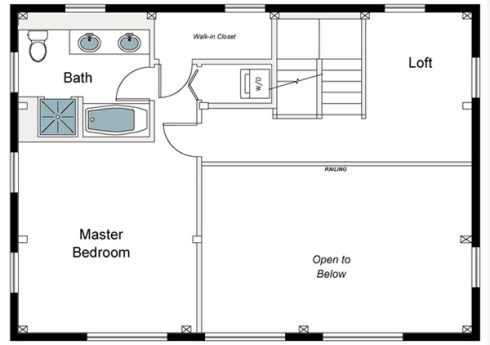 Level 2: Millbrook Barn Home Plan
More Photos of Millbrook Barn Home

See more small farmhouse plans at our sister site, Standout-Farmhouse-Designs.com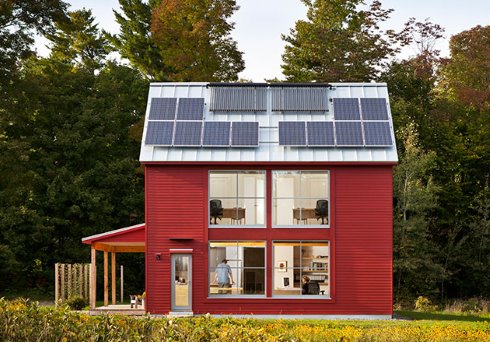 Please check back often or subscribe to our RSS feed, as we frequently add small farmhouse plans to our site.

Didn't find what you were looking for?
Use this search feature to find it.