Cottage Decorating & Design...
Nooks & Crannies!
The cottage decorating and design featured here showcases the interior of a charming farmhouse style cottage.  Compact in size, it is loaded with built-in nooks and crannies to maximize available space and add architectural interest!
SugarBerry Cottage was designed by Moser Design Group exclusively for Southern Living House Plans.  Fairly small at only 1,687 square feet, the design cleverly utilizes numerous roof and wall cavities to carve out additional storage space.
Cottage Decorating Photos
Beginning with the most spacious room in the cottage, the open and airy living and dining area features a large fireplace and the first of many built-in "nooks and crannies" you will see upon entering the home.  On the opposite wall from the entrance is a set of built-in shelving used to display a collection of dinnerware, as shown in the photo below.
Upon closer inspection, the dinnerware display is appropriately centered on the wall adjacent to the dining area.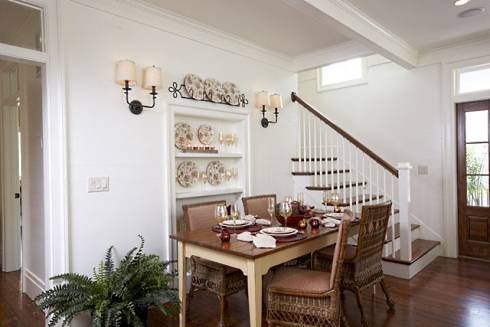 The charming cottage kitchen, pictured below, features a small center island with a butcher block counter top.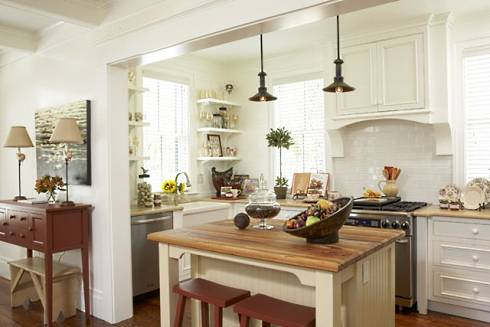 Rows of open shelving used to display glassware flank the tall, sunny window above the kitchen sink.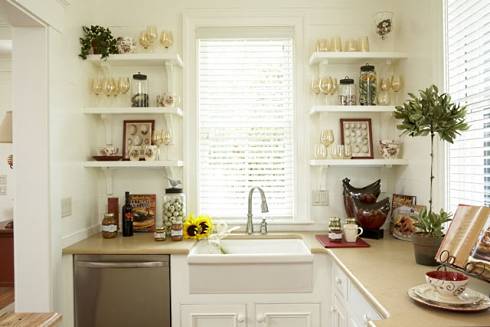 A small powder room or half bath features a ceramic or porcelain sink bowl resting upon a curved wood vanity shelf with a natural finish.
The cottage decorating in the main level master bedroom features a simple four poster bed and a casual rattan chair with cushions for seating.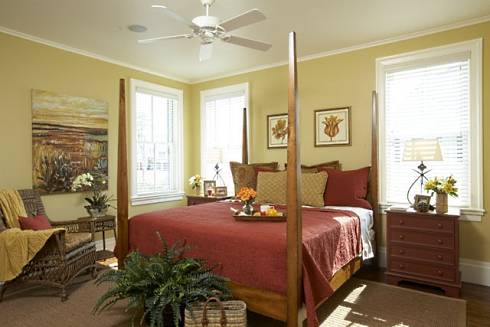 Finely crafted millwork and cabinetry with a white enameled finish is used extensively throughout the master bath.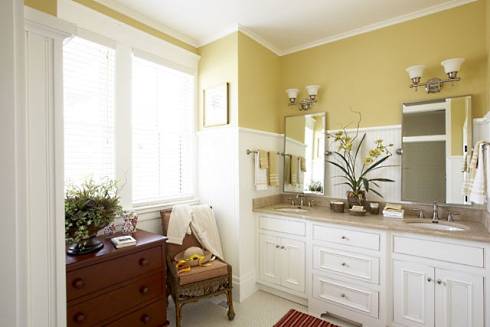 Upstairs, the bedrooms are tucked under a steeply pitched gable roof and shed roof dormers . . . . . providing plenty of opportunities for built-in nooks and crannies.  The bedroom that follows features built-in shelving and a cozy window seat.  Country cottage furniture is used to furnish the room.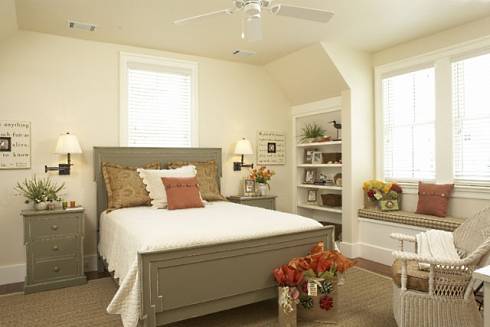 The second upper level bedroom also features country cottage decor, including twin cannonball beds . . . . .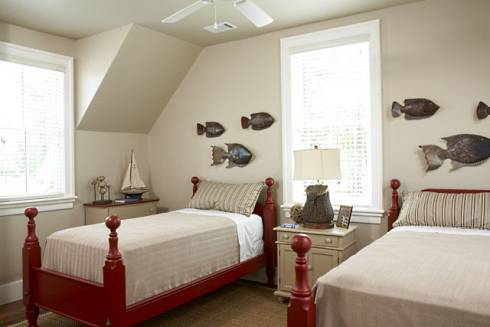 . . . . . . . as well as more built-in shelving with beadboard backing, neatly tucked into the side wall of a dormer (below right).
Pictured below, left, is another set of built-in nooks and crannies designed to provide additional storage space in this charming farmhouse style cottage.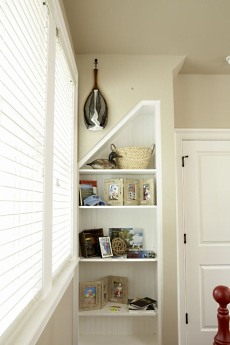 SUGARBERRY COTTAGE FLOOR PLANS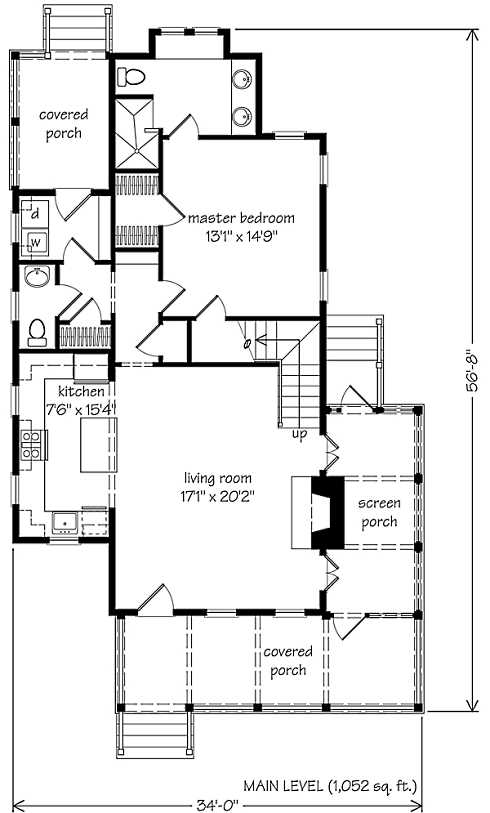 Main Level

Upper Level
The exterior of this charming little farmhouse is as captivating as the cottage decorating and design on the interior.  Please click here for more exterior photos, as well as additional information about the floor plans.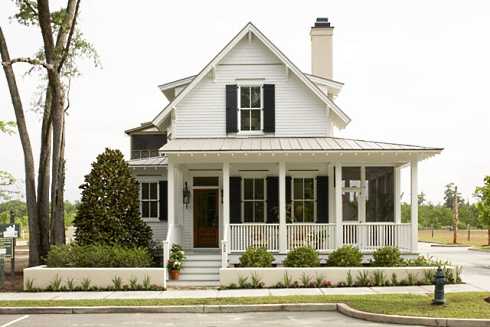 Please check back often or subscribe to our RSS feed, as we frequently add new cottage designs to our site.
YOU MAY ALSO LIKE:

Farm House Designs
for Rural Retreats!

More Cottage Decorating & Design -
Craftsman Style!

Craftsman Cottage Decor -
Crafted With Pride!
Beach Cottage Design & Decor -
Cool, Comfortable & Casual!
Didn't find what you were looking for?
Use this search feature to find it.