Beach Cottage Design & Decor...
Cool & Casual!
The beach cottage interior design and decor featured here showcases a stunning coastal cottage with walls of multi-pane windows that flood the rooms with natural light.  Crowned by a rooftop observation deck, it affords spectacular views of the nearby waterscape!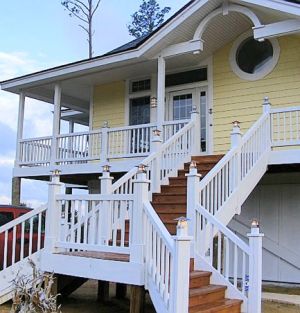 Available  from  Southern  Cottages, the beach cottage building plans encompass a total of 2,058 square feet of interior living space.   In addition, a profusion of roof decks and covered porches expand the living area.
Cool and casual, the open and airy living room, pictured below, is extremely inviting.  Stunning outdoor vistas can be enjoyed from the comfort of overstuffed sofas and chairs.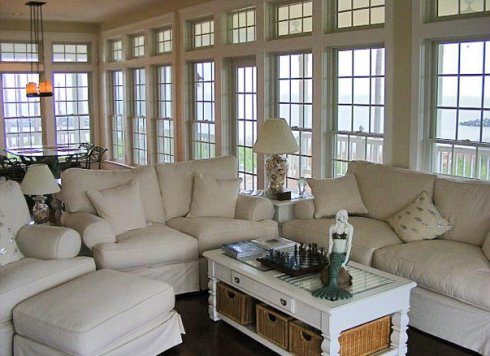 Another view of the living room features a cozy corner fireplace crafted from light-colored stone.  Capping off and contrasting with the stone surround is a darkly stained wood mantel shelf.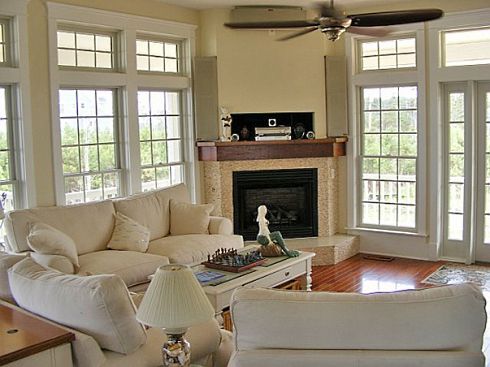 See More Corner Fireplaces, Stone Surrounds & Wood Mantel Shelves
at our Sister Site, Standout-Fireplace-Designs.com
The living room or, more specifically, living area, is open to the dining area, pictured below.  Richly finished wood flooring contrasts beautifully with the light-colored walls and white cabinetry and millwork. 

A striking candlelight chandelier hangs from the ceiling.  Directly below is an oval glass table top supported by a figural base made of metal.  Four matching metal chairs with plush seat cushions surround the table.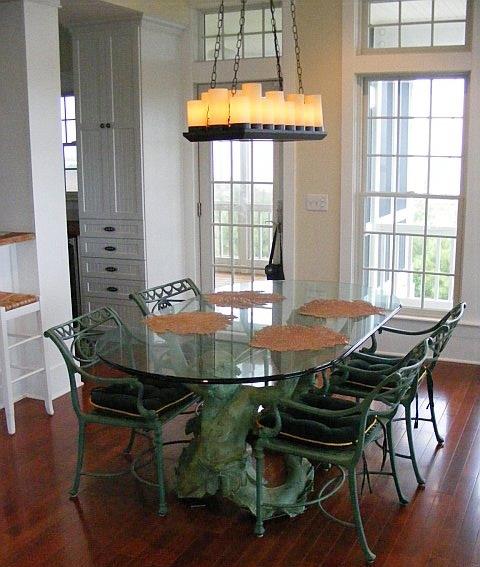 More Interior Photos of Beach Cottage
Just off the dining area is the kitchen.  It features an angled eating island framed by three large pillars, as shown in the two images that follow.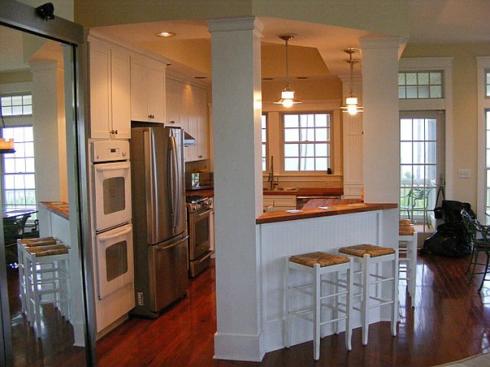 White cabinetry with recessed beadboard panels is used throughout the kitchen.  Butcher block counter tops add to the casual look.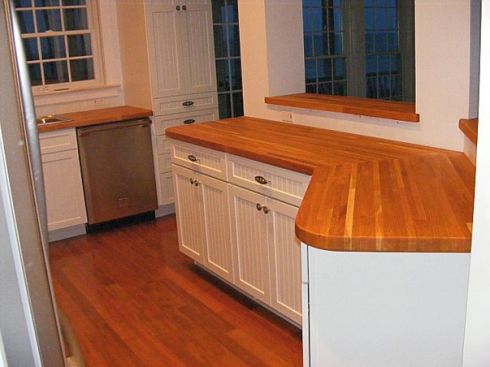 Stainless steel appliances are also featured throughout the kitchen, as well as the kitchen sink, pictured below.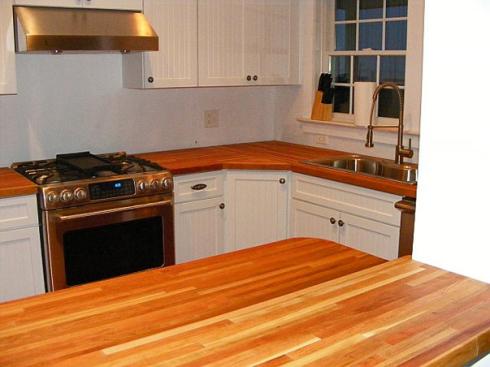 Upstairs, each of the two bedrooms opens to a spacious roof deck.  Once again, light pastel walls and white woodwork contrast beautifully with the richly finished wood flooring.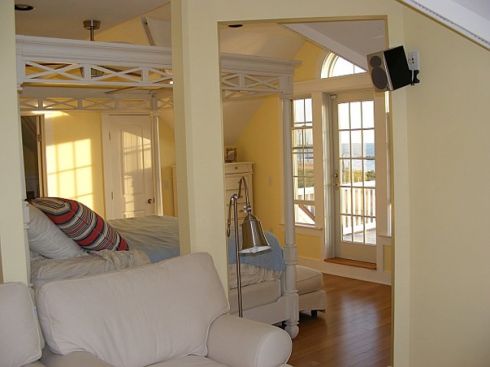 The floor plan for this cottage was modified to include an upper level sitting room.  It features a contemporary style corner fireplace.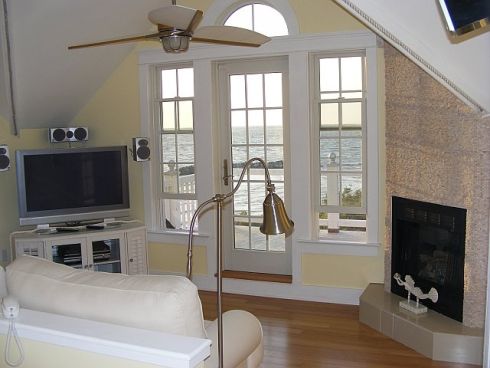 See More Contemporary Style Fireplaces at our
Sister Site, Standout-Fireplace-Designs.com
Just off the upper level stair hall is a spiral stairway that leads to an enclosed rooftop observation deck.  Walls of multi-pane windows offer spectacular views all around!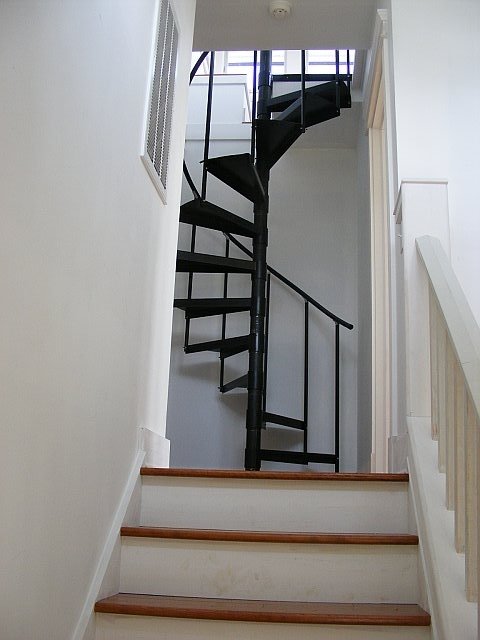 The cottage exterior, pictured below, features a profusion of stairways, porches, roof decks and gables. Please click here to see floor plans and more exterior photos of this stunning "wedding cake" confection!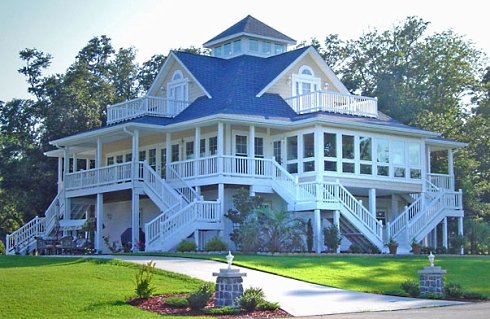 Please check back often or subscribe to our RSS feed, as we frequently add new images of coastal cottage designs to our site.
YOU MAY ALSO LIKE:



Beach Cottage Floor Plans -
Compact Designs for Modern Living!

Didn't find what you were looking for?
Use this search feature to find it.