Cottage Plans with Porches...
A PROFUSION of Porches!
Few cottage plans with porches boast the size and number of roof decks, as well as screened and open porch areas, as the stunning beach cottage featured here.  A profusion of open stairways, balustrades and covered porches wrap around the entire structure!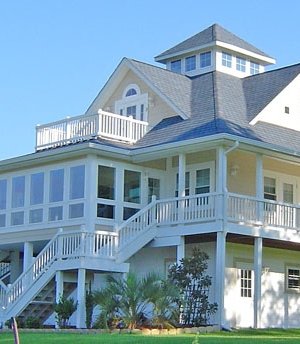 The entrance facade to Island Cottage is pictured below, with a front elevation pictured directly beneath it.  The plan shown here, available from Southern Cottages, features an elevated piling foundation made of 8 x 8 inch treated lumber. 

Suitable for coastal locations where the floor structure of the living area is required to be elevated above potential flood conditions, the ground level is used as a two car garage with a front facing entrance, as shown in the floor plan at bottom.  An optional side entrance plan to the garage is also available.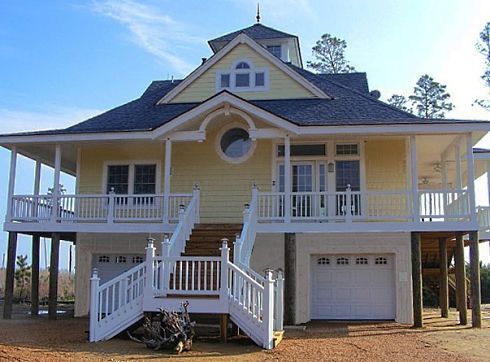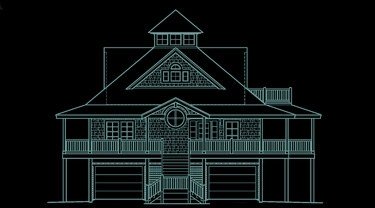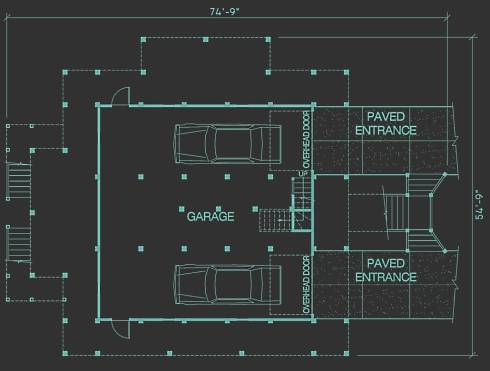 Garage/Ground Level
Nearly square in overall configuration, this gable and hip roof cottage plan with porches features walls of windows and French doors all around it that flood the interior with light and afford spectacular views from within.  With its "layering" of architectural elements extending upward and inward, culminating in a cupola-like rooftop observation deck, this 2,058 square foot gem resembles an elaborate wedding cake design!
Another perspective of the entrance facade is pictured below.  Tiny lanterns perched on stair posts light the way to the front door.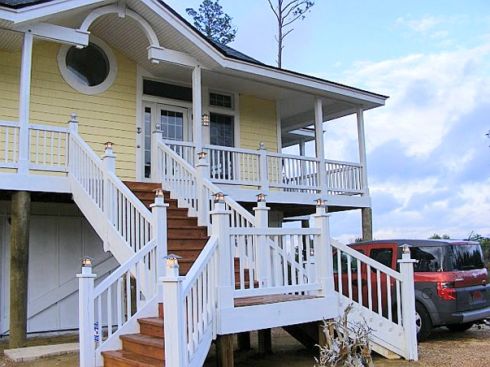 Cottage Plans with Porches Footprint
Level 1:
The main level living area features an open floor plan encompassing 1,369 square feet, with the living room, dining room and kitchen flowing together.  A den/study, bedroom, and two baths also occupy the main level living area. 

The large wraparound porch can be accessed from almost every room on this level.  In addition, an expansive screened porch can be accessed directly from the dining area, as well as from the porch deck on either end of it.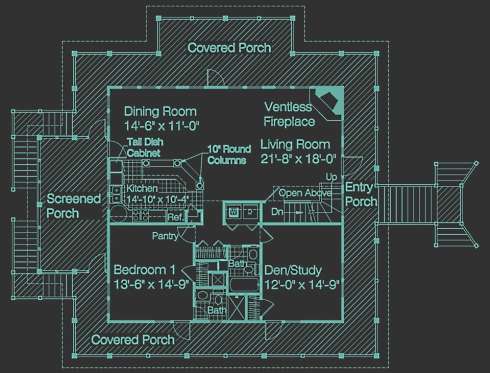 Main Level
Level 2:
Occupying the 608 square foot upper level are two more bedrooms, including the master suite, and two baths.  Each bedroom includes a walk-in closet -- two in the master bedroom -- and a French door leading to separate and spacious roof decks. 

From the main stair hall, a spiral staircase winds its way up to a rooftop observation room just over 8 feet by 8 feet in size.  Once again, a wall of windows on each side offers spectacular views!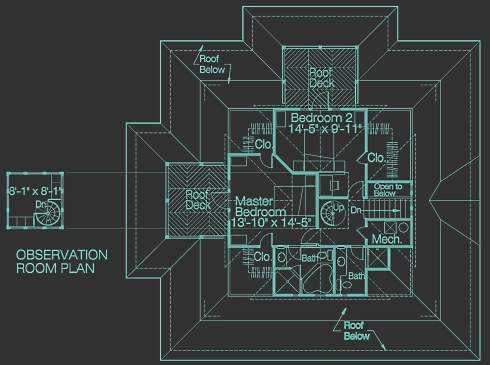 Upper Level
In geographic locations where the floor structure of the living area is not required to be elevated due to potential flooding problems, another version of this cottage plan with porches is available.  Pictured below is Island Cottage without an elevated piling foundation.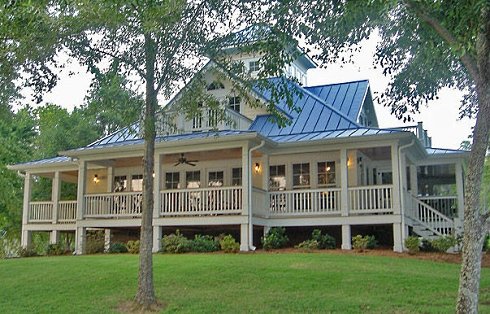 The casual and comfortable interior of this striking beach cottage is as captivating as the exterior.  Please click here to view an exciting array of interior photos from this light-filled coastal cottage!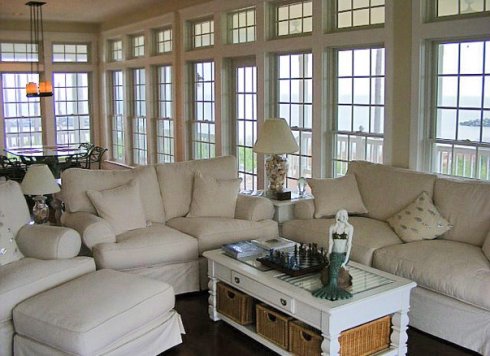 Please check back often or subscribe to our RSS feed, as we frequently add cottage plans with porches to our site.
YOU MAY ALSO LIKE:


More Cottage Plans with Porches -
A Craftsman Classic!

Cozy Cottage Plans -
Cozy & Commodious!


Small Cottage Plans with Porches -
Compact Designs for Modern Living!